TOOLS FOR SUPPLIERS
Suppliers have a significant impact on Freeport-McMoRan's operations and costs. Supplier and contractor relationships are key to Freeport-McMoRan's success.
Freeport-McMoRan's Global Supply Chain manages strategic and high profile commodities and services on a global, regional, and / or local basis.
In addition to the commercial process, Global Supply Chain manages systems, processes and procedures throughout the supply chain company wide. At Freeport-McMoRan, the supply chain begins with our suppliers' suppliers and ends with our consumption. Total supply chain costs are managed using the Freeport-McMoRan Hourglass Approach.
Commitment to Suppliers
Freeport-McMoRan commits to conduct all business:
in a fair and reasonable manner
with high integrity
utilizing best available data for decision making
enabling accountability
driving innovation and creativity
fostering open and honest communications
Freeport-McMoRan Financial Shared Services (FSS)
Freeport-McMoRan's FSS Division handles all accounts payable functions, including supplier / contractor invoice payments and processing, for Freeport-McMoRan's North American operational mining, refining and copper rod sites except Pinal Creek.
Please direct all invoice, payment and accounts payable inquiries to the number above to ensure prompt attention.
Inquiries should not be directed to the Branch accounting department.
Please reference the correct, open purchase order (PO) number on your invoices to ensure timely payment. Failure to reference an accurate PO number will slow the process and may result in the return of your unprocessed invoice.
Please communicate Freeport-McMoRan's need for a PO to your order entry personnel.
Freeport-McMoRan's FSS Commitment to its Suppliers & Contractors
Increase customer and supplier / contractor satisfaction.
Ensure timely and accurate payment to suppliers.
Support business partnerships between Freeport-McMoRan and its suppliers.
Freeport-McMoRan Global Supply Chain has developed a unique initiative called the "Hourglass".
Examining The Supply Chain Process
The Hourglass approach requires Freeport-McMoRan and its suppliers to jointly examine the supply chain process from
operational need identification to
supplier material purchase and production to
material and service delivery to
payment settlement.
Working Together to Reduce Waste and Increase Profit
The objectives are to understand each business and all related activities that impact both companies. The intent is not to shift costs but rather to seek out opportunities that jointly eliminate waste and inefficiencies, creating shared savings and greater profitability for both companies. This strategic relationship focuses heavily on using data to make better business decisions.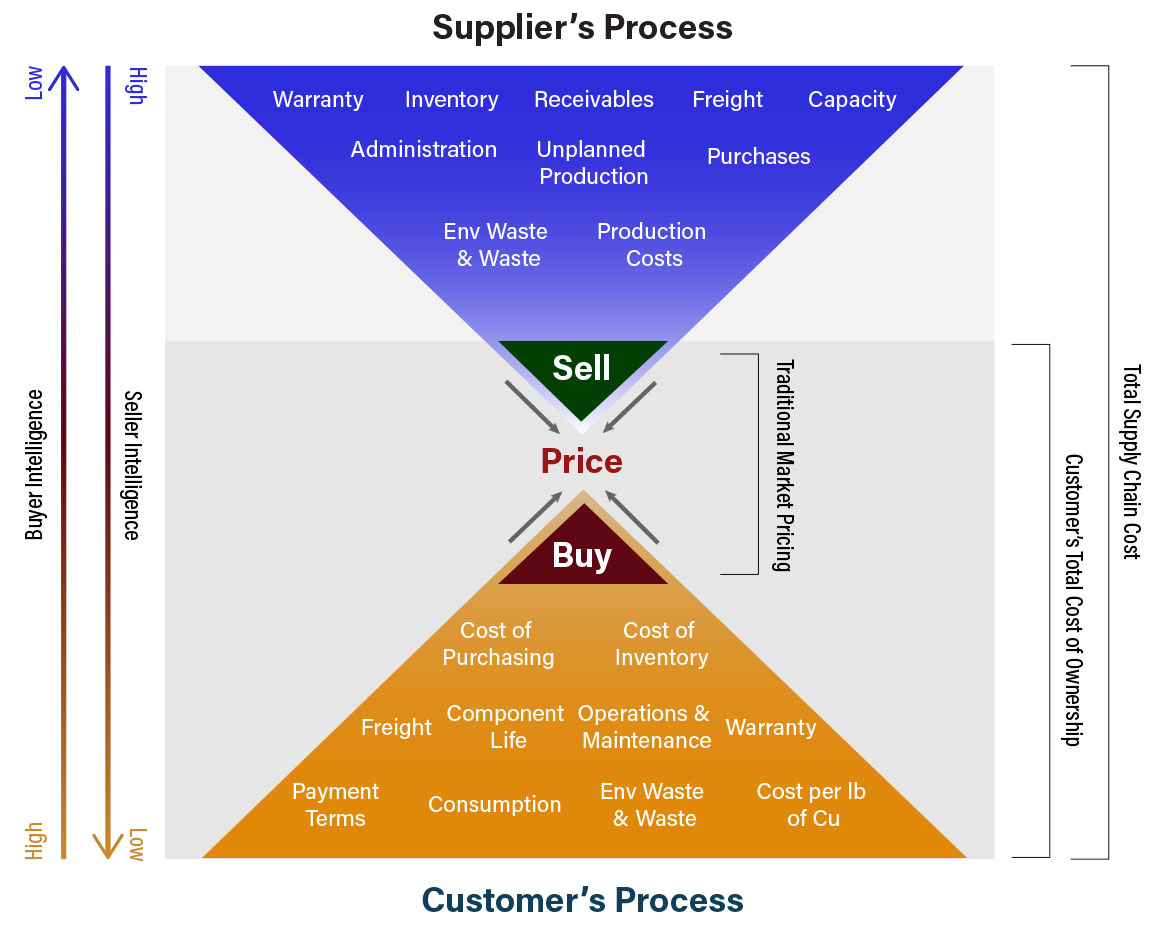 The Hourglass Model illustrates Freeport-McMoRan's total supply chain cost to Freeport-McMoRan, including the negotiated contractual pricing (the narrowest point) to supplier and Freeport-McMoRan costs that occur before, during, and after need identification. Some of the business processes and costs analyzed in the Hourglass project are represented in the boxes in the upper and lower triangles of the Hourglass. These processes and costs include:
planning
sourcing
emergency ordering
order fulfillment
freight & shipping
stock-out process
component failure tracking
receiving & inventory management
invoicing & billing
warranty management
payment processing
A typical Hourglass project will analyze two to three of these supplier and Freeport-McMoRan processes/costs areas.
Upcoming Bidding Events / Forward Auctions
To view potential upcoming bidding events, get registered in Ariba:
Registering in Ariba Discovery Portal allows your company profile to be visible to us and several other buying organizations present on the portal. You will be added to Ariba's communications list so that you can be notified of upcoming bidding opportunities pertaining to your commodity. The Ariba Discovery portal is also the location where we will be searching for suppliers while conducting sourcing events in addition to our SAP system and other business directories.
Note: Supplier registration does not guarantee an invitation to a sourcing event or contract award. Also, not all Freeport bidding events are posted on the Ariba Discovery platform – only the ones where we are looking for additional participants.
There is no cost to register. Please follow the link below to complete your Ariba registration, if you haven't done so already.
Please visit the Ariba Discovery page for details about upcoming bidding events and self-nomination.
Commodity Listing
For information on Freeport-McMoRan's top commodities, please review the Commodity Management area.
Electronic Payments via PayMode®
Select to receive safe, secure, fast electronic payments via PayMode®.
Enroll now
Additional questions about electronic payments setup and authorization should be directed to:
Financial Shared Services Client Care
Inquiries should not be directed to mine accounting departments.
Thank you for your cooperation and we look forward to working with you in the future.
Freeport-McMoRan's Asset Recycling and Disposition Team
Freeport-McMoRan's Asset Recycling and Disposition Team offers sales of used, open pit and underground mining equipment and primary and secondary crushing, milling, flotation and processing equipment.
For more information on items that are available for sale or for information on upcoming auction events please contact one of the following representatives.
Asset Recycling and Disposition Contacts
North America
South America
South America / Términos y Condiciones Generales Orden de Servicio Sudamérica
Indonesia / Terms and Conditions
Health and Safety Policies
Contractor Safety and Health Manual
Specific Health and Safety Policies
The latest revision of the FCX Health and Safety Policies and Global Significant Risk Policies are located here. Please be sure you have destroyed any printed copies of the previous versions and are only using the most current version. Please contact your site project manager for specific policies related to your scope of work.
Administration Policy
Aviation Safety
Bus Safety
Cellular and Hand Held Communication Devices Guideline
Confined Space
Control of Hazardous Energy Sources (LOTOTO)
Electrical Safety
EW ER
Fatigue Management Guideline
Flagging and Barricading Guideline
Hazardous Gas Monitoring Systems and Appurtenances
HDPE Pipe Handling
Hot Work
Industrial Railroad
Interaction with Heavy Mobile Equipment - Surface Road Design, Light Vehicles and Ground Personnel
Material Handling Conveyance
MSHA Training Requirements for Contractors and Visitors (SOP)
Property Entry Guidelines-Surface Mines North America
Shovel Move
Standard Safety Requirements Policy
Sulfuric Acid Bulk Handling Policy
Surface Blasting
Utility Location (Blue Stake)
Working at Heights
Company Policies
Anti-Corruption Policy
Principles of Business Conduct
Community Policy
Environmental Policy
Human Rights Policy