Company Donates Much Needed Relief for Communities, Health Care - Video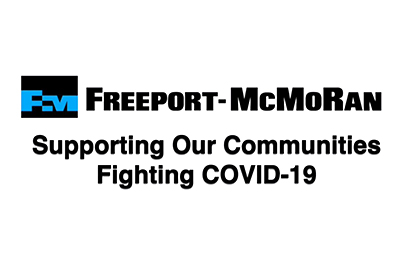 April 30, 2020 - Your communities are our communities, and Freeport-McMoRan is working hard to ensure medical personnel worldwide are better equipped to fight COVID-19. We've donated thousands of items – including unvented goggles, face shields and tents – to hospitals, medical clinics and organizations in three states and six tribal nations in North America. We also donated a fully equipped ambulance to Carlos Cisternas Hospital in Chile, $20,000 to purchase surveillance equipment so doctors in Spain can monitor patients remotely and shipped enough food to feed 4,500 people in five villages near our operations in Indonesia.
In Arequipa, Peru, our Cerro Verde operations donated funds to purchase ventilators and 500,000 test kits for use by the Peruvian government. That's in addition to tens of thousands of medical equipment items such as coveralls, face masks, disposable boots and gloves. We've also provided buses for healthcare workers and 1,000 food baskets to families in an area directly impacted by COVID-19. Why? Because our dedicated medical professionals and our communities need our support now more than ever, and we are in this together.
Watch the video


BACK TO COMPANY COVID-19 INFORMATION​