Company, Communities Keep Lines of Communication Open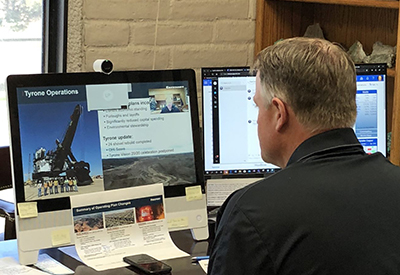 August 14, 2020 - We miss seeing you in person, too, but for now, quarterly meetings with key stakeholders in Arizona, New Mexico and Colorado will continue virtually with the next round that began in August.
These community meetings provide a forum for community representatives and the company to discuss the status of the business and site operations, address any questions or concerns, and encourage dialogue related to community needs, challenges and possible solutions.
"The pandemic has challenged all of us to do things differently, including finding ways to stay engaged with stakeholders in our communities and continue to work collaboratively on COVID response and recovery," said Tracy Bame, Director-Social Responsibility and Community Development. "We're grateful that our community partners have continued to engage via this new virtual format which also allows for participants to share important information with each other, encouraging opportunities to coordinate resources."
Participants, who shared feedback in a survey and in comments during the meeting, welcomed the online solution rather than a hiatus: "Although I miss the face-to-face meetings, I appreciate your efforts to keep the communication going, particularly in light of the major shifts going on right now."
Pictured are members of the Miami, Ariz., leadership team following precautions during its last meeting when community members called in via WebEx. Learn more about Community Partnership Panels at www.freeportinmycommunity.com.

BACK TO COMPANY COVID-19 INFORMATION​