ECONOMIC IMPACT
LOCAL SUPPLIERS
Purchasing goods and services from local suppliers provides direct and indirect benefits to our local communities. Our investment in local communities helps to support the economic vitality of small and medium sized enterprises and local entrepreneurship. When we purchase locally, we provide the stimulus for community development and the potential for capacity building. We have begun to implement an advanced risk and data-based responsible sourcing framework using a combination of tools in the contracting and supplier qualification process. The system enables both screening and advanced risk assessment, tracks supplier progress against any required action plans, and enables more direct collaboration with our suppliers throughout the contract life cycle. In 2020, we also prioritized increasing transparency in our local procurement spending to enhance visibility and to encourage increasing opportunities for local suppliers where feasible. For example, we joined WEConnect International, a global network that connects women-owned businesses to qualified buyers around the world, working to enable them to compete in the global marketplace. We will continue to collaborate with organizations to provide local suppliers with opportunities for capacity building and to assist in identifying local suppliers that meet our purchasing needs.
NORTH AMERICA
The company commissioned the L. William Seidman Research Institute at Arizona State University to develop annual economic impact reports where the company has operations in Arizona, Colorado, New Mexico and Texas. Fact sheets from the reports are provided below.
Arizona
Colorado
New Mexico
Texas
SOUTH AMERICA
In May 2021, Apoyo Consultaría completed a study aimed to identify and estimate the impact (direct and indirect) of Cerro Verde's activities on the local city of Arequipa and national economy of Peru from 2005 to 2020. Titled "Analysis of the Impact of Cerro Verde Mining Company in the Economy of Arequipa and Peru," the study concluded that Cerro Verde has had significant impact on both the regional and national economies in terms of employment, family income and tax revenue. Cerro Verde's operations and investments generated an average impact of 2% of Peru's national gross domestic product through linkages with other sectors. The site's contributions enhance economic activity in Arequipa and the country through its domestic purchases.
INDONESIA
PT-FI's presence in the province of Papua has spurred rapid economic growth and development in Timika and surrounding areas, which has transformed the region into an important economic center. As a result, Timika has witnessed high-population in-migration from other parts of Papua, as well as all of Indonesia, as people are in search of employment opportunities and improved health and education infrastructure.
In the real income sector, PT-FI's social investment program implementation aligns with government development plans focused on community empowerment programs, especially in villages directly impacted by our mining operations. Partnership and collaboration are the main themes of social investment programs that encourage optimizing benefits for local communities.
Highlands Economic Value Creation
PT-FI's economic development initiatives focus on Indigenous highland communities, which surround our operations: the Waa Valley consisting of the Tsinga area with eight villages and hamlets, the Arowanop valley with its six villages, the Jila area in the eastern part of Amungsa with its nine villages and hamlets, and the Hoea area with its four coffee-producing villages and hamlets.
In 2020, PT-FI provided agricultural assistance to 158 coffee farmers supplying coffee to the Amungme Gold Coffee Cooperative. This assistance focused on coffee planting and production, as well as managing food security programs in highland areas. PT-FI also provided capacity building to Papuan staff running the cooperative. Farmers produced 1.8 tons of coffee from 35 hectares valued at over $28,000 during 2020, which was lower than in 2019 due to COVID-19 and security issues in the coffee-producing highlands.
Lowlands and Coastal Economic Value Creation
In 2020, economic development initiatives continued to focus on the Indigenous communities in five lowland Kamoro villages and three coastal villages. The focus was on fisheries production where 46 participating fishermen produced four tons of fish generating revenue valued at $2,700. Production dropped from 2019 as the PT-FI team could not access the remote coastal fishing areas due to COVID-19.
Through our coconut initiative, we worked with 768 farmers on 485 hectares of land and distributed 27,200 coconut seedlings. In 2020, an average of 106 households participated monthly in our vegetable program and collectively generated $188,000 in revenue.
PT-FI's agriculture and husbandry program for 437 farmers in two lowlands villages produce broiler chickens, eggs and pigs and in 2020 had a combined revenue of nearly $2.9 million, a negligible decrease from 2019.
The Amungme and other Indigenous groups in the lowlands grow, harvest, process and sell cacao with the assistance of local cooperatives to stimulate economic growth and reduce dependency on PT-FI. Cacao farmers were losing a sizable portion of their harvest during the drying process because of Papua's humid and wet conditions and limited amounts of direct sunlight. The 2019 sustainable cacao greenhouse dryer project, a PT-FI, Freeport-McMoRan, Arizona State University's School of Sustainability and the local cacao cooperative Dewa Buah partnership, continued to reduce farmer losses and increase incomes. Combined with PT-FI's broader cacao development initiative, we worked with 331 farmers (55% Papuan) farming 228 hectares and assisted in the distribution of 8,000 cacao trees planted by participating farmers.
Economic Empowerment
The Indonesia Ministry of Energy and Mineral Resources includes self-reliance as one of eight categories the private sector must strive to achieve as part of its Community Development and Empowerment Programs. The Ministry defines self-reliance as an independent business not dependent upon private sector support. One of our primary goals in working with our communities is to help build resiliency over the life of the mine. Resiliency means the ability to anticipate and consider potential scenarios and corresponding responses, and pivot from changes in mine plans and unforeseeable events, such as the COVID-19 pandemic and impacts from climate change.
During 2020, PT-FI provided capacity building assistance, mentoring and guidance to 190 Papuan entrepreneurs through the company's Micro-, Small- and Medium Enterprise (MSME) program. Of these, 70% were from the seven local ethnic groups (collectively known as the "seven suku") and 55% were women. In turn, participants employed around 1,400 people from the surrounding communities through their businesses, which provide various goods and services to PT-FI and others in the region. Total revenue from these businesses in 2020 generated $16.2 million, an 11% decrease from 2019.
PT-FI continued its multi-year agreement with Bank Rakyat Indonesia (BRI) to increase Papuan entrepreneurs' access to financial capital to grow their small businesses. In 2020 four Papuan entrepreneurs received a total of $81,300 in micro-loans from BRI while another four Papuan entrepreneurs received $91,000 through PT-FI's Revolving Fund initiative. BRI administers all micro-loans with PT-FI both underwriting the loans and connecting its Papuan entrepreneurs to BRI. The goal is to transition borrowers from the PT-FI Revolving Fund initiative to BRI by providing direct professional support and sustainable access to capital for Papuan entrepreneurs.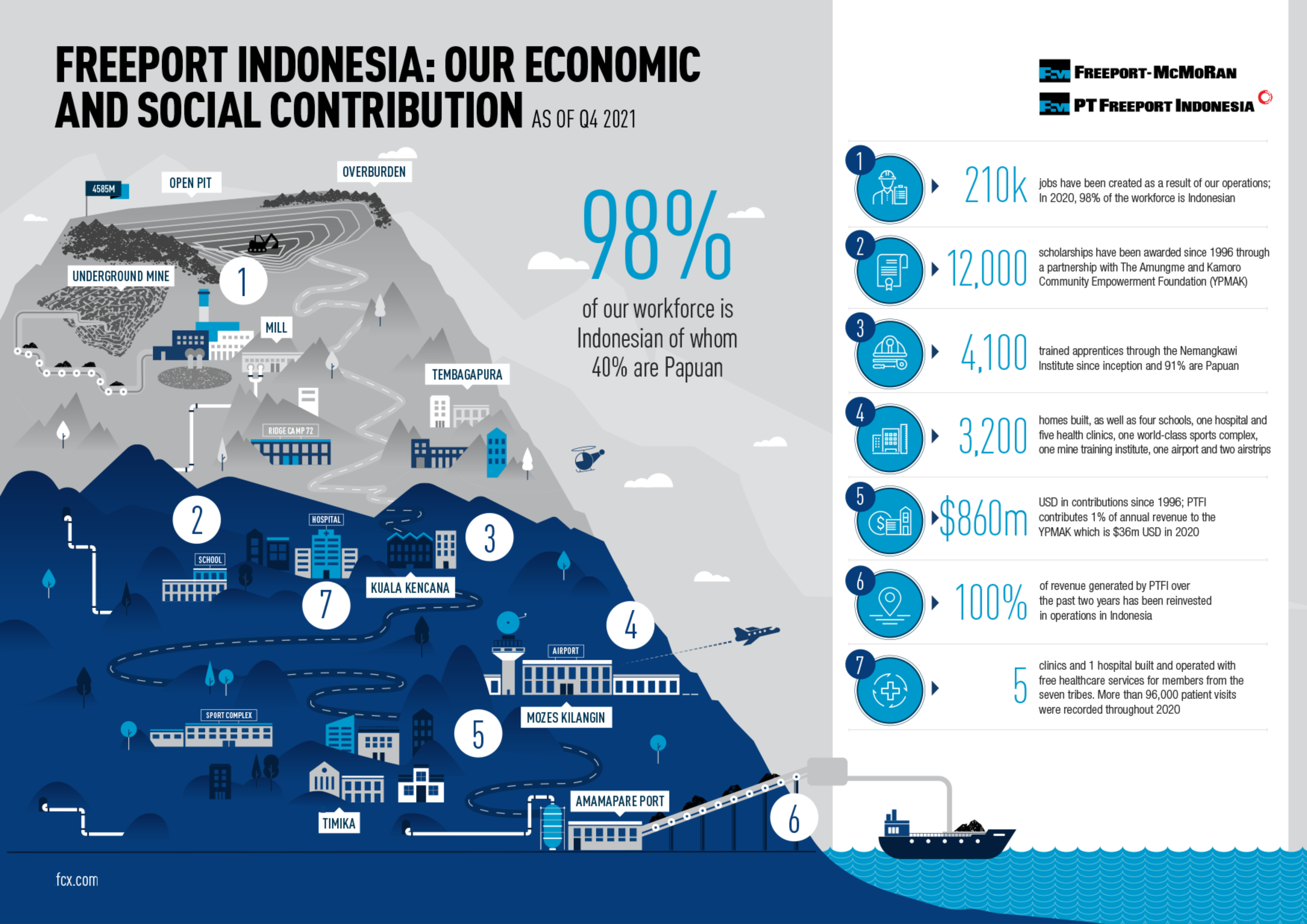 BACK TO ECONOMIC VALUE CONTRIBUTED > ECONOMIC IMPACT