POLICIES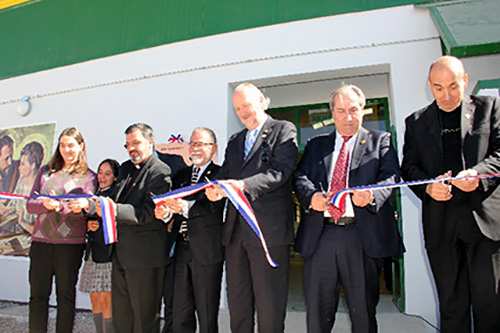 Implementation of our sustainability programs is consistent with commitments set forth in company-wide policies that are aligned with the International Council on Mining & Metals (ICMM) 10 Sustainable Development Principles and position statements, including those described below
Principles of Business Conduct
The cornerstone of our commitment to integrity is our Principles of Business Conduct, which set forth the global system of principles that our workforce must follow in all activities – from complying with laws to avoiding conflicts of interest.
Anti-Corruption Policy
The purpose of our Anti-Corruption Policy is to help us meet the requirements of the U.S. Foreign Corrupt Practices Act and other relevant anti-corruption laws, including laws in the countries where we operate.
Community Policy
This policy recognizes the vital role of stakeholder engagement and calls for collaboration with communities, including indigenous and vulnerable populations, to minimize and mitigate adverse impacts and pursue opportunities to maximize benefits. .
Environmental Policy
This policy outlines our duty to minimize the impact of our operations on the environment using risk management strategies based on valid data and sound science and, where practicable, to protect and enhance the quality of the environment in areas where we operate. The policy also includes commitments to achieve ISO 14001 certification at all operating facilities, support biodiversity programs in operational areas, and remediate sites for which we are responsible.
Human Rights Policy
This policy outlines our dedication to respecting and promoting human rights wherever we do business. We respect the rights of all individuals, including employees, suppliers, community members and others who may be potentially impacted by our business. The policy requires us to conduct business in a manner consistent with the United Nations Guiding Principles on Business and Human Rights.
Political Activity and Spending Practices
Freeport-McMoRan is committed to the highest level of ethical and legal conduct regarding its political activity and spending practices and to rigorous compliance with applicable laws and regulations. This statement sets forth Freeport-McMoRan's practices regarding political activity and spending, and applies to Freeport-McMoRan and its affiliated political action committees.
Responsible Sourcing of Minerals Policy
We are committed to producing and sourcing minerals and metals responsibly. Respecting human rights and preventing bribery, fraud and corruption are cornerstones of this commitment. Our Responsible Sourcing of Minerals Policy describes our commitment to implementing the OECD Guidelines for Responsible Mineral Supply Chains in Conflict-Affected and High-Risk Areas.
Safety & Health Policy
This policy establishes our objective of zero workplace injuries and occupational illnesses. The policy provides for the establishment of benchmarks to evaluate our performance in achieving that objective. The policy also addresses the implementation of safety and industrial health audits at our operations on a regular basis. We consider safety and health programs, both on and off the job, to be an investment in our most valuable resource - our people.
Supplier Code of Conduct
We believe in doing business only with Suppliers who demonstrate the highest standards of ethical business conduct. The Supplier Code of Conduct is based on the Freeport-McMoRan Principles of Business Conduct and is provided to suppliers to ensure that our expectations are understood and followed by everyone involved in the company's operations.
PHOTO DESCRIPTION: The Don Bosco Technical School in Calama inaugurated a specialties facility with the support of Freeport-McMoRan's Chile Foundation. The new building provides additional workshops, laboratory space, and tools for approximately 800 middle and high school students focused on technical studies in mining, electrical, and mechanical disciplines.

BACK TO BUSINESS ETHICS > Principles of Business Conduct | Policies | Governance | Transparency of Government Payments