INDONESIA
PTFI's community investment in Indonesia was $86 million in 2016, which included contributions to Trust Funds (including the Freeport Partnership Fund for Community Development and the Amungme and Kamoro Trust Funds); community safety health and environment programs; community infrastructure programs; community education and training programs; and community livelihoods and economic development programs. PTFI's large social investments are a commitment to proactively manage the impacts of the operations on the community and to work with local partners to support development opportunities beneficial to stakeholders in the region.
PTFI collaborates with a wide range of partners to invest in community infrastructure projects that support the evolving economic, health, and education needs of its host community. PTFI's infrastructure development expertise, combined with our partners' networks and understanding of the local context, serve as a catalyst for inclusive development in one of Indonesia's most remote provinces. To support these efforts, PTFI invested $14 million on community infrastructure projects in 2016.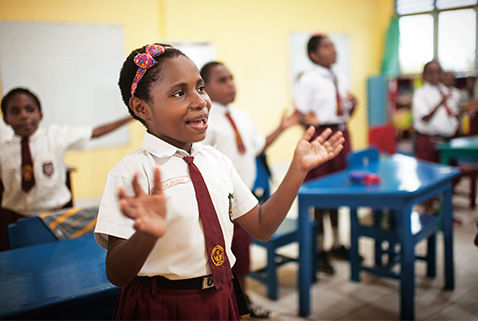 Since the inception of the Tiga Desa (Three Villages) Program, PTFI has invested over $81.5 million on community infrastructure projects in the highland communities of Arwanop, Banti and Tsinga, which surround the PTFI project area. Through a community consultation process, which started in 2000 and is now formalized in a MoU, PTFI provides funding for equipment, materials, transportation and labor to build a network of infrastructure that includes over 300 houses, 400 septic tanks, 3 schools, 10 teacher houses, 3 clinics, 3 markets, 13 churches, 20 bridges, 225KW generators, and 2 airstrips. This program is estimated to benefit over 1,000 Papuans who live in these remote highlands areas.
PTFI signed a MoU with the local government in 2013 to build a world-class sports facility that would enable Papua province to host the 2020 Indonesian National Sports Week (PON: Pekan Olahraga Nasional), a multi-sport event held every four years for elite athletes from each of Indonesia's provinces. In 2016, PTFI completed construction of a $33 million sports complex in Timika that includes a regulation size track & field; open stadium with a seating capacity of 3,500; indoor stadium for badminton, volleyball and basketball with a seating capacity of 5,500; two dormitories for visiting athletes and various supporting facilities. PTFI subcontracted the construction work to local businesses that provided jobs to over 300 people, of which over 100 were Papuan. As part of the MoU, PTFI will manage the facility for one year while it works with the local government to find a professional third party to manage the sports facility permanently.
In 2013, PTFI partnered with the local government to improve the distribution of clean water to Timika, the nearby town home to approximately 200,000 people. PTFI sponsored a feasibility and environmental impact study to determine the design of a water treatment facility to meet the growing needs of Timika. As a result of that study, PTFI is now contributing engineering expertise and $10 million to build two water treatment plants.
Through the Freeport Partnership Fund for Community Development, PTFI has committed to provide 1 percent of its annual revenue for the development of the indigenous Papuan community. The Amungme and Kamoro Community Development Foundation (LPMAK) is the Papuan community organization that oversees disbursement of the program funds. LPMAK is governed by a board of commissioners and a board of directors, which are comprised of representatives from the local Amungme and Kamoro tribal communities, local government, Papuan regional leaders, church leaders, and PTFI. PTFI's contributions to the Partnership Fund were approximately $33 million in 2016 and over $690 million since its inception in 1996. Over the last few years, PTFI's annual contribution to the Partnership Fund has decreased because of declining company revenues that have resulted from factors such as declining commodity prices, export permit limitations, and labor productivity issues. In 2016, in response to these trends, PTFI and LPMAK signed an agreement that extends the funding arrangement between the two organizations until December 2018 and outlines how the two organizations will strengthen the management and positive impact of the Partnership Fund.
For information on PTFI's other community investment programs, please see the Public Health, Economic Impacts, Land Use and Customary Rights and Indigenous Peoples sections of the website.
PHOTO DESCRIPTION: PTFI and the Freeport Partnership Fund for Community Development
support the Taruna Papua School and Dormitory near Timika. The fund also supports a comprehensive series of health and educational programs, skills training and small business development initiatives for indigenous Papuans.

BACK TO COMMUNITY INVESTMENT > INDONESIA | Democratic Republic of Congo | South America | North America