NORTH AMERICA
In North America, we increased our efforts and investments in local capacity-building through activities including specific training for current and upcoming local leaders. In each of our operating communities, we implemented another phase of our overall capacity development work with an initiative called "Leadership for Sustainable Communities", which aims to guide local civic leaders through a process designed to develop each community's ability to affect action that creates a sustainable future, especially post mining. The first phase of the program, which will conclude in 2017, has provided training for more than 120 current and future leaders.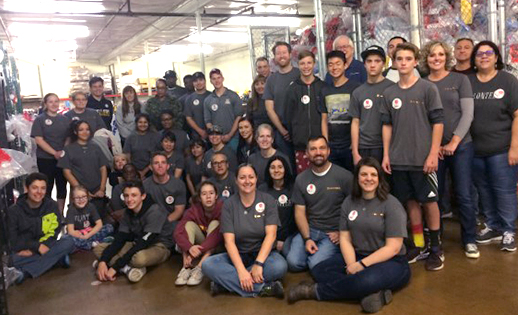 During 2016, we continued to support improvement in science, technology, engineering and mathematics (STEM) education through teacher development and retention initiatives. Through our STEM Innovation Grant Program, we awarded funds to 18 innovative projects submitted by teachers across 17 schools near our operations. These grants provide resources not otherwise available for enhanced STEM learning. We also completed year two of a three-year professional development initiative for elementary and middle school math teachers in rural school districts. The initiative aims to increase their content knowledge and confidence in teaching math in order to improve students' ability to master core mathematical concepts by the eighth grade. Early results indicate better student math performance and preparedness. Our focus on STEM is aligned with the long-term technical requirements of our business. We continued our investment in the workforce pipeline supporting higher education programs that trained students in the trades, as well as four-year degree programs related to our business needs.
We also have advanced our investments in women's economic empowerment programs, including "DreamBuilder: The Women's Business Creator," an online entrepreneurship skills training program that has now reached just over 17,000 women in Chile, Peru and the U.S. In 2016, via our partnership with Thunderbird School of Global Management and a network of 82 dedicated partners, we were able to increase the graduation rate to 11 percent, outpacing the (online learning) industry average of 4 percent for open enrollment courses. Evaluation of graduates a year or more after graduation indicated that 93 percent increased business sales, 46 percent hired additional employees and 76 percent paid themselves a salary versus only 22 percent who did so before participating in the program. As we work to increase the number of graduates, we are considering using a third party impact assessment to determine the program's impact on women, their families and the revenue generated for community-level development. This program is another example of how we are collaborating to advance the SDGs, particularly SDGs 4, 5 and 8.
For comprehensive information on our North America and global community investment programs, please visit freeportinmycommunity.com.
PHOTO DESCRIPTION: The Phoenix High-Grade Helpers Volunteer Program partners with various charitable organizations including the Salvation Army, as shown.

BACK TO COMMUNITY INVESTMENT > Indonesia | Democratic Republic of Congo | South America | North America