SOUTH AMERICA
In South America, we increased our efforts and investments in local capacity-building through activities including specific training for current and upcoming local leaders.
We also have advanced our investments in women's economic empowerment programs, including "DreamBuilder: The Women's Business Creator," an online entrepreneurship skills training program that has now reached just over 17,000 women in Chile, Peru and the U.S. In 2016, via our partnership with Thunderbird School of Global Management and a network of 82 dedicated partners, we were able to increase the graduation rate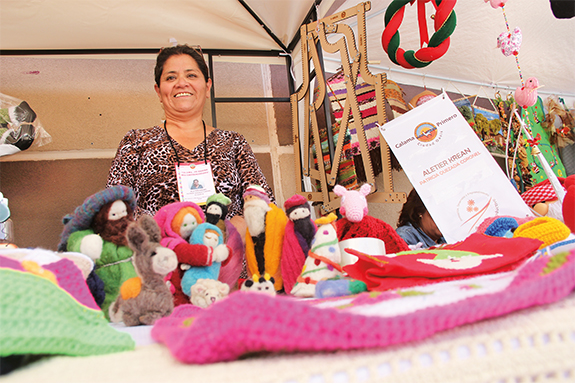 to 11 percent, outpacing the (online learning) industry average of 4 percent for open enrollment courses. Evaluation of graduates a year or more after graduation indicated that 93 percent increased business sales, 46 percent hired additional employees and 76 percent paid themselves a salary versus only 22 percent who did so before participating in the program. As we work to increase the number of graduates, we are considering using a third party impact assessment to determine the program's impact on women, their families and the revenue generated for community-level development. This program is another example of how we are collaborating to advance the SDGs, particularly SDGs 4, 5 and 8.
We have committed to invest $5 million to promote women's economic empowerment and address violence against women in Chile, Peru and Indonesia by 2021 as part of a "Girls, Women & the Global Goals" coalition of multi-sectoral partners convened by No Ceilings, Vital Voices, and WEConnect International. The coalition is working collectively to advance the fifth SDG goal of gender equality, particularly focused on promoting women's economic participation; addressing violence against girls and women; and advancing women's leadership in the private and public sectors.
For information on other community investment programs in South America, please see the Economic Impacts and Indigenous Peoples sections of the website.
PHOTO DESCRIPTION: We continue to deploy DreamBuilder: The Women's Business Creator; a free, online entrepreneurial training program designed to assist women of all education levels. Graduate Patricia Quezada participates in an enterprise fair organized by the municipality of Calama, Chile.

BACK TO COMMUNITY INVESTMENT > Indonesia | Democratic Republic of Congo | South America | North America