INDONESIA
PTFI commissions the University of Indonesia's Institute of Economics and Social Research to conduct an economic impact assessment of PTFI's operations every two to three years. A study was completed in 2015 that measured PTFI's economic impact on a local, regional, and national level. The study revealed that in 2014 PTFI contributed to up to 93.05 percent of the gross domestic product (GDP) of the Mimika Regency, 32.1 percent of Papua Province, and 0.45 percent of Indonesia. PTFI's presence has spurred rapid economic development in Timika, which has transformed it into an important economic center in the region. As a result, Timika has witnessed high population influx from other parts of Papua and greater Indonesia in search of employment opportunities.
In addition to the direct economic impact of the operations, PTFI has implemented a number of village-based economic development programs in targeted areas in the highlands, lowlands and coastal areas in order to stimulate livelihoods independent from the mining sector. These programs include agriculture, animal husbandry, coastal economy and Micro, Small and Medium-Scale Enterprises. PTFI spent over $3.6 million on these programs in 2016.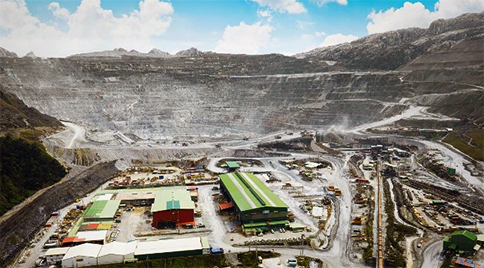 The highland agricultural development program is focused on the development and production of Arabica coffee in four villages (Tsinga, Aroanop, Hoea and Waa). This program involves mentoring approximately 81 coffee farmers, production facility assistance, technical guidance and market accessibility. During 2016, PTFI continued its mentoring program in order to improve technical and managerial skills of Amungme Gold Coffee Cooperatives boards and members in implementing its coffee business. As a result, the 2016 coffee cooperative annual revenue increased by 20 percent to IDR 983 million.
In the lowland area, PTFI supports cocoa farming in more than fifteen targeted villages. During 2016, PTFI partnered with a local cooperative to distribute cocoa seedlings and provide training to cocoa farmers. As of December 2016, 297 farmers were involved in this cocoa farming program cultivating 186 hectares of cocoa. In 2016, the first 720 kg of cocoa beans were sold to buyers from Makassar. PTFI also collaborated with the Mimika government in planting quality coconut seedlings in 30 hectares in the coastal area.
The animal husbandry program focuses on broiler chicken, layer chicken and pig farming in Utekini Baru Village. The program is operated by a local non-profit organization and has provided jobs, mentoring and capital loans to over 400 local farmers involved in chicken farming.
Through the Micro, Small, and Medium Scale Enterprise program (MSME), PTFI assisted and mentored a total of 162 Papuan entrepreneurs, of which 11 entrepreneurs graduated from the program in 2016. Eighty-three percent of the assisted entrepreneurs are from the seven Papuan tribes that are indigenous to the area. These MSMEs are generally engaged in trade/retail businesses, services, manufacturing, farming and animal husbandry. The assisted entrepreneurs provided goods and service for both PTFI and outside PTFI. This MSME Program has provided employment to more than 1,300 people.
In 2016, PTFI signed a multi-year agreement with Bank Rakyat Indonesia (BRI to increase Papuan entrepreneurs' access to financial capital in order to grow their small businesses. BRI will administer the micro-loans and PTFI will underwrite the loans and connect Papuan entrepreneurs from its Micro, Small, and Medium Enterprise Development (MSME) program to the bank. Since 2004, PTFI has made approximately IDR 50 billion of loans to Papuan entrepreneurs through its revolving fund (YBUM: Yayasan Bina Utama Mandiri). This new partnership between PTFI and BRI will transition borrowers from YBUM to BRI and, as a result, increase the professional support and access to capital for over 160 Papuan entrepreneurs in PTFI's economic development program.
In 2016, the Amungme and Kamoro Community Development Organization (LPMAK) invested $5.0 million in economic development programs, which supported local businesses, agriculture, and fisheries. LPMAK supported over 700 micro-businesses that were engaged in a range of services, trade, and home industry businesses. These micro-businesses generate income, which leads to job creation. They stimulate local economic growth within villages, and provide families with funds to pay for education and health expenses and to further invest in their businesses.
PHOTO DESCRIPTION: The Grasberg open-pit mine in the province of Papua, Indonesia.

BACK TO ECONOMIC IMPACTS > INDONESIA | Democratic Republic of Congo | South America | North America