COMMUNITY GRIEVANCE MECHANISMS
Our site-level community grievance mechanisms are tailored to local cultures and allow us to document and respond to issues and concerns raised by local community members in a timely manner. Grievances are typically received by Community Liaison Officers (CLOs) in the field, through engagement at established company/community forums, in physical drop boxes or via local telephone hotlines. Regardless of how grievances are received, they are reported to the site Community Grievance Officer, who relays the grievance to the relevant department for evaluation. CLOs help investigate grievances and work with community members and their representatives to address concerns, solve problems, and mitigate and remedy impacts. For grievances with potential high community impacts, company management is involved and applicable government authorities are engaged as needed.
Our site-level community grievance mechanisms support our commitment to remedying adverse impacts we cause or to which we contribute. They also help us manage and reduce risks by identifying and addressing problems before escalation into larger conflicts. We do not tolerate retaliation against anyone for raising in good faith a question or concern about our business practices or for cooperating in an investigation of such a concern. Use of our community grievance mechanisms does not preclude access to judicial or other non-judicial grievance mechanisms.
During 2018, 226 community grievances were recorded at our global operations in addition to approximately 630 grievances related to dust events at our Sierrita operation in Arizona. Regardless of the type and credibility of the allegations, all cases reported are documented, reviewed and closed once a final decision is made and subsequent action is taken. Refer to the Assessing and Managing Impacts, Indigenous Peoples and Land Use and Customary Rights sections of our website for examples.
We are reviewing our community grievance procedures against the effectiveness criteria outlined in the UN Guiding Principles. In addition to conducting internal benchmarking, we engaged with a set of community stakeholders to obtain their feedback via our formal Community Partnership Panel meetings in the U.S. as well as our site-level HRIA processes. These inputs are informing updates to our community grievance process, which we expect to be completed in 2020.
Via our formal Community Partnership Panel meetings in the U.S., seven operations reminded stakeholders of our community grievance mechanism and obtained feedback to support continuous improvement. Stakeholders knew of at least one way to contact the company if they had questions or concerns, but were less familiar with our process for handling grievances. They provided valuable insight, including how best to message the grievance mechanism process and increase awareness of the mechanism among the broader communities. We also solicited feedback by incorporating survey questions into Verisk Maplecroft's engagement with community members and other third parties during the Human Rights Impact Assessment at our Chino and Tyrone operations in New Mexico.
NORTH AMERICA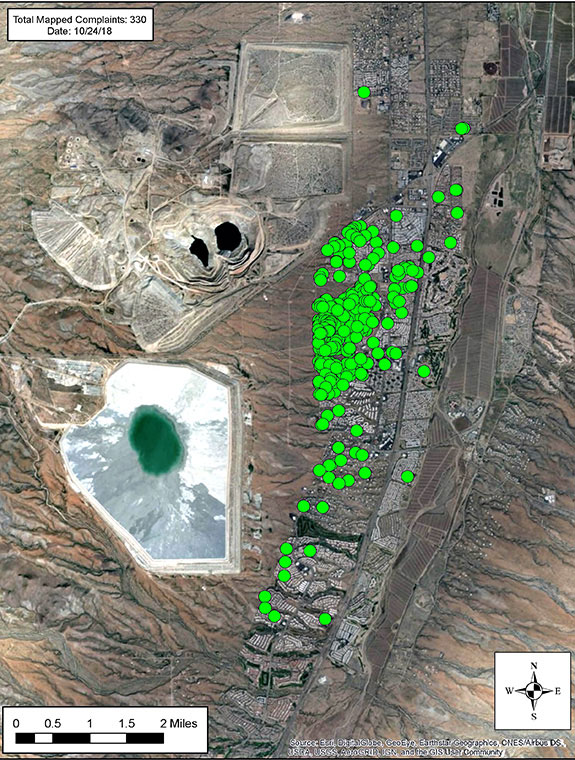 In 2018, Sierrita successfully worked with community members to address over 600 grievances associated with dust-related impacts from the Sierrita Tailings Impoundment (STI). A six-hour, 500-year storm event damaged the STI surface crust layer and high winds during subsequent storms blew dust towards the adjacent Green Valley and Sahuarita communities. Sierrita leadership mobilized a team to respond to the high volume of calls received via its 24-hour Community Information and Grievance Line. While responding, the team continued to promote awareness of its Community Information and Grievance Line through local media outreach, public meetings and collaboration with a local NGO, which also provided support to residents in processing their claims. A registry and map of impacted households was maintained throughout the process and remedies were agreed on with residents based on household-specific impacts. Remedies included organizing or reimbursing professional cleaning services for homes, cars and HVAC systems, as well as providing a Human Health Impact Assessment report on the non-toxic nature of the tailings material to circumvent misperceptions or concerns. Sierrita continued to receive grievances related to these events into 2019. To mitigate the risk of impacts recurring, Sierrita conducted a benchmark evaluation to inform updates to its dust management plan including how to better anticipate and prepare for storm events to reduce dust emissions.
In 2018, we continued to review our internal and external grievance management procedures against the effectiveness criteria outlined in the UN Guiding Principles (i.e., legitimate, accessible, predictable, equitable, transparent, rights-compatible and a source of continuous learning, based on engagement and dialogue). In addition to conducting our own internal benchmarking, we hosted a series of guided discussions on our grievance management process to gain insight from community stakeholders on their understanding of the process.
SOUTH AMERICA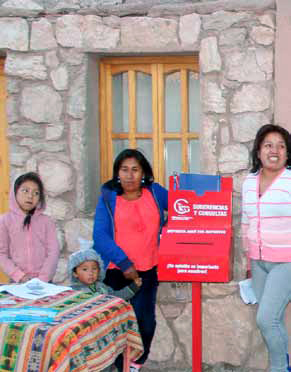 Ten grievances associated with indigenous peoples in Chile were filed with El Abra in 2018. The Taira community was concerned it was not informed prior to El Abra conducting an Environmental Impact Assessment (EIA) for utilization of the Turquesa pit as a waste dump. The community's concerns were associated with potential interference of grazing lands and local turquoise mining. El Abra invited members of the Taira community to participate in interviews to better understand the community's relationship with the Turquesa project area, as there was no prior evidence of its affiliation to the area. Although the community denied to participate in the sessions, El Abra has committed to establish a broader community participation and consultation process with neighboring communities.
In 2018, concerns were raised regarding El Abra's archeological management system. Earth moving equipment within the mine area damaged an archeological site, and the incident prompted community concerns of potential damage to archeological sites in general. As a result, El Abra established a participatory monitoring program with two community members and an archeologist. The archeologist will inspect all archeological locations in the area and train community members in archeological monitoring to help the community be well-informed.
As previously reported, Cerro Verde successfully worked with community members to address 146 grievances regarding noise, vibrations, property damage and odors from wastewater pumping stations in 2016. The stations are an integral component of the Arequipa Region's first-ever wastewater treatment system. Upon receipt of these grievances, Cerro Verde's Grievance Officer organized property inspections with complainants to assess the impacts and then collaborated with property owners to establish monitoring equipment. Cerro Verde contracted a third party to provide monitoring services in addition to its own. Cerro Verde's Grievance Officer and Community Relations team engaged with the complainants throughout the process and agreed on remedies with property owners based on the analysis conducted. Grievance remedies ranged from home relocations to replacement of windows. Cerro Verde also commissioned a technical study for operational improvements to the pumping system to mitigate the risk of impacts recurring. Adjustments to the pumping, air injection, valve, and ventilation systems were made to reduce noise and vibrations. Upon receipt of odor-related grievances, Cerro Verde's Grievance Officer organized field visits with both complainants and pump station management. Sludge collection procedures were then improved to mitigate odors. As a result, the number of grievances related to the wastewater treatment system was significantly reduced in 2017.
In 2018, one grievance was received related to noise and vibrations associated with pumping stations. The substantial reduction since 2016 demonstrates the effectiveness and success of Cerro Verde's grievance resolution process and mitigation measures. In addition, concerns were raised in 2018 over dust generation and safety risks created related to equipment and other vehicles to and from the wastewater treatment plant and a pumping station. Action plans implemented include a safe-driver training program for the workforce and community members, and applying additional dust suppression controls.

PHOTO DESCRIPTIONS: (top) Sierrita successfully worked with Green Valley and Sahuarita residents to address approximately 630 complaints (from locations shown in green) received via its Community Information and Grievance Line related to a series of dust events in October 2018. (bottom) El Abra maintains three mailboxes in Alto El Loa for neighboring community members to raise concerns, ask questions, submit grievances and offer suggestions, with a commitment to respond within 30 days.

BACK TO ASSESSING AND MANAGING IMPACTS