RESETTLEMENT
Our former TFM operation implemented policies and procedures to support resettlement and/or compensation of Project Affected Persons (PAPs) who were displaced due to mine expansion. These policies are defined in the Land Access, Compensation and Resettlement Policy Framework (LACRPF). The LACRPF was developed in accordance with DRC law and the International Finance Corporation (IFC) Performance Standard 5 (2012).
TFM followed a multi-step participatory, transparent and equitable process where all Project Affected Households (PAH) were engaged and fairly compensated to ensure that the living standards of displaced households were improved or at least restored to pre-project conditions. For each new phase of the mine plan that necessitated resettlement, TFM conducted a socio-economic baseline and census, and then prepared a Resettlement Action Plan (RAP). Each of these site-specific RAPs identified the economically and physically impacted households within a clearly identified impact footprint. These impacts were then mitigated via: i) cash compensation, ii) replacement of assets, and iii) restoration of livelihoods. Throughout the resettlement process, TFM engaged with PAPs via consultation committees established for each resettlement community and through larger community meetings. These meetings provided an opportunity to review and provide input into the resettlement process, schedule and compensation system, and to address any questions and issues.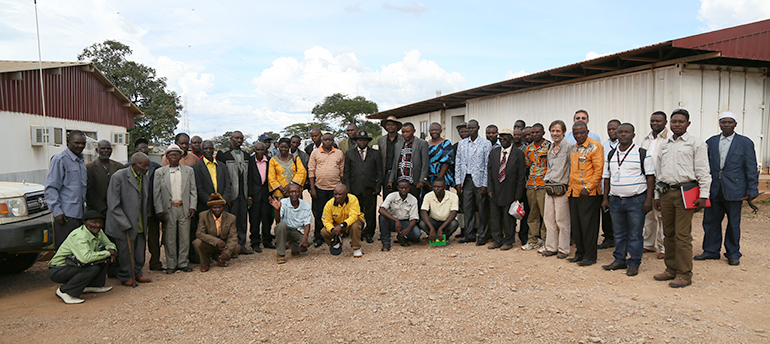 The resettlement process linked to the Oxide Project was initiated in 2014 and continued throughout 2016, with initial focus on the compensation and physical resettlement of the Bloc Mitumba community located near the Fungurume Hills mining area and the town of Fungurume. Based on the Oxide Project ESIA and following the guidelines outlined in TFM's LACRPF, a site-specific Resettlement Action Plan was finalized for the physical and economic displacement of Bloc Mitumba and the adjacent area north of the community. Physical resettlement began in 2014 and continued throughout 2015, with 145 households relocated to new housing in the New Mitumba site south of Tenke. An additional 180 households who selected Assisted self-resettlement (ASR) moved to privately acquired residences in Fungurume, Lubumbashi, Likasi and Kolwezi - 74 in 2015 and 106 in 2016. These households, at their election, received direct support throughout the ASR process, allowing them the choice of resettlement to a plot of their own choosing, rather than a project-built house in a RAP village. While resettlement to the New Mitumba resettlement site was completed in 2015, ASR was completed in 2016. The Mitumba-Fungurume Hills RAP impacted a total of 1,248 PAH, of which 325 were entitled to resettlement housing. With an average household size of five, the Mitumba-Fungurume Hills RAP impacted approximately 6,000 individuals.
As the Oxide Project advanced, TFM developed additional site-specific RAPs for the Mwadi Komba and Mambilima deposits, two areas located between the major mining area of Kwatebala to the north and national highway to the south. Both resettlement processes advanced in 2016.
Northwest of the Kwatebala mining area and north of Tenke-Fwaulu is the project development of a tailings storage facility (TSF), leading to preparation of the NW TSF-Kyamba RAP. This resettlement process also advanced in 2016.
The latest resettlement process, Shadila Nzolo, was initiated in May 2016 to allow the exploitation of the Shadila Nzolo deposit east of Mwadi Komba.
The Resettlement Unit maintained weekly office hours in Tenke and Fungurume to respond to queries. Grievances were recorded in the grievance management system managed by the Community Liaison office and assigned for follow-up investigation and response. If a PAP did not agree with TFM's response to their grievance they had the option to appeal to the Independent Mediation Committee.
Close monitoring of resettled households continued during and after resettlement to monitor program effectiveness and the well-being of resettled households. The TFM resettlement program underwent an annual third-party review.
PHOTO DESCRIPTION: Local and traditional authorities are involved during the consultation, design and implementation stages of TFM Social Community Fund projects.

BACK TO LAND USE AND CUSTOMARY RIGHTS