INDONESIA
The PTFI project area is located on the southern flanks of the Jayawijaya Mountains, in the Mimika Regency of the Province of Papua. PTFI's mining area (10,500 hectares) is located between 2,700 meters and 4,200 meters above sea level (ASL) and includes the Grasberg open pit mine, an underground mining complex, a milling complex and extensive supporting infrastructure. The ecosystems in the mining area (2,700 meters - 4,200 meters ASL) range from upper montane forest sub-zone to alpine zone. The broader project area (289,500 hectares) extends from the mining area at about 2,700 meters ASL down to the Arafura Sea to the south. Due to its location in one of the world's richest biodiversity regions, the PTFI project area contains considerable biodiversity.
PTFI's project area is adjacent to the Lorentz National Park to the east, comprising 2.5 million hectares. Lorentz National Park is the largest protected area in Southeast Asia, and the only protected area in the world that incorporates continuous, intact tracts of ecosystems from alpine to tropical marine environments, including extensive lowland wetlands. In 1999, Lorentz National Park was declared a World Heritage Site by the United Nations Educational, Scientific and Cultural Organization (UNESCO). Results from comprehensive biodiversity inventories conducted by PTFI in the Contract of Work (COW) are used to inform and develop management options at Lorentz National Park.
Biodiversity in the PTFI project area has been inevitably impacted to varying degrees by mine development activities. These include mining activities in the subalpine zone, tailings management areas in the lowland zone, the mill and Tembagapura town site in the montane zone, and associated infrastructure from the port site to the mine site (approximately 9 percent of the project area is disturbed). Most of the area is still the primary forest that is composed of different ecosystems, ranging from mangrove forests, fresh water swamp forest, lowland tropical rain forest, heath forest and montane forest. These transitions from one ecosystem to the next closely mirror changes in elevational gradient.
PTFI conducts ongoing biodiversity inventories to inform its biodiversity management program, including approaches for in situ conservation of biodiversity; the long-term monitoring of mine related impacts on biodiversity; and the rehabilitation and restoration of disturbed areas using principles of restoration ecology. Through its Biodiversity Action Plans, PTFI aims to:
Recognize the important role that biodiversity plays in sustainable development
Establish a strong partnership with multiple stakeholder groups involved in conservation and natural resource management, including local governments and citizens
Effectively manage local biodiversity for the sustainable development of the region
Provide biodiversity education, research and information opportunities
Below we describe some key ongoing biodiversity-related initiatives as part of PTFI's Biodiversity Management Program.
1. Biodiversity Research and Monitoring
Biodiversity research on Papua is very limited. Most research and publications that exist focus on Papua New Guinea. PTFI is aware of the lack of biodiversity information in Papua, as well as the fact that the Contract of Work (COW) area is a large and rich untapped biodiversity resource. As such, PTFI has offered the area in which it operates as a natural laboratory that can be studied by scientists.
Approximately 90 percent of the PTFI COW area is composed of different natural ecosystems, including mangrove forest, fresh water swamp forest, lowland tropical rain forest, heath forest, montane forest, sub-alpine and alpine. Since 1994, PTFI has invited subject matter experts from various institutions within and outside Indonesia to conduct research on biodiversity. A series of ecological studies conducted by PTFI consisted of Plants, Mammals, Birds, Amphibians, Freshwater Fisheries Resources, Aquatic Insects, and Terrestrial Insects. This research has revealed many new species, ranging from aquatic biota to plants and terrestrial fauna, such as 20 new species of crabs, 17 unconfirmed mammals species, and 20 potential new frog species. Currently, PTFI has more than 300 reference collection (specimens) of fish, 200 specimens of crustaceans, 30 specimens of mollusks and approximately 5,000 herbarium (plant specimens). Some of those specimens were sent to both Indonesian and overseas museums for their collection. Almost all of this information is directly applicable to the area of the Lorentz.
PTFI's lead scientists have also published their findings into a number of books and posters on the biodiversity of Papua, especially biodiversity in the Mimika Regency. Biodiversity books include: Freshwater Fishes of the Timika Region New Guinea (2000), Aquatic Biota of Mimika Waters, Papua (2002), and Mimika Butterflies (2003), Birds of Mimika (2004), Subalpine and Alpine Fauna of Mimika, Papua Indonesia (2005), Mangrove Estuary Crabs of the Mimika Region, Papua (2009), Freshwater Crustacea of the Mimika Region, Papua (2009), Mangrove Estuary Shrimps of the Mimika Region – Papua, Indonesia (2015), Field Guide to Frogs of the Mimika Region – Papua Indonesia (2015), A guide to the Birds of the Mimika Region – Papua, Indonesia (2015).
To support the exploration of biodiversity in Papua, PTFI has established permanent monitoring sites in all ecosystems in the COW, from the mine at about 4,000 meters above sea level to the coastal and marine areas. Regular flora and fauna biodiversity monitoring are conducted in those sites involving consultants, research organizations and universities.
2. Biodiversity Outreach Programs
PTFI recognizes the uniqueness of the ecosystems and habitats in which it operates. As part of its environmental commitment, PTFI looks for varied and creative ways to implement biodiversity outreach programs that involve engagements with students, teachers and community to promote biodiversity and endemism in Papua. Some of the programs are as follows:
Established the "Natural Succession Discovery Park" using a former tailings disposal area for studies on natural succession and serves as an outdoor education classroom for local school students to learn about successional processes/trajectories in nature.
Developed Ecosystem Diorama displaying flora and fauna from the various local ecosystems from estuarine to alpine.
Constructed Butterfly Sanctuary, to allow students and community learning about the diversity and life-cycle of lepidopterans at the Sanctuary and learn how butterflies and other pollinators play a key role in the propagation of economically important crops.
Constructed Sanctuaries for bird species, including the Cassowary to rehabilitate individuals confiscated from smugglers before release to natural habitats. The program included collaboration with the Papuan Natural Resources Conservation and Mimika Quarantine offices.
Established Orchidarum in the shape of the island of Papua New Guinea including a trail where native orchids from throughout the island are grown.
Worked with local universities to develop a jungle trail for educational purposes. This extensive trail, used frequently by schoolchildren and local residents, has myriad trees and plants identified with plaques highlighting common and scientific names, as well as medicinal, economic and cultural uses.
Organized bird-watching club for students as an ideal forum to get children more interested in nature, and to learn about the high diversity of avifauna in Papua.
Some awards and recognitions were obtained by PTFI for its biodiversity programs, including the following:
Certified as Habitat at Work by Wildlife Habitat Council (WHC), USA since 2011.
In 2012, WHC recognized and certified PTFI's Environmental Education program as Rookie of the Year for Corporate Land for Learnings (CLL).
In 2014 received Wildlife Habitat Council's prestigious Corporate Land for Learning of the Year Award.
Consecutively in 2013, 2014, 2015 and
In 2016 received Indonesian Green Award for Biodiversity Program from the La Tofi School of CSR for PTFI programs in biodiversity and conversation programs.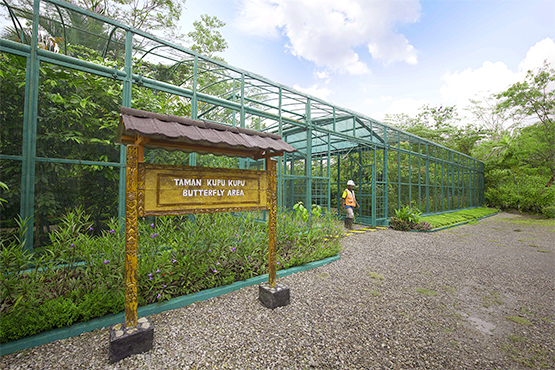 3. Papua Endemic Wildlife Repatriation
Papua has one of the world's highest levels of biodiversity, and greatest concentrations of endemic flora and fauna. As a consequence, flora and fauna from Papua often become the object of illegal trade. Countering illegal wildlife trade is a priority for Papua's natural resource agencies and part of PTFI's commitment to biodiversity conservation in Papua.
PTFI cooperates with the Indonesia Animal Rescue Center, Forest Protection & Nature Conservation (PHKA), Forestry Department (BKSDA), Lorentz National Park Center and Wasur National Park Center to repatriate protected animals to their habitats. Below are highlights of conservation events from 2006 to 2017:
Released over 41,000 Pig-nosed turtles (Carettochelys insculpta) to habitat in Lorentz National Park in several.
Released 21 dusky-pademelons (Tylogale brunii) to its habitat in Wasur National Park, Merauke, Papua.
Released 139 Black-capped lorikeet (Lorius lorry), and 7 Yellow crested cockatoo (Cacatua galerita)
Released 2 Copper ring-tail cuscus and 1 spotted cuscus and 1 Southern cassowary (Casuarius casuari).
Released 11 green tree phyton (Morelia viridis), 20 White lipped phyton (Leiophyton albertisi), 1 Candoia aspera, and 1 Morelia amestistina
Released 3 Fresh water Papuan crocodiles (Crocodylus novaguineae) and 2 panana lizard (Tiliqua gigas)
PTFI also participated in a Multi Stakeholder Forum (MSF) of Environmental Sustainable development especially for Wildlife Conservation in Mimika. The forum consists of multiple parties such as Government bodies, NGOs, individuals and others private companies in Mimika. The purpose of the forum is to reduce animal smuggling and increase awareness by producing promotion media (leaflet, banners, posters, social media promotion, etc.), arrange workshops and training, and to conduct animal repatriation programs.
4. Re-vegetation and restoration of Ajkwa and Waii Islands in the Ajkwa Estuary
Sedimentation in the estuaries of the southern part of Papua, especially in the Mimika Regency, is very high, due to high rainfall and associated erosion in the region. In the course of PTFI's operations, natural sedimentation in Ajkwa estuary has inter-mixed with the fraction of tailings not deposited in the ModADA, moving down river to form new islands in the estuary: Ajkwa Island and Waii Island. Ajkwa Island began developing in 1997. Since then, unassisted natural succession has begun to transform the island from a previously barren landform into a mangrove ecosystem. As there is a lack of information about natural successional processes that create estuarine habitat in this region, PTFI conducts long-term monitoring to track ecosystem succession. The monitoring program conducted on Ajkwa Island includes long-term monitoring of vegetation, birds, crustaceans, mollusks and other invertebrate species.
In order to accelerate mangrove colonization, assisted mangrove colonization programs have been implemented since 2002. Through 2017, approximately 130 hectares of newly formed land (Waii Island), Yamaima and Pasir Hitam have been revegetated with mangroves with a survival rate greater than 90 percent.
5. Reclamation and restoration of subalpine ecosystems at Grasberg
The Grasberg open pit mine is at an elevation of more than 4,000 meters above sea level. At this elevation, the ecosystem is devoid of trees, and instead dominated by grasses, along with some ferns, herbs and shrubs. During the life of the Grasberg Open Pit, overburden rock will be moved to expose ore for mining. Overburden is placed in stockpiles surrounding the pit. When the individual stockpiles reach their overburden storage capacity, the surfaces can be re-vegetated to form an ecosystem similar to that found during pre-mining conditions. PTFI reclaims the overburden stockpile areas once the final elevation and contour are attained, and drainage and erosion control systems are operational. PTFI also implements research to study re-vegetation techniques in sub-alpine and alpine ecosystems, propagates flora using a large variety of native plants, and establishes vermi-composting to support reclamation and ecosystem restoration efforts.
6. Tropical Reforestation Initiatives through Tree Planting
Replanting trees with large biomass per unit land area, and protecting large areas of intact forest, are some of the most efficient ways to absorb excess CO2 from the atmosphere. PTFI recognizes the importance of reforestation and has committed to incorporating tropical tree planting efforts into its conservation activities. The reforestation initiative in the COW area consists of encouraging employees and their families to be actively involved in tree planting activities. PTFI implements reforestation efforts with involvement by local communities though commemorating events such as Earth Day, Environment Day, Indonesia Independence Day as well as religious ceremonies. PTFI's activities outside the COW include participating or sponsoring tree planting activities in Timika, Papua, and in other areas outside the province of Papua (including West Sumatra, West Java and Central Java).
PHOTO DESCRIPTION: The PTFI Butterfly Sanctuary allows students and community the opportunity to learn about the diversity and life-cycle of lepidopterans and see how butterflies and other pollinators play a key role in the propagation of economically important crops.

BACK TO BIODIVERSITY