FATALITY PREVENTION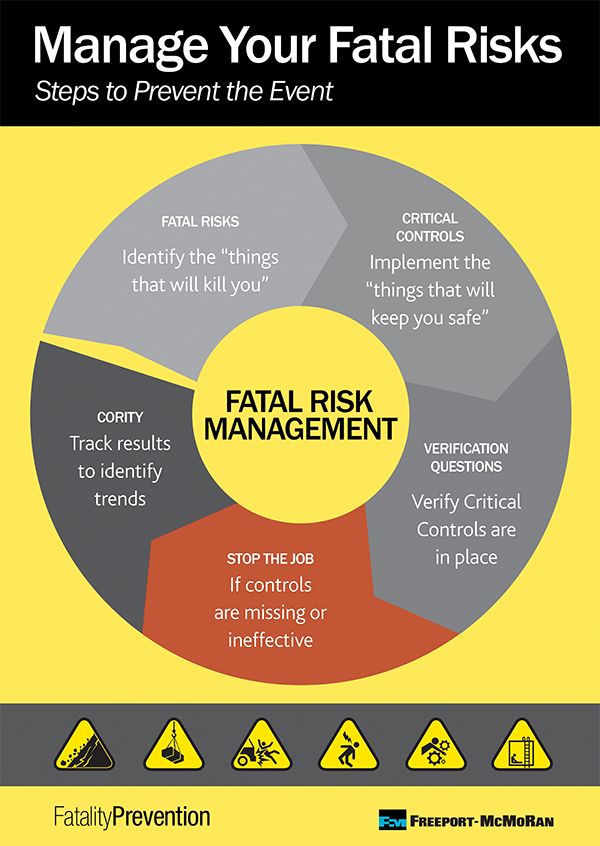 To achieve our objective of incurring zero workplace fatalities we have begun implementation of a Fatal Risk Management (FRM) program, which is the evolution of our Fatality Prevention initiative. The FRM requires that we identify potentially fatal risks in the field and apply the controls most critical for avoiding fatal consequences associated with the task. This includes verification and auditing of critical controls, as a leading indicator, to assess their proper utilization and effectiveness. To date, we have identified 23 potentially fatal risks that are common across some or all of our operations, and we have placed fatal risk icon placards at work areas where these risks are present.
Every employee is responsible for their safety and the safety of those in the environment where they work. Our culture of Safe Production and leading by example at all levels of the organization supports our FRM implementation. In particular, our front-line supervisors play a vital role in reviewing assigned tasks for the shift and assisting crewmembers with identifying potentially fatal risks. Supervisors use tools such as pre-task critical control verification checklists that are customized for specific fatal risks. These tools promote quality conversations to be confident that everyone on the job understands the hazards and required critical controls. Anyone on the job is expected to STOP WORK immediately if critical controls are missing, deemed not effective or unsafe conditions exist.
Critical control verifications prioritize high-risk tasks that rely more on behaviors than engineered controls and provide immediate leading indicator data to strengthen the FRM and our overall Health and Safety system. We are utilizing a mobile platform that guides users through a checklist to validate that necessary critical controls are in place and effectively implemented for a particular task with exposure to a fatal risk. The system captures any variance with our critical controls and allows us to create action plans to address these gaps.
Health and Safety system improvements in 2018 include:
Introduced streamlined Health and Safety policies and process documents across the organization for clarity and focused applicability in the field; this includes the Contractor Health and Safety Manual which was updated to clarify company expectations.
Developed a Management of Change (MOC) Policy and Guidance to apply to potential changes in the workplace that can result in unplanned adverse impacts on processes, systems and/ or people. The MOC requires the proper level of review of the proposed change by multi-disciplined personnel with appropriate skill sets. The purpose includes avoiding consequences of unforeseen safety hazards and ensuring changes are communicated to all applicable personnel.
Began a review to improve our Root Cause Analysis (RCA) process to give us confidence that we are asking the right questions to "drill down" far enough to gather underlying causes of events, including what behavioral factors lead to conscious breaches of safety policies and procedures. This project includes an assessment of the leadership qualities and capacity necessary to effectively conduct robust RCAs.
Initiated a global executive review of Potential Fatal Events (PFE). As soon as possible after a PFE occurs, over 50 global operational and corporate leaders convene to review and understand the findings as well as share ideas for future preventative measures. This creates a better understanding of the event for communication across the organization.
Conducted external expert evaluation of the weekly activities of our Health and Safety professionals to review opportunities to reduce administrative tasks that could impede SAFE PRODUCTION leadership efforts in the field.
The OSHAS 18001 standard is being replaced by the Occupational Health and Safety Management Systems of the International Organization for Standardization (ISO) 45001 and will be retired in March 2021. Planning for the transition to ISO 45001 began during the year with full company-wide conversion expected by 2021.
We recognize the impact an employee's death or serious injury at work has on family, loved ones and co-workers. We initiate multiple steps of care after the initial emergency response activity. Generally, a primary family member is contacted and arrangements are made to transport them to the employee's location or vice versa. Whether or not the company is liable for the incident, the employee and their family members are cared for during the employee's entire hospital stay. In the case of a fatality, we help support funeral arrangements. In addition, evaluation of the incident is reviewed by senior leadership to determine compensation needs for the family, without consideration for liability and in addition to any local requirements.

BACK TO HEALTH AND SAFETY