POLICY COMMITMENT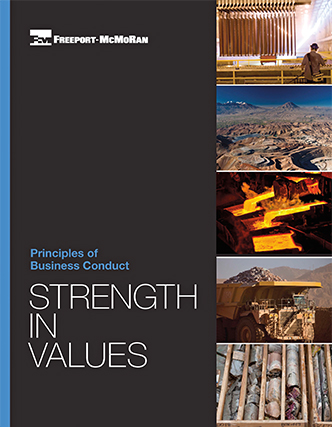 Our commitment to respect human rights is explicit in our Human Rights Policy. The policy has evolved since it was first established in the late 1990s, and was most recently updated and approved by the Freeport-McMoRan Board of Directors in August 2017 to include an explicit, full commitment to the UN Guiding Principles on Business and Human Rights (UNGPs). It was informed by:
The Universal Declaration of Human Rights
The laws and regulations of our host countries
The UNGPs
The Voluntary Principles on Security and Human Rights
The 2014 Corporate Human Rights Impacts Assessment (Corporate HRIA) process (including the related stakeholder engagement)
The policy applies to our employees, contractors and suppliers of goods and services, and addresses the rights of all individuals, including employees, suppliers, community members and others who may be potentially impacted by our business.
Application of our human rights policy is supported by the following, in addition to our core sustainability related policies:
Our Principles of Business Conduct (PBC), which sets forth the global system of principles that our workforce must follow in all activities. The PBC highlights our commitment to promoting the rule of law and respecting human rights.
Our Supplier Code of Conduct, which is based on the PBC and is provided to suppliers (including contractors) to ensure that our expectations and standards are understood and followed by everyone involved in our operations.
PHOTO DESCRIPTION: Our new Principles of Business Conduct continues to reflect the company's commitment to doing what is right, from top-level management to entry-level employees.

BACK TO UNGP IMPLEMENTATION > Policy Commitment | Embedding Respect | Defining Reporting Focus | Management of Salient Issues