Virtual Reality Technology Real Enough for Certifiable Training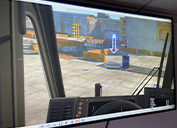 February 4, 2021 - Rapid technological advances increasingly are shaping the virtual world into a convincing substitute for the real version – real enough to help keep people safe.
The Safford, Ariz., Technical Training team's new virtual reality training system so closely mimics an actual mobile equipment cab environment, trainers believe it one day will supplant real vehicles as a safe alternative for operator training and certification.
"The crane program we're piloting is the most lifelike simulation we've had," said Jimmy Bell, Technical Trainer-Safford. "You get the full operator perspective – front, back, sides, top and bottom."
The VR system, made by Industrial Training International, works its magic through a robust, high-performance hardware / software package paired with an oculus – a headset that encloses the wearer's eyes and displays a high-definition, stereoscopic image inside.
The trial product simulates various cranes used around Safford's Hydromet facility. If successfully implemented as a permanent training solution, the platform can be expanded for training operators on all mobile equipment used on site – a welcome departure from its well-weathered predecessor.
"The old simulator, which we used for about 15 years, had no oculus and was more like a big arcade video game," Bell said. "This one immerses you in a very close approximation of what you'd see and hear inside the cab of an actual machine in the field."
The touch of realism extends to the layout and feel of the VR unit's control console, which exists as both a physical apparatus attached to the desk or table where the user sits and a virtual console in the oculus view.
"The layout of control levers and buttons is similar to that of the modeled machine, and the movements you see in the oculus closely match how the machine would respond as you work the controls," said Ross Hunt, Technical Instructor-Safford.
Easy to pack and tote
In addition to its advanced graphics processing and real-feel control hardware, the VR system's portability is a strong selling point.
"The previous simulator was like a big furniture ensemble, with many large, physical components that required a lot of time to set up and a lot of space to store and haul," said Justin Bingham, Superintendent Technical Training-Safford. "This new device fits into three large luggage-sized cases and takes only about 35 minutes to set up."
Tailoring VR products to match a client's specific equipment involves a lot of complex prep work. According to ITI, up to 10 months of initial research and development preceded the crane simulator demo and beta-testing versions, followed by ongoing development and improvement of the product line over subsequent years.
"We referenced subject matter experts, numerous photos, videos and engineering documents to model most of the cranes," said Grant Winters, Director Business Development VR-ITI. "For one crane, though, we conducted a LIDAR (light detection and ranging) scan of the actual rig, which greatly accelerated the modeling process."
Though the look of ITI's simulations stops short of Hollywood-grade, computer-generated realism, the business case for developing and marketing affordable VR products of that caliber is within reach. "We're maybe another two to four years away from seeing high-level industries routinely investing in VR tech with that capability when warranted, and maybe within five years after that, it will be a feasible option for the average consumer," Winters predicted.
Less training time and stress
The VR product's ease of deployment is expected to help cut the typical six-month operator training time down to about two months or less, which will allow trainees less time to get cold feet.
"We have many inexperienced employees who are apprehensive about running a crane," Hunt said. "This system is better than a real machine for quickly building their confidence, because they can make and learn from mistakes without the worry of hurting someone, damaging property or having a scary near miss."
That's not to say the VR goes easy on trainees.
"It trains operators using worst-case scenarios … even emergencies, such as uncontrolled sway from sudden wind," Bell said. "It can depict … but not inflict … real-world consequences from operator error."
Regardless of their hours inside real equipment, all operators can use the VR trainer to keep skills sharp and free of unsafe habits.
"Mine Maintenance has about 130 employees with crane experience, and though not all of them regularly operate a crane, they need to be recertified every three years," said Bleu Wear, Technical Instructor-Safford. "This system can be used for recertification as well as corrective training following any events involving unsafe operating practices."
Ultimately, the Training group plans to use the VR system for all future operator certification and re-certification. ITI is working to have its simulators approved for use in the crane exam administered by the National Commission for the Certification of Crane Operators.
"We are optimistic about the prospect of certifying students with this exam in the next two or three years," Winters said. "Something similar already is happening with other heavy equipment assessments, so it's only a matter of time until crane certification entities adopt it."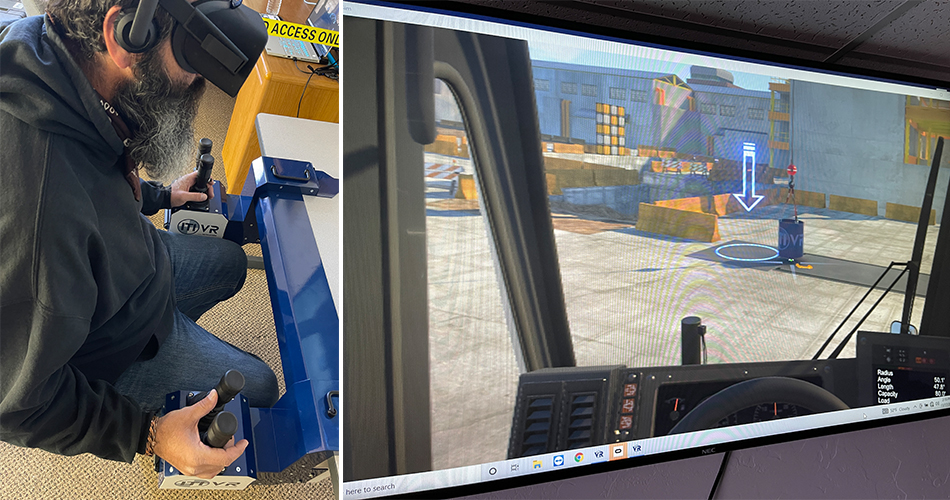 Photos (left to right): A TV screen allows a trainer to see part of what a trainee sees in the oculus while running through a simulation ; Ross Hunt, Technical Instructor-Safford, takes the controls of a virtual boom truck.