The Freeport-McMoRan Environmental Policy is based on our objective to be compliant with laws and regulations and to minimize environmental impacts using risk management strategies based on valid data and sound science. It requires that we review and take account of the environmental effects of each activity, whether exploration, mining or processing; and that we plan and conduct the design, development, operation and closure of each facility in a manner that optimizes the economic use of resources while reducing adverse environmental effects.
All of our mining and mineral processing operations maintain Environmental Management Systems (EMS) certified to ISO 14001, which are independently audited on an annual basis. As part of the EMS, employees and contractors are trained on environmental awareness in subject areas including chemical management, waste management, and spill prevention and response. In addition to job-specific training, workforce members receive annual environmental refresher training.
In December 2016, our Molybdenum Processing Facility in Rotterdam, Netherlands was the first site in our portfolio to secure Environmental Management System (EMS) certification under the new ISO 14,001:2015 standard. Our remaining operations will have until September 2018 to certify under that standard. During 2016, we completed internal environmental audits at nine operations, and our facilities are routinely inspected by regulatory agencies. Since 1996, an independent environmental audit has been conducted at PTFI every three years, and an executive summary and responses to the 2014 audit recommendations are posted on our website. All operations have corrective action programs associated with the overarching EMS.
When operations have received a notice of an environmental violation from a regulatory agency such as shown in the table below, the citations typically have involved brief and minor exceedances of permit conditions or other recordkeeping violations which have no or minimal environmental impact. Notices of violation have also followed spills or releases related to tailings dust or impacted water. When our operations have been assessed penalties, they typically are individually below $100,000.
PT Freeport Indonesia External Audits
Environmental Grievances
In 2016, PTFI received a total of 66 community grievances, 4 of which were related to environmental impacts. The grievances included complaints related to sedimentation and the east and west levee extension projects, as well as mass fish deaths in the lower part of the project area determined to be a seasonal event caused by natural phenomenon. Of these, 2 were closed and 2 are in process of being closed.
In 2016, TFM recorded 170 community grievances related to environment, the majority of which were regarding sedimentation related to earthworks. The grievances in process as of November 2016 were transferred for follow up by TFM. Similar to all community grievances, the environmental grievances were processed through the site community grievance management system.
In 2016, our operations in North America and South America received 18 grievances related to environmental impacts. In North America, 100% of grievances received have been closed. Approximately half of the environmental grievances from South America were related to operational noise and vibrations. In South America, nearly 90% have been closed and the remaining 10% are in the process of being closed.
We recognize the importance of responsibly managing water resources across the portfolio of mining operations in both arid and wet regions. While all our mining operations require secure and reliable quantities of water for mining and ore processing, most of our operations are located in the arid regions of North America and South America.
We used approximately 1,740 million cubic meters of water in our operating processes in 2016, of which approximately 81 percent was recycled water. The majority of our recycled water originates from reclaimed water capture at tailings storage facilities and leach pads. Mining operations in arid regions use both a hydrological modeling analysis to evaluate long-term water supply availability and regional water supply risks and operational-based water models to understand water use, identify recycling opportunities and operational losses such as evaporation. The models help us develop management practices that maximize the efficient use of water. Through this process, we have identified additional operational practices where recycled water is being used that was not quantified in prior reporting, which in turn has contributed to the overall increase in percentage of total recycled water use.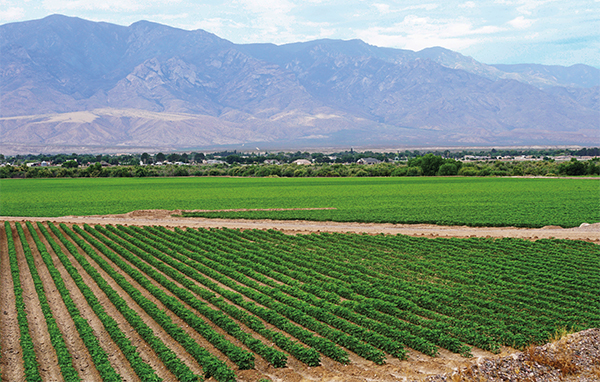 The company maintains a global water management program designed to (1) support metal production by supplying required water to process operations; (2) minimize water supply and water storage risks associated with operational, climatic, social, regulatory and environmental conditions; (3) minimize costs associated with the acquisition and distribution of water; and (4) promote innovation and implement technologies that increase water use efficiency. Operational water teams, who are supported by corporate policy and technical experts, work toward completing operation-specific goals by identifying and managing resources; communicating and coordinating with key stakeholders; monitoring, managing and analyzing water data; reporting and accounting for water use and consumption; and developing forecasting tools to support future conditions and closure. Although the potential physical impacts of climate change on our operations are highly uncertain, operations in arid regions also conduct annual scenario planning to evaluate hypothetical reductions in total water availability and hypothetical extreme precipitation events.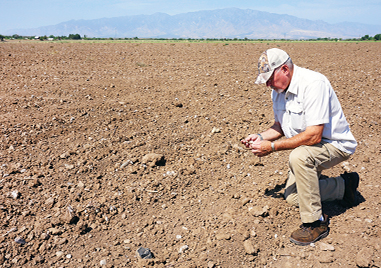 With local support, we are pleased to now have achieved full capacity operating rates at the major expansion of our Cerro Verde copper mining operation near Arequipa – Peru's second largest city. With a lack of adequate wastewater treatment infrastructure in the city, Cerro Verde financed the design and construction of one of the most advanced wastewater collection systems and treatment plants (WWTP) in the country through a public/private partnership. The WWTP is designed to treat approximately 90 percent of Arequipa's domestic sewage and industrial discharges that previously reported directly into the Rio Chili. An annual average of one cubic meter per second of the processed wastewater is now available for use at Cerro Verde, while the remainder of the treated water is returned to the river.
During 2016, the company continued to store renewable surface water supplies at underground recharge facilities within Arizona for future use in support of existing mine operations, drought backup or to support future mine expansions. The company has begun design and construction of a water pipeline in partnership with farmers in southern Arizona that will bring renewable Colorado River water to farm fields, thereby reducing the farmer's dependence on groundwater while at the same time providing the company with future renewable water supply credits. Additionally, the company, in conjunction with the Bureau of Reclamation, completed an environmental study during 2016 that allows the company's Miami operation to schedule its first water exchange in 2017 that will result in the operation's long-term utilization of renewable surface water supplies.
PHOTO DESCRIPTIONS: Safford's comprehensive groundwater management program includes following at least 200 acres annually, retaining an estimated 480 acre-feet of water in the Gila River riparian habitat.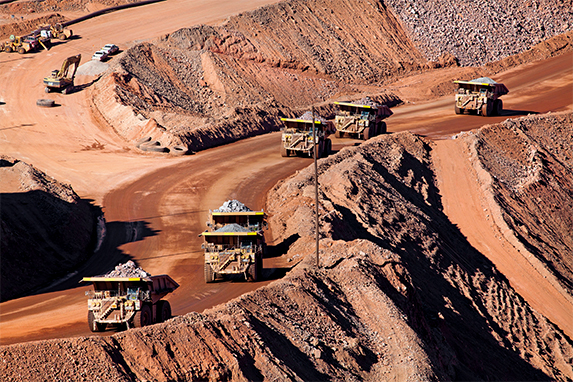 Our copper mining operations require significant energy inputs, principally diesel, purchased power, coal and natural gas, most of which is obtained from third parties under long-term contracts. Energy represented approximately 20 percent of our copper mine site operating costs during 2016.
Our worldwide total greenhouse gas (GHG) emissions, measured as carbon dioxide equivalent emissions, were approximately 10.4 million metric tons divided between direct (52 percent) and indirect (48 percent) emissions for 2016. Indirect emissions are primarily those emitted by our electricity providers. In 2016, approximately 63 percent of our purchased power was from low carbon sources, including natural gas and renewable energy.
Our direct emissions are primarily from fuel combustion in haul trucks, followed by the combustion of fuels to provide energy for roasting, smelting and other processes. The majority of our mining activity occurs in open pits. As an open pit matures, haul road length increases and haul trucks are required to move ore additional distances to the processing facility. When market conditions necessitate the mining and processing of lower grade ore, haul trucks must move more material per pound of processed metal.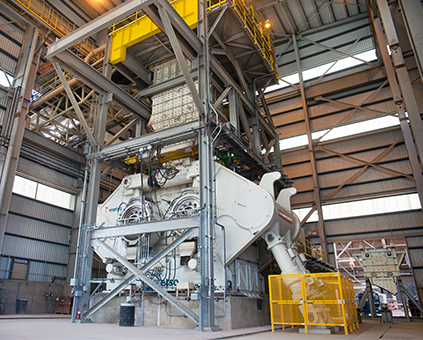 Crushing, milling, pumping and electrowinning are the most significant power-consuming processes at our facilities. We have achieved significant improvements in energy efficiency with our new processing facilities, including new mills at Morenci and Cerro Verde. The Cerro Verde concentrator expansion, for example, includes a High Pressure Grinding Roll circuit that is approximately 40 percent more energy efficient than a traditional Semi- Autogenous Grinding mill circuit. We continue to invest annually in energy-related research and development through our technology center, technical services and operational improvement groups. We provide mining-related property for solar power generation.
Our mining operations are currently not located in jurisdictions where there is a direct cost associated with our GHG emissions. As countries implement programs to meet objectives stemming from the COP 21 agreement, from a medium to long-term perspective, we may experience increased costs relating to changes in energy sources for, and GHG emissions from, our mining operations. In addition, the cost of electricity and other inputs that we purchase may increase if our suppliers incur increased costs from the regulation of their GHG emissions. We have modeled a hypothetical carbon tax of $50 per metric ton on our GHG emissions (both Scope I and II) associated with our global copper mines. The associated hypothetical increase in operating costs would not necessitate operating plan changes as it is similar to possible fluctuations in mined ore grades. Applying this model to our forecasted emissions profile and five-year copper production plans does not alter our current operating plans.
PHOTO DESCRIPTIONS: (top) Our direct GHG emissions are primarily from fuel combustion in haul trucks. (bottom) The HRC 3000 at Morenci is the largest high pressure roll crusher in the world and the first of its kind. It is estimated to consume 14% less power per ton and has 19% higher capacity than traditional HPRC's.
The tailings and waste rock (including overburden) that we produce represent our largest volume of waste. Managing these volumes produced in our mining operations presents significant environmental, safety and engineering challenges. In 2016, we produced approximately 204 million and 231 million metric tons of tailings and waste rock, respectively. The primary risks associated with managing waste rock stockpiles and tailings relate to structural stability, geochemistry, water quality and dust generation. Management of this waste is regulated in the jurisdictions where we operate, and our programs are designed to be in compliance with applicable national, state and local laws, permits and approved Environmental Impact Studies.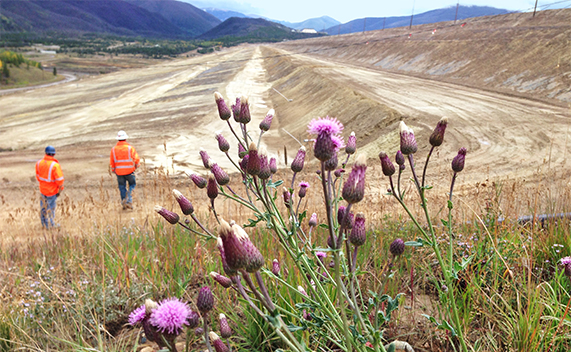 Freeport-McMoRan's objective is to have zero catastrophic structural failures of tailings storage facilities (TSFs). We maintain an active and robust tailings management and stewardship program designed for continual improvement and assurance, currently operating 18 TSFs and managing 52 TSFs that are inactive or have been reclaimed. Our two newest TSFs – the Linga Tailings Dam at our Cerro Verde operation in Peru and the East-West Tailings Dam at our Morenci operation in Arizona are now fully operational. The Tailings Stewardship Program includes inspection and management processes associated with water dams and crush leach stockpiles.
At the operational level, qualified internal tailings-dedicated engineers and onsite leaders manage TSF stability. We employ qualified external Engineer(s) of Record (EoRs) for analyses, designs, inspections, and reviews for stability. We also follow established operations, maintenance and communication protocols. In this process, we regularly inspect and monitor phreatic level trends, deposition plans and adherence to good operational construction practices, water management controls, seepage management, decant systems and other stability components. In addition, we periodically review as-built conditions through field and laboratory geotechnical testing programs under the guidance of our EoRs.
Water balance management is incorporated with tailings management as a key driver of structural stability. Tailings engineers also coordinate with environmental experts on water quality management and closure planning associated with our TSFs. At TSFs located in arid regions, our tailings management program includes measures to reduce fugitive dust emissions from the surface of tailings impoundments and increase reclaimed water capture to reduce freshwater consumption. Our efforts to limit dust generation include the application of magnesium chloride, polymers, watering and wind fencing.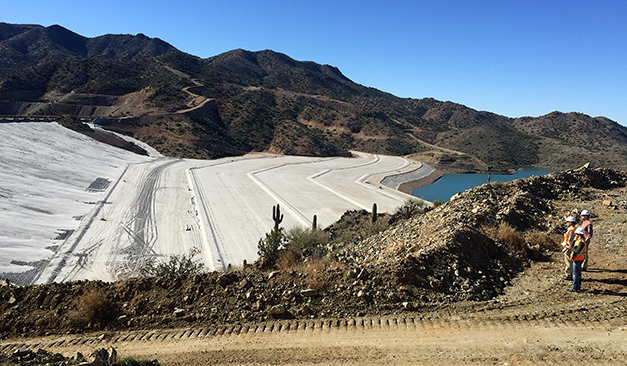 At the corporate level, we manage TSF stability through our Tailings Stewardship Program, which includes multiple levels of inspection and review. In the Americas, the Tailings Stewardship Team (TST), a multi-disciplinary group of internal and external experts, evaluates the design, operation and maintenance of TSFs to ensure that we are following and internally sharing good practices. The TST documents, prioritizes and tracks progress on recommended actions. The TST inspects all active and select inactive TSFs annually (including Cerro Verde in 2017). Inactive and closed TSFs are inspected on a site-specific schedule (every two, three, or four years). Our EoRs inspect our operating TSFs at least quarterly, and monthly in some cases. Our corporate tailings experts communicate frequently with all of our operations with TSFs and follow-up on recommended actions regularly. In 2016, our TST conducted annual field inspections at 17 active and 20 inactive TSFs. Sites have achieved 98 percent completion on TST recommended activities for TSFs (2004 to 2016).
Freeport-McMoRan has a critical controls management system in place. Focus areas progressing in 2017 include:
Governance systems
Formalized Terms of Reference for our internal and external engineers, and external engineering inspectors/reviewers
Formalized responsibility assignment for tailings operations and assurance
Strong internal accountability for resolving inspection/review recommendations
Technical support to site-based engineers from Corporate Technical Services' Tailings & Water Group
Integrated life-cycle planning and management of tailings and water
Operations and surveillance systems
Monitoring and Action Plans with automated monitoring instrumentation
Training for engineers, superintendents, supervisors and operators
Standardized water and tailings accounting and reconciliation
TSF Emergency Action Plan integration with site-wide Crisis Management Plans
Operational critical control examples
Flood management requirements such as beach offset (freeboard)
Instrument thresholds compared to actual measurements for acceptable factors of safety for static drained, undrained and post-earthquake conditions
Mitigation measures, if needed, at any TSF may include enhanced drainage, buttress or increased water consumption
In the Americas, we also seek the advice of Technical Review Boards / External Tailings Review Boards (TRBs), composed of internationally recognized external experts retained by us, regarding our EoRs' design and analysis, as well as our management of TSF stability. The TRBs provide a layer of assurance beyond our TST that our practices are in alignment with industry-leading TSF good practices. We utilize functioning Boards for all of our active TSFs in North America and South America and will be implementing Boards at certain inactive sites in the future.
The TSF failures at the Imperial Metals-owned Mount Polley Mine in British Columbia in 2014, and the Samarco Mineração S.A.-owned mine in Minas Gerais, Brazil, in 2015, were among the largest unplanned discharges of tailings in history, with significant loss of life, environmental and social impacts. We have studied the published investigation and technical panel reports related to these failures. Our TSFs have been reviewed by internal and external experts to confirm that processes and systems are well aligned with resulting recommendations.
We participated in the ICMM Tailings Working Group and support the ICMM Position statement on preventing catastrophic failure of tailings storage facilities published in December 2016. Freeport-McMoRan utilizes all elements of the Tailings Governance Framework: accountability, responsibility, and competency; planning and resourcing; risk management; change management; emergency preparedness and response; and review and assurance.
We continued to enhance our programs and documentation around TSF governance and management systems during 2016. We clarified essential functions and associated roles and responsibilities for TSF planning, operations, surveillance, oversight and improvements. This effort included drafting competency requirements for tailings engineers and managers.
Regarding our operations, surveillance, and critical controls systems, we have implemented a Key Performance Indicator Dashboard for internal communication between multiple levels of operations, engineering, and management as a minimum standard for all active operations' surveillance activities. Example topics include beach width, freeboard, embankment material quality, and status of completing recommendations made by the site engineer, EoR, TST, and TRB.
During 2017, we are drafting an "umbrella" TSF Framework Management document that connects all of the associated programs and procedures together for more effective internal communications. We will also begin a pilot of mobile data entry and visualization platforms for inspections and operational data. Among other enhancements, we are also continuing to implement training tools and identifying opportunities for strengthening technical resources at our operations.
Our Tailings Stewardship Program, though our Water Stewardship Team (WST), inspects our higher-hazard water dams annually (relative to smaller or lower consequence dams) and oversees actions to address associated recommendations.
Our Tailings Stewardship Program, though our TST, also reviews and inspects our engineered crushed leach stockpiles annually, oversees actions to address recommendations, and provides site engineers tools similar to those developed for our TSFs.
We manage waste rock and overburden in stockpiles for possible future mineral recovery, reclamation or other projects. These stockpiles are regularly monitored and evaluated for structural stability in accordance with local seismic design criteria.
PHOTO DESCRIPTION: (top) Members of the Tailings Stewardship Team (TST) inspect the Henderson Tailings Dam in Colorado. (bottom) Members of the Tailings Stewardship Team (TST) inspect the Bagdad tailings dam as part of an annual audit. The TST is a multi-disciplinary group of internal and external experts that evaluate the design, operation and maintenance of tailings storage facilities. The Company operates 19 active and 52 inactive/closed tailings dams.
Mine reclamation is the process of taking land once used by the operation and implementing measures that allow the land to develop natural features or meet an alternate economic or ecological use (a post-mining land use). Generally speaking, reclamation incorporates aspects relating to surface and ground water and air quality, erosion concerns from storm water (and in some cases wind), revegetation of suitable plant species (if applicable) and wildlife habitat. Alternate land uses in mine reclamation may include open space, wildlife habitat, grazing habitat, recreation and educational areas, renewable energy sites, industrial land, and other economically or ecologically productive land uses.
We monitor reclaimed lands to ensure they are developing consistent with the designated post-mining land use. Landscape Function Analysis (LFA) monitoring is one example of a tool used to assess how well certain reclamation areas are functioning as a natural system. We also monitor vegetation on reclaimed lands, including assessing plant variety and growth on reclaimed surfaces. Data generated allows for comparisons between reclaimed lands and native surrounding areas (reference sites) which represent mature native functional landscapes, and provide target values for the final reclaimed landscape. In 2016, we continued LFA and vegetation monitoring on reclaimed lands at several different sites in Arizona and New Mexico.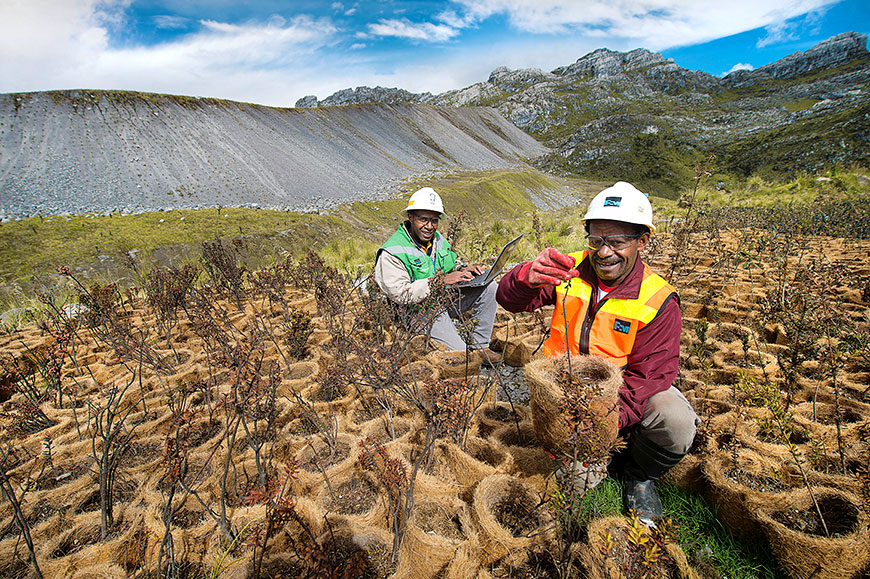 Large-scale reclamation projects continued during 2016 at our Miami mine and the historic and non-operating Bisbee mine in Arizona. Just over 1450 acres of reclamation work is currently in progress at the Miami mine. In 2015, the Miami mining/reclamation activity transitioned to only reclamation as the mine plan at Miami was completed and the final tons of ore were hauled to the leach stockpiles. Reclamation in 2017 focus on continued construction of designed storm water conveyance structures. At the historic Bisbee mining district in Arizona, reclamation crews and experts continued working on major voluntary reclamation projects. Bisbee reclamation focused on continuing the reclamation efforts of the South Bisbee Stockpile. Reclaimed surfaces in Bisbee total over 1,200 acres. The reclamation plan for the South Bisbee Stockpile, which is approximately 135 acres in size, includes pioneering efforts around storm water attenuation to match local infrastructure. Since large-scale tailings reclamation efforts in New Mexico were completed during 2014, we have transitioned to the monitoring and maintenance stage. With future stockpile reclamation in mind, we continue to add reclamation test plots at our mine properties. A new reclamation test plot is planned to be constructed in 2017 and will be used to evaluate alternative cover material resources. We now have over 6000 combined acres of reclamation completed at our Tyrone and Chino mines in New Mexico where monitoring to achieve our long term goals includes LFA (as mentioned above), erosion, infiltration, and wildlife monitoring.
In 2016, we continued our 5-year, $2.5 million commitment to assist the Colorado Inactive Mine Reclamation program in leveraging funds from government agencies, industrial partners, and non-profit environmental organizations to reclaim abandoned mine sites that are not associated with our current or prior operations but are within the watersheds in which we operate. The State completed work at the London Mine near our Climax Mine during 2014 and engaged Denver-area children to assist in the revegetation effort by planting seedlings.
Cerro Verde is finalizing plans for construction of tailing reclamation test plots. The test plots will be studied to confirm the long-term effectiveness of the purposed closure methods. The closure methods and test plots are designed to evaluate cover material placement on Tailings Storage Facilities at SMCV. The objective of the test plot program is to validate the effectiveness of closure methods and designs outlined in the most recent Cerro Verde Closure Plan update.
PHOTO DESCRIPTION: PTFI overburden stockpiles are re-vegetated using a variety of native plants with a goal of forming an alpine ecosystem similar to pre-mining conditions.
Freeport-McMoRan is committed to minimizing adverse environmental effects of our operations and supports biodiversity programs and scientific research. Our corporate Biodiversity Task Force provides oversight and technical assistance for biodiversity programs across the portfolio. In an effort to promote biodiversity, all operating mines implement Biodiversity Management Plans and Land Management Plans. The Biodiversity Management Plans establish a process through which operations identify and prioritize voluntary biodiversity projects while Land Management Plans ensure that biodiversity considerations are incorporated into project planning and design in order to minimize adverse impacts to significant biodiversity resources where practicable. Most biodiversity projects include partnerships with one or more stakeholders, such as government agencies, local schools, universities and NGOs as well as formal educational and outreach elements.
In 2016, several operations conducted programs focused on conservation of imperiled species. Safford continued restoration of riparian habitats along the Gila River in Arizona, which will ultimately benefit several endangered native fish and bird species. Tyrone, New Mexico and Morenci and Miami, Arizona implemented management plans that benefit a number of endangered native fish and bird species such as the yellow-billed cuckoo and southwestern willow flycatcher. Henderson, Colorado continued to monitor the local boreal toad population and documented successful reproduction for the first time in three years. In South America, Cerro Verde continued programs to protect species listed as endangered under Peruvian law (guanaco and Peruvian long-snouted bat) while El Abra implemented programs to benefit endemic fish and native vegetation at the Salar de Ascotán. In Africa, Tenke-Fungurume expanded the conservation program for endangered and endemic plants ("copper flora"), and revised the copper flora conservation strategy to incorporate lessons learned, long-term monitoring results, and new scientific information. The company also collaborated with agencies and academic institutions on a variety of studies and research projects across the portfolio such as studies on aquatic ecology and trophic systems in Arizona.
We continued to participate in the Wildlife Habitat Council (WHC) Conservation Certification program, which formally recognizes meaningful biodiversity conservation and environmental education and community outreach programs. As of December 2016, a total of 15 operating sites and facilities had received gold tier certification, which represents WHC's highest level of recognition. WHC also presented Freeport-McMoRan with two prestigious wildlife conservation awards in 2016: the Avian Project Award and the Grasslands Project Award. Safford received the Avian Project Award for their Burrowing Owl conservation program, which involved construction of artificial burrows, relocation of burrowing owls displaced by urban development, and regular monitoring to determine burrow occupancy and reproductive success. The project involves collaboration with two local NGOs and provides the basis for environmental education activities for local schoolchildren. Tyrone received the Grasslands Project Award for demonstrating exemplary management of reclaimed lands as wildlife habitat. Tyrone reclaimed over 3,500 acres of impacted lands utilizing native annual and perennial plants to re-establish a self-sustaining ecosystem as demonstrated through regular monitoring of vegetation growth and wildlife use in the reclamation area. The reclamation design includes ecological benefits such as minimizing potential for soil erosion and releasing stormwater runoff into the natural drainage systems.
While the company's biodiversity projects vary in scope and size, each provides unique benefit and value for both the environment as well as the communities in which we operate. These collaborations often serve as the basis for community outreach and STEM education opportunities for learners of all ages. For instance, Cyprus Tohono Corporation (discontinued operation) staff shared lessons learned from their pollinator habitat enhancement and buffelgrass management efforts with over 300 Tohono O'odham Nation school students at Earth Day and youth engagement events. Safford staff led and implemented a Conservation Day education event that reached over 200 students from local schools. Students conducted hands-on activities on myriad wildlife topics, including bats, burrowing owls, bighorn sheep, pollinators and native fish.
The company continued to work with industry groups and closely monitor developing concepts, including no net loss and ecosystem services. In 2016, our staff participated in numerous working groups, workshops, and webinars sponsored by various groups, including Business for Social Responsibility, Cross Sector Biodiversity Initiative, and ICMM Biodiversity Working Group. We will continue to enhance communications on our biodiversity systems and initiatives as new developments occur.

PHOTO DESCRIPTION: Migratory birds can attempt to utilize water features at mining locations. Some company mines in the southwestern U.S. use mechanical predator Bird Advert Systems (middle) along with monofilament lines (left) to deter birds from landing on processed water. (right)The Gruñidor de Valeria (Pristidactylus valeriae) is one of numerous endemic reptiles catalogued in the El Abra–sponsored book by Diego Demangel. Freeport-McMoRan has assisted in publishing over 20 books that promote research and conservation of the flora and fauna inhabiting areas that surround our global operations.
Key to our materials stewardship programs is responsible waste and recyclable material management. The company has implemented procedures to evaluate off-site disposal and recycling facilities to ensure they meet high standards of regulatory compliance, financial strength and environmental management practices.
In 2016, we generated approximately 211 thousand metric tons of non-mineral waste and recyclable material. In addition, we generated approximately 9 thousand cubic meters of used oil due to maintenance activities, of which 99 percent was recycled.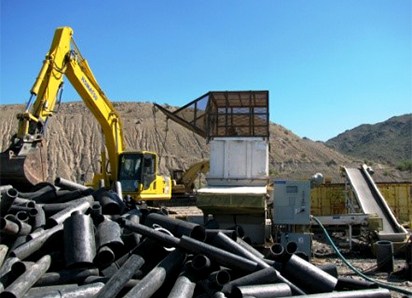 Freeport-McMoRan is continuously evaluating opportunities to reduce the quantity and toxicity of waste generated at our facilities and to use the least toxic materials available for our processes. While we cannot eliminate all waste generated at our sites, we strive to reduce the quantity of wastes sent off-site for disposal, and look to increase the reuse and recycling of materials sent off-site. This includes scrap metal, HDPE pipe, obsolete equipment and inventory items, as well as off-spec chemicals and materials.
In 2016, TFM continued to operate a used oil processing plant that takes used oil, treats it to a high degree of purity, and then uses it as a fuel to dry its cobalt hydroxide product. This cleaned oil directly replaces diesel fuel that was previously used in the drying process.
Management of Sludges and Residues
We manage slags, sludges and residues in order to comply with applicable national, state and local laws, and permits. Slags, sludges and residues include smelter and furnace slags, electrowinning/electrorefining tankhouse sludges, air emission control residues and water treatment plant sludge. In 2016, we generated 706 thousand metric tons of slags, sludges and residues. When possible, these materials are recycled back into processes or are evaluated for other uses in accordance with applicable regulations.
PHOTO DESCRIPTION: Since 2003, Morenci has been grinding, washing, drying, reforming and repurposing old plastic pipe into new HDPE pipe at the Morenci Plastic Recycling Facility.