FCX is a leading responsible copper producer. Our commitment to responsibly produced copper is visible in everything we do and is driven by our core values of Safety, Respect, Integrity, Excellence and Commitment. Our core values direct the decisions we make as a company and as individual employees. These values represent who we are and how we work — everyone, everywhere, every day. Our focus on responsible production is critical to establish and maintain acceptance from our stakeholders through shared value creation and to meet society's responsible sourcing objectives necessary to supply the world with copper.
Defining and implementing responsible production at FCX is an iterative process with continuous improvement at its core. The process incorporates our internal governance and policies as well as our external voluntary commitments. Ongoing stakeholder engagement is fundamental to informing our policies and processes, understanding material topics, and for sharing best practices and our performance across various environmental, social and governance (ESG) topics. Regular measurement and reporting support our understanding of our current performance, any gaps in our performance and the actions we need to take to improve. Third-party validation of our reporting helps us to meet our internal and external commitments. This graphic describes how we implement responsible production.
Sustainability is embedded in FCX's values and business strategy. Governance and oversight of sustainability starts with the Board of Directors (the Board) and cascades through executive leadership to our sites. Good governance requires strong leadership to ensure the values of the company are integrated into everyday operations and business decisions. It also means having the structure and processes in place to facilitate effective decision-making and actions that advance the long-term interests of all our stakeholders.
BOARD OF DIRECTORS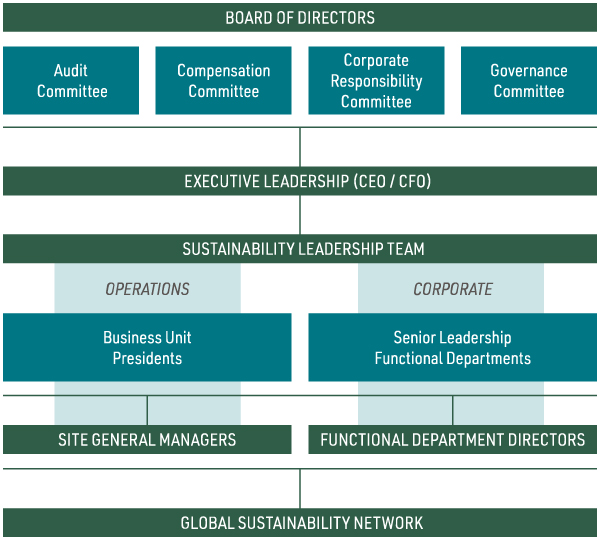 The Board oversees and guides the company's business strategy and monitors the development and management of risks that impact the company's strategic goals. In its risk oversight role, the Board reviews, evaluates and discusses with members of management whether the risk management processes designed and implemented by management are adequate in identifying, assessing, managing and mitigating material risks facing the company, including financial, international, operational, social and environmental risks.
The Board as a whole is responsible for risk oversight at the company, with reviews of certain areas being conducted by one of its four standing committees: Audit, Compensation, Corporate Responsibility and Governance, each of which is composed entirely of independent directors and regularly reports to the full Board. Committee charters define the roles and responsibilities of each committee within the company's governance framework. Our Corporate Governance Guidelines along with the charters of our principal Board committees provide the framework for the governance of our company and reflect the Board's commitment to monitor the effectiveness of policy and decision-making at both the Board and management levels.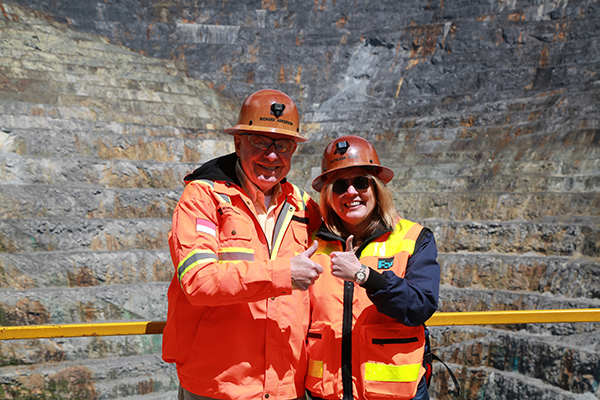 Throughout 2020, our Board continued to exercise its active oversight role with a focus on the company's COVID-19 response. The Board discussed these topics at each of its 11 meetings in 2020 and also received regular communications throughout the year from our Chief Executive Officer (CEO) regarding actions being taken to support the health, safety and well-being of our workforce and our host communities, supply chain resiliency and execution of our operating plans.
SUSTAINABILITY GOVERNANCE
The Corporate Responsibility Committee (CRC), on behalf of the Board, is responsible for providing advice, recommendations and oversight to the company's management team on environmental and social matters. The CRC regularly reviews the effectiveness of management's strategies, programs and policy implementation with respect to safety and health, responsible production frameworks, tailings management and stewardship, climate change, water stewardship, biodiversity, waste management, human capital management (including inclusion and diversity initiatives), human rights, stakeholder relations, social performance and Indigenous Peoples, responsible sourcing, and political activity and spending practices. During 2020, the CRC met three times, and a member of the CRC participated directly in several shareholder engagement calls during the year to solicit feedback on our sustainability programs and practices.
Additionally, the Audit Committee and the Governance Committee conduct oversight over certain key ESG matters. The Audit Committee conducts oversight of global compliance, information technology security and cybersecurity, and provides ultimate oversight of our global tax strategy as part of its financial oversight responsibilities. The Governance Committee conducts oversight of corporate governance practices and procedures.
EXECUTIVE LEADERSHIP & SUSTAINABILITY LEADERSHIP
Our Chairman and CEO has ultimate responsibility for the company's sustainability performance. The company's cross-functional Sustainability Leadership Team (SLT) includes members of the management team tasked with defining the sustainability strategy and implementing our sustainability policies, systems and programs across the organization. In 2020, the SLT met four times and moving forward, will meet monthly and regularly report to executive leadership, including to our Chairman and CEO, and President and Chief Financial Officer (CFO). In addition, members of the SLT report to the CRC on key ESG matters at regularly scheduled meetings.
The SLT is sponsored by our Senior Vice President and Chief Administrative Officer and is led by our Vice President and Chief Sustainability Officer, with active participation from other members of the SLT, including our four operational business unit Presidents. SLT membership also includes Vice Presidents or senior representatives from functional groups, including health and safety, security, supply chain, human resources, sales, legal, compliance, sustainability and finance.
Executive officers are held accountable for the company's sustainability performance through the company's performance-based annual incentive program (AIP). In 2020, ESG metrics collectively accounted for 25% of the AIP (15% safety and 10% sustainability).
PRINCIPLES OF BUSINESS CONDUCT
At FCX, we are guided by our Principles of Business Conduct (PBC). Our PBC is the cornerstone of our commitment to ethical business practices.
It sets forth the global principles that our workforce must follow in all activities – from complying with laws to avoiding conflicts of interest to treating fellow colleagues and stakeholders with respect. The PBC highlights our core values – Safety, Respect, Integrity, Excellence and Commitment – and provides guidance for the application of these values to our business. It also defines the expected behavior of all our employees and the Board itself.
Our PBC and corporate governance guidelines, along with the charters of our principal Board committees, provide the framework for the governance of our company and reflect our commitment to monitor the effectiveness of policy and decision-making at both the Board and management levels.
We conduct comprehensive training on our PBC, including annual certification by management-level employees and induction training for all new employees. This process consists of in-person or computer based trainings and requires employees to certify that they understand it and have no known instances of noncompliance. Managers and supervisors also are responsible for ensuring their direct reports understand these principles. Please refer to the Compliance Line section of our website for more information.
POLICIES & PRACTICES
Our PBC, together with our global policies and practices, details our expected behaviors and commitments to our stakeholders. FCX's policies are listed below.
Anti-Corruption
Establishes the Company's zero tolerance policy for any form of corruption, private- or public-sector, and prohibits facilitation payments worldwide. Outlines procedures to meet the U.S. Foreign Corrupt Practices Act (FCPA) and other relevant anti-corruption laws, including laws in the countries where we operate.
Environmental
Outlines our duty to minimize the impact of our operations on the environment using risk management strategies based on valid data and sound science and, where practicable, to protect and enhance the quality of the environment in areas where we operate.
Human Rights
Outlines our commitments to respecting internationally recognized human rights and to implementing the United Nations Guiding Principles on Business and Human Rights. The Voluntary Principles on Security and Human Rights are the guidelines for our security programs.
Inclusion and Diversity
Outlines our commitment to fostering a culture that is safety-focused, respectful, inclusive and representative of the communities where we operate. It also describes how we advance our inclusion and diversity principles in the work we do.
Political Activity and Spending Practices
Sets forth our expectations regarding political activity and spending and applies to FCX and its affiliated political action committees.
Responsible Sourcing of Minerals
Outlines our commitment to producing and sourcing minerals and metals responsibly, including respecting human rights and preventing bribery, fraud and corruption, and implementing the Organisation of Economic Co-operation and Development (OECD) Guidelines for Responsible Mineral Supply Chains in Conflict-Affected and High-Risk Areas.
Safety & Health
Establishes our objective of zero workplace fatalities and to decrease injuries and occupational illnesses as well as benchmarks to evaluate our performance. The Policy also addresses the implementation of safety and industrial health audits at our operations on a regular basis.
Social Performance
Recognizes the vital role of stakeholder engagement and calls for collaboration with communities, including indigenous and vulnerable populations, to minimize and mitigate adverse impacts and pursue opportunities to maximize benefits (formerly called our Community Policy).
Business Partner Code of Conduct
Based on the PBC, outlines our expectations for suppliers and supports our commitment to only do business with suppliers and contractors who demonstrate meeting the standards we set for ethical business conduct.
Tailings Management
Outlines our commitment to managing tailings responsibly, including protecting the health and safety of our workforce, host communities and the environment. The Policy also addresses the implementation of the Global Industry Standard on Tailings Management for our tailings storage facilities.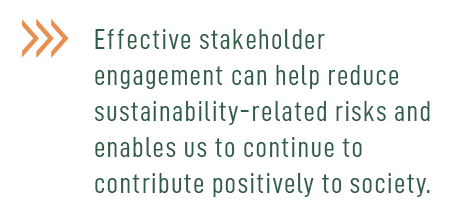 FCX believes effective stakeholder engagement is founded on transparency and meaningful dialogue. Our primary goal is to foster mutual understanding, trust and cooperation with stakeholder groups on a variety of topics.
We have a broad range of stakeholders, including shareholders, employees, host communities and Indigenous Peoples, customers and suppliers, regulators and policymakers, host governments, and nongovernmental organizations (NGO). We recognize the interests and concerns of our stakeholders can change over time. To learn about these changing needs and expectations, we believe ongoing and proactive engagement is imperative. We maintain an ongoing, constructive and proactive shareholder and non-financial stakeholder engagement program throughout the year.
Our company is strengthened by this dialogue, which also helps us learn about our stakeholders' perspectives on the topics that matter to them. These conversations inform our Board's decision-making, including on our policies, practices, programs and initiatives. These engagements are also an opportunity to share information about our strategy, practices and performance.
Responsibility for engaging with stakeholder groups is widely shared across the company, and we engage through numerous channels, with dedicated oversight from the CRC and SLT.
We believe that effective stakeholder engagement can help reduce sustainability-related risks and enables us to continue to deliver positive contributions to society. At the corporate level, the company engages with organizations ranging from shareholders, debtholders and various financial institutions, sustainability analytics and ratings firms, proxy advisory firms, nongovernmental organizations, governmental institutions, industry groups, and civil society organizations regarding our sustainability programs and performance. At the operations level, we regularly engage with local and regional community stakeholders, development institutions and civil society organizations.
Our community engagement takes a variety of forms across our different sites, including community foundations, our formal grievance systems, community liaison officer interactions, workshops, participatory group panels, town hall meetings and specific surveys. The onset of the COVID-19 pandemic shifted most of our in-person engagements with our host communities and other interested stakeholders to virtual engagements. In many instances, the virtual setting eliminated physical barriers to meetings and allowed for greater reach and participation from our community stakeholders.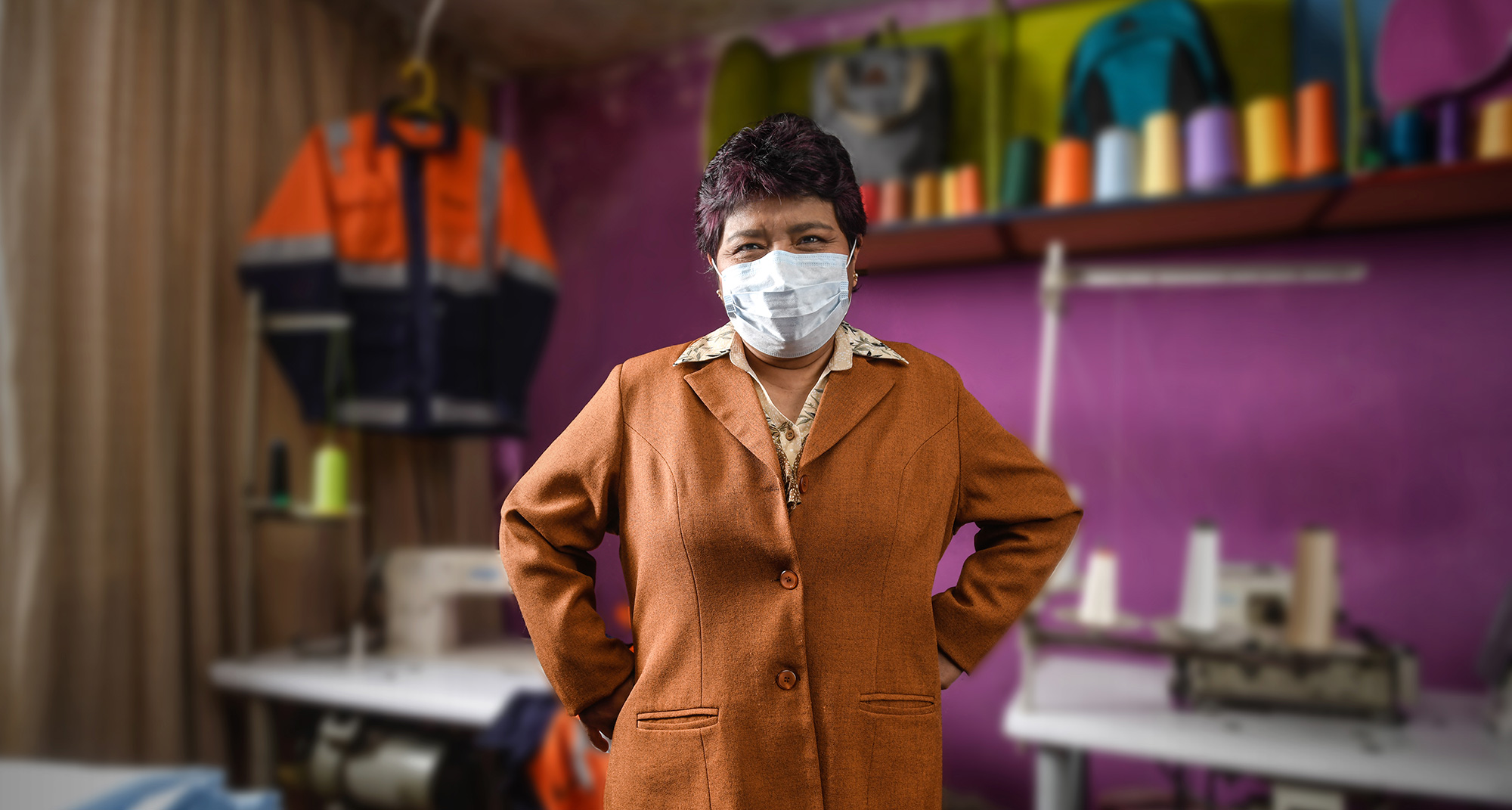 Our ongoing stakeholder engagements are fundamental to informing our understanding of the most critical and material topics for our business from an external perspective. We conduct a prioritization assessment process annually to define the critical topics of importance to the company and to our stakeholders for inclusion in our sustainability reporting. The process allows for a structured and objective approach to decision-making and planning around sustainability reporting and supports our selection of topics for inclusion in our annual sustainability reporting based on a documented measurement approach. The process also supports our ongoing monitoring of trends in sustainability topics over time.
The prioritization process includes a cross-review of documents and systems that summarize stakeholder engagements, such as queries received from suppliers, customers and end users, as well as community and employee grievance reports, community engagement processes and reports, environmental and social impact assessment reports, employee surveys, and meetings with financial stakeholders, nongovernmental organizations (NGO) and industry groups. These reviews are used to prioritize the level of importance of reporting topics to internal and external stakeholders with whom we regularly engage as part of our business at the corporate and operational levels.
As stakeholder expectations around ESG matters and disclosures are evolving and increasing more rapidly than ever, we are continuing to strengthen our process by surveying a broader stakeholder group. We are working with a third-party to lead a materiality assessment to re-evaluate and prioritize ESG topics relevant to our business and to stakeholders in 2021.
The assessment will delineate the most important topics for our stakeholders and our business through a strategic lens and explore how sustainability topics can enhance the company's core strategy, including risk and growth objectives, while aligning with our core capabilities and culture. In addition to updating our benchmarking against various standards such as GRI, Sustainability Accounting Standards Board (SASB), ICMM, Dow Jones Sustainability Index and industry peers to define potentially material topics, the assessment will collect feedback from key stakeholders across the business and our value chain through interviews and surveys with both internal and external stakeholders, including senior executives, subject matter experts, employees, investors, community members, suppliers and customers.
FCX is a member of numerous industry associations, and we are involved in various organizations that provide a platform for advancing sustainability. We recognize the importance of collaboration with other thought-leaders to help drive change and progress, and we believe regular engagement with stakeholders is fundamental to our success. Through this work, we are able to listen to the views of a multitude of stakeholders while also forming industry agreements and positions on our responsibilities across ESG issues and throughout our value chains.
Together with our internal policies, these commitments and engagements enable us to take meaningful action for our industry and our operations. This table outlines our participation in a selection of these initiatives and commitment to external standards.
INDUSTRY ASSOCIATIONS & INITIATIVES
| | |
| --- | --- |
| | The International Council on Mining & Metals (ICMM) is an organization dedicated to a safe, fair and sustainable mining and metals industry. As a member company, we are required to implement the 10 Mining Principles, associated position statements, and 38 performance expectations and to produce an externally verified sustainability report in accordance with the GRI Standards Core option and the G4 Mining and Metals Sector Supplement, subject to the ICMM Assurance Procedure. FCX was a founding member of the ICMM in 2001, and our Chairman of the Board and CEO currently serves as Chair of ICMM's CEO Council. |
| | The International Copper Association (ICA) brings together the global copper industry to develop and defend markets for copper and to make a positive contribution to society's sustainable development goals. FCX has been a member since its inception in 1989. Our Chief Administrative Officer currently serves as Chair of the ICA Board of Directors. |
| | Founded in 2019, the Copper Mark is a new, comprehensive assurance framework developed specifically for the industry to commit to demonstrate its responsible production practices and contribution to the SDGs. The Copper Mark addresses 32 ESG risk areas using a third-party validation system. In 2020, FCX committed to achieving the Copper Mark at all its copper producing sites in the future. |
GLOBAL & BUSINESS INITIATIVES
| | |
| --- | --- |
| | The UN Global Compact is a voluntary, corporate sustainability initiative of CEO commitments to implement universal sustainability principles and to support UN goals. FCX became a supporting member in March 2020. The UN Sustainable Development Goals (SDGs) are the UN-agreed priority areas for global sustainable development between 2015 and 2030. We seek to make a positive contribution to the goals in the communities where we operate as well as with the commodities we produce. |
| | The United Nations Guiding Principles (UNGPs or Guiding Principles) are the global standard on business and human rights, providing a blueprint for companies to prevent and address the risk of adverse human rights impacts related to their business activities. FCX updated its Human Rights Policy to include a commitment to the UNGPs in 2015. |
| | The Extractive Industries Transparency Initiative (EITI) is the global standard to promote transparent and accountable governance in the extractives sector. FCX has endorsed and been committed to the EITI since 2008. |
| | The Voluntary Principles on Security and Human Rights (VPs) is a multi-stakeholder initiative that promotes implementation of a set of principles that guide companies in providing security for their operations in a way that respects human rights. The VPs are the guidelines for our security programs. FCX was a founding member of the VPs in 2000 and remains an active member today, reporting annually and participating in plenary. |
| | The Wildlife Habitat Council (WHC) is a nonprofit organization that promotes and certifies habitat conservation and management on corporate lands through partnerships and education. We have been a member of the WHC since 2006. |
| | Business Roundtable is an association of CEOs of America's leading companies working to promote a thriving U.S. economy and expanded opportunity for all Americans through sound public policy. Our CEO Richard Adkerson is a member of the Business Roundtable. |
VOLUNTARY REPORTING FRAMEWORKS
| | |
| --- | --- |
| | GRI is an independent, international organization that helps businesses and other organizations advance sustainability reporting and performance by providing them with the global common language to communicate those impacts. As an ICMM member company, we report annually on our sustainability performance compared to GRI Sustainability Reporting Standards. |
| | The Sustainability Accounting Standards Board (SASB) is an independent nonprofit organization that sets standards to guide the disclosure of financially material sustainability information by companies to their investors. SASB Standards identify the subset of ESG issues most relevant to financial performance in each of 77 industries. We report on our performance in alignment with SASB Standards. |
| | The Task Force on Climate-related Financial Disclosures (TCFD) is an organization established by the Financial Stability Board to develop a set of recommendations on climate-related financial risk disclosures to be adopted by companies. FCX is committed to working towards TCFD alignment in its climate reporting. |
| | FCX is committed to the OECD Due Diligence Guidance for Responsible Supply Chains of Minerals in Conflict-Affected and High-Risk Areas, which requires an annual Step 5 Report detailing risks identified and managed in our mineral supply chains. |
We actively participate in associations at international, national, regional and local levels. Many of these organizations, such as those listed below have sustainability-related programs or initiatives. We maintain membership in these organizations and directly participate in committees or governance bodies and / or provide funding in addition to membership dues.
The United Nations Sustainable Development Goals (SDGs) were adopted by the United Nations in 2015 and seek to make the world more peaceful and prosperous for both people and planet. By supplying responsibly produced copper, FCX is proud to be a positive contributor to the world well beyond our operational boundaries. Part of responsible production means purposefully and deliberately contributing to relevant SDGs within our host communities and across our value chains, while simultaneously seeking to mitigate any potential impediments to their realization.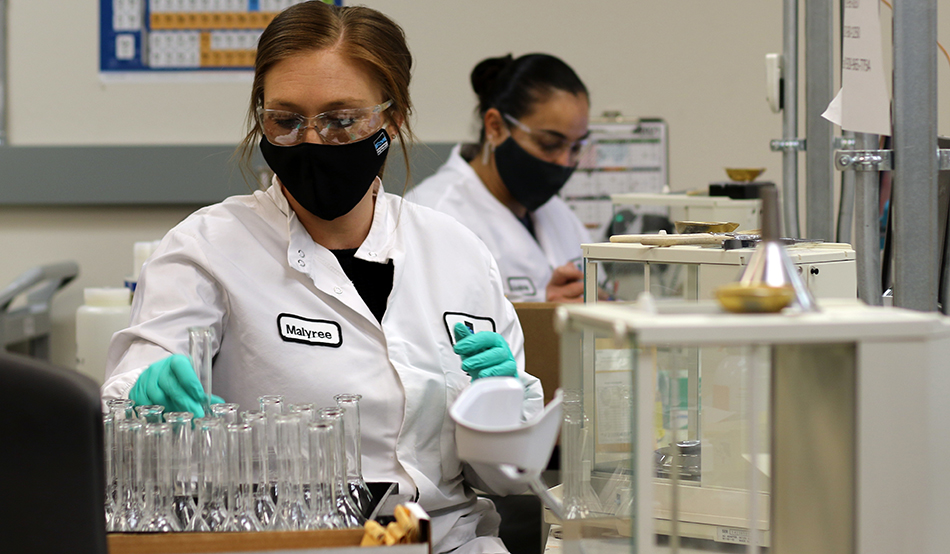 Site-specific circumstances, including environmental considerations and stakeholder dynamics, vary widely across our global organization. To some degree, FCX works toward all 17 SDGs through aspects of our day-to-day work at our different sites, partnership initiatives and social investments. While we have been mapping our programs to all of the SDGs for many years, our aim is advance this work by identifying and focusing specifically on those goals where we believe we can make the most meaningful contribution.
SDG 12 – Responsible Consumption and Production – is central to FCX's strategy of being foremost in the global copper industry. In 2020, FCX began the process of validating its copper producing sites against the Copper Mark, a new third-party assurance framework designed specifically to demonstrate the copper industry's contribution to the SDGs. To date, six of our sites have been awarded the Copper Mark and we have future plans to validate all copper producing sites. To learn more about this work, refer to the following Defining Responsible Production section of our website.
Also in 2020, we initiated work with a third-party firm to measure and evaluate the impact of our social investments at our North America sites to better understand the social value created, including a measurement of our contribution to the SDGs. Looking ahead, we plan to implement this evaluation at our other sites to support the increased efficacy of our social investments and identify relevant SDGs.
Informed by the Copper Mark validation process and our social impact valuations, we plan to advance our understanding of both our positive and negative impacts on the SDGs and we look forward to communicating our progress on our SDG prioritization in future reporting. In the interim, we have identified the SDGs that we believe our global programs contribute the most and sign-posted the relevant goals throughout our 2020 Annual Report on Sustainability.
How the Copper Industry Contributes to the SDGs
Copper is strategically important to enabling society's progress
DECARBONIZATION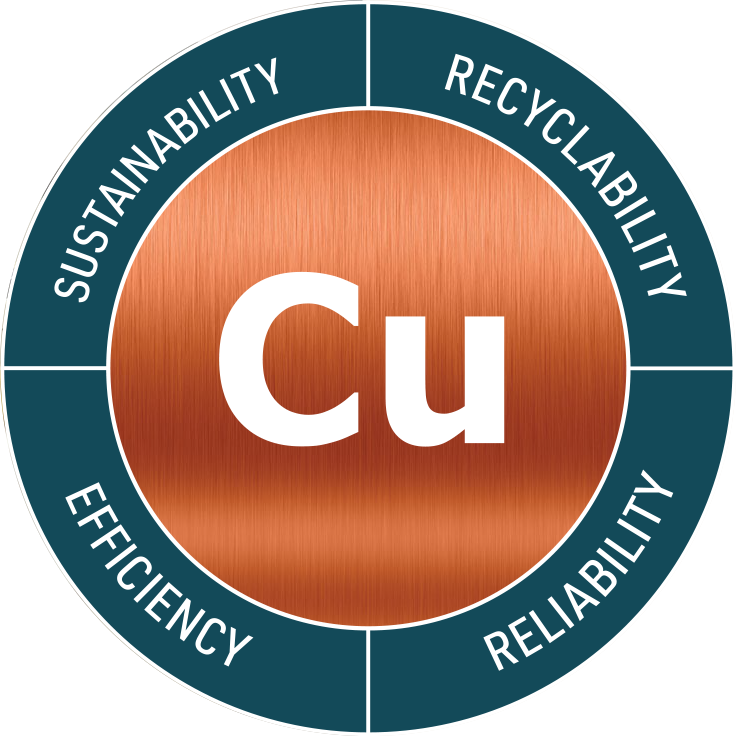 By 2030, increased use of copper could reduce global carbon emissions by 16%1

Copper is a critical component for electric vehicles, charging stations, high-efficiency motors and renewable energy
INFRASTRUCTURE

Copper is essential for reliable, advanced electrical grids (production and delivery of energy and energy storage), telecommunications (data centers, networks and cell towers) and railways
TECHNOLOGY

Copper is crucial for connecting and advancing society and smart cities / homes, including artificial intelligence, smart grids, 5G technologies, mobile phones and computers
PUBLIC HEALTH2

Copper could play an invaluable role in public health if used more frequently on high-touch surfaces given its substantial antimicrobial properties, which can eliminate bacteria, viruses and other pathogens, reducing the risk of transmission
1 copperalliance.org
2 copperalloystewardship.com
FCX is a leading responsible copper producer — foremost in copper. Critical to this is our role in setting the benchmark for responsible production in the industry. Being a responsible producer means integrating sustainability in everything we do, everywhere, every day. This includes understanding the needs of our local and global stakeholders and working with institutions, partners and associations to innovate and drive change across the industry. We do this by identifying the commitments that will move the industry forward and enable us to make meaningful advancements at our operations and in our supply chains, such as the UNGPs and the VPs. Being a responsible producer means purposefully working toward achieving the SDGs within our communities and value chain. We work globally to translate these commitments to our business via the development of common industry frameworks.
FRAMEWORK DEVELOPMENT
In 2020, we continued our work with both the ICMM and ICA to develop and implement site-based sustainability frameworks that aim to provide greater assurance and transparency to stakeholders while continuously improving conditions at our operations.
In late 2019, following comprehensive engagement with stakeholders, the ICMM membership approved and published 38 performance expectations, designed to augment its long-held 10 Mining Principles for sustainable development. These expectations, along with topic specific Position Statements and assurance and validation requirements, define ICMM's membership commitments. The 38 performance expectations must be validated by a third-party at the site level with annual activities published, including how expectations will be met.
In 2020, ICA launched the Copper Mark – a continual improvement responsible production framework. This voluntary framework requires that copper producers undertake third-party assessments against their performance on 32 requirements across ESG issues. The current Copper Mark framework is focused on copper producers at the beginning of the supply chain, but the organization is developing criteria for fabricators and component producers with the goal of establishing a chain of custody for downstream companies, such as automobile and electronics producers. FCX plays a leading role in this work by actively participating in the organization's multi-stakeholder processes to further develop and work toward achieving its Theory of Change. This includes key roles in the Advisory Council, Due Diligence Working Group, Technical Working Group and Transparency Working Group.
CHARGING AHEAD WITH THE COPPER MARK
As an early adopter of the Copper Mark assurance framework, we are committed to responsible production practices across our global operations. We plan to achieve the Copper Mark at all of our copper operating sites. In 2020, we began this process with a Letter of Commitment for our first six sites. Since then, all six sites have been awarded the Copper Mark and we have initiated our routine check-ins with the organization on improvement plans. These six sites include our Cerro Verde mine in Peru, El Abra mine in Chile, Atlantic Copper smelter and refinery in Spain, Morenci mine and Miami smelter in Arizona, and El Paso refinery in Texas.
Our approach to meeting the requirements of both the Copper Mark and ICMM frameworks include the use of integrated, site-level assessment tools and assurance processes across the business. We believe this approach delivers value to our shareholders by enabling an efficient assessment process at the site-level while providing site-level transparency to stakeholders locally and globally. Our site level Copper Mark assessment reports can be found at coppermark.org.

THE RISK REGISTER
Being a responsible producer means evaluating ourselves against our commitments at both a site and corporate level and reporting regularly to our stakeholders in a transparent manner.
To translate our commitments to our everyday work, we use our Sustainable Development Risk Register (the Risk Register) process globally to identify and prioritize sustainability risks and actions. Sites use the Risk Register to identify risks and opportunities related to our commitments in relation to their operation and stakeholders. The Risk Register then prioritizes the most significant risks that could have negative consequences to our business and our stakeholders in areas such as health and safety, human rights, environmental management, community development, and economic impacts.
Site teams use the Risk Register to uncover new risks and opportunities that can further drive FCX's commitment to responsible production, while prioritizing the most meaningful actions to the business as a whole. We work collaboratively to implement our various commitments, and the use of the Risk Register allows management teams to tailor their site-level priorities while ensuring the overall implementation is consistent globally.
Implementation of the Risk Register
The corporate sustainability department works with subject matter experts globally to develop and maintain the Risk Register, updating it with new topics as they become relevant and working hand in hand with operations team members so prioritization processes are consistent with corporate procedures. The risks included in the Risk Register are mapped from our commitments to enable the Risk Register to be the focal point of internal and external assurance at both the corporate level and operating sites. In 2019, we updated the Risk Register process to include all 38 ICMM Performance Expectations as well as the 32 Copper Mark requirements. We also mapped the SDGs to the Risk Register to support identification of challenges and opportunities to progress our contribution across the goals.
Project Development Sustainability Review
Our Project Development Sustainability Review process supports the integration of sustainability considerations into development or expansion project phases. The review process also complements our operational Sustainable Development Risk Register procedure for existing operations.
The process is designed to help multi-disciplinary project teams identify risks, unintended consequences, trade-offs and opportunities so they may be addressed early and through each stage of project development. Project Development Sustainability Reviews may occur at the scoping, prefeasibility, feasibility and/or engineering and construction stages of projects and also are applicable to exploration projects. During the planning phase of a development project, we proactively communicate with affected communities about operational or other activities at the earliest stage possible to ensure meaningful engagement and feedback.
Since its inception in 2011, we have implemented reviews for 32 projects. Key focus areas identified at different project stages include: access to water, energy and materials, potential impacts to hydrology, air quality, biodiversity, human rights, community receptivity, economic impacts, and land acquisition and resettlement..
We contribute to the wealth and prosperity of the countries, regions and communities where we operate by generating economic value that includes tax and royalty payments, local hiring and procurement, and community investments. Mining is an inherently cyclical business with production levels and profits fluctuating over the life of the mine, which can impact our social investments and other sustainability programs.
In 2020, FCX's direct economic contributions totaled $11.4 billion, which includes $8.2 billion in payments to suppliers, $2.3 billion in employee wages and benefits, $692 million in payments to providers of capital, $131 million in taxes, royalties and other payments to governments, and $108 million in direct community investments. We also made payments of $2.0 billion for capital expenditures. Refer to our 2020 Annual Report and our 2020 Annual Report on Sustainability for more detailed information on our financial performance and on our community investments.
Click here for a reconciliation of payments to governments presented in the table above.