Employees Volunteer 1,800+ Hours During Global Volunteer Month; Rename Volunteer Program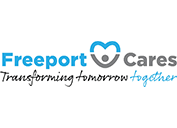 June 29, 2022 - Global Volunteer Month was back in full swing in April, this time including a special opportunity for employees to rename the company's employee volunteer program.
Almost 600 Freeport volunteers from among 21 sites participated in some 35 events, volunteering 1,870 hours in projects ranging from highway cleanups and tree planting projects to pollinator gardens and education activities for kids.
"Thanks to everyone who participated in this month-long celebration of service. Your gift of time and talent not only makes our communities great places to live and work but also inspires others to act," said Tracy Bame, Director-Social Responsibility and Community Development.
As part of Global Volunteer Month this year, the company held an employee contest to rename the volunteer program.
More than 200 names were entered, with Paula Lindsey, Administrative Assistant-El Paso, submitting the winning name: Freeport Cares. Going forward, Freeport Cares will be used for company-sponsored volunteer activities.
"I consider volunteering a privilege as well as a responsibility. It's an honor to work for a company that cares, promotes, and supports giving back to our community," Lindsey said. "As a volunteer, I have grown personally and professionally. I have also seen how volunteering has strengthened our community. It truly makes a difference when we all care as a company and as individuals willing to give of our time and ourselves."