Cerro Verde, a Freeport-McMoRan Company, Lauded for Commitment to Guanaco Conservation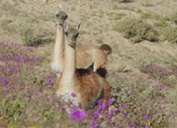 January 14, 2021 - Cerro Verde, in partnership with the International Union for Conservation of Nature, hosted an international group of scientists, biologists and researchers in a virtual event to evaluate the site's guanaco conservation program and discuss research and recommendations moving forward to protect the population.
Guanacos are listed as critically endangered by the Peruvian government. Peru, one of five South American countries with guanacos, has a population of about 3,500 guanacos.
The guanaco conservation project demonstrates responsible production practices by avoiding adverse impacts to critical habitats and endangered species as well as promoting scientific knowledge and broader conservation initiatives and addressing biodiversity risk.
To learn more about how Freeport-McMoRan is committed to proactively managing the impacts of their mining operations on the environment including biodiversity, please visit fcx.com/sustainability. Read about the International Union for Conservation of Nature at iucn.org.
See the 2019 Annual Report on Sustainability for more information on their social, economic and environmental efforts.

Photos: Cerro Verde, a Freeport-McMoRan Company, Lauded for Commitment to Guanaco Conservation