Around the Company in Pictures: Super STEM Experience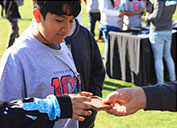 January 18, 2023 - More than 1,000 middle schoolers from around the Phoenix area recently participated in the Freeport-McMoRan-sponsored 100 Yards of Education: A STEM Playbook for Youth, held at State Farm Stadium in Glendale, Ariz. The event kicked off a series of activities ahead of Super Bowl LVII, which will be played in the stadium February 12.
Dozens of employee volunteers from company sites around Arizona worked with the students, demonstrating how copper is produced and helping them try out several heavy equipment simulators brought to the event. The equipment simulators were the highlight of Freeport's exhibit, with students excitedly lining up to try operating a haul truck, excavator and dump truck.
In the photo collage above, clockwise from the top left: Robert Crossman, Manager-Operational Improvement (center), explains copper production to a group of students; students line up to try out the simulators; a student tests her skill in the excavator simulator; employee volunteers gather for a picture; a student examines a piece of copper. In the photo above the story, Christopher Kemp, Business Solutions Architect III, instructs a student in the haul truck simulator.