Freeport Internships Prepare New Hires for Real World of Mining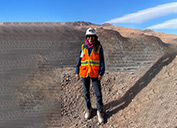 January 30, 2023 - Jenna Ramirez grew up in a mining family, but she knew she had a lot to learn about the industry when she graduated from college as a mechanical engineer and went to work for Freeport-McMoRan in Morenci, Ariz.
Through the company's internship program, Ramirez, Mechanical Engineer I, got the on-the-job experience she needed along with an introduction to the lifestyle of living in a small mining town.
Her father, Ruben Ramirez, is a supervisor at Freeport's El Paso, Texas, refinery. From him she learned about the finishing side of the business, but knew very little about the front-end mining process. After she graduated from the University of Texas at El Paso in May 2022 with her degree in mechanical engineering, Jenna Ramirez accepted an internship working at the Morenci mine. That turned into a full-time job with the company.
For college students majoring in fields like mechanical engineering and accounting, internships are a way to attract them into the mining industry, a career path they might not have considered otherwise, said Betsy Johnson, Manager-Recruiting.
The college recruiting team works closely with eight universities that offer specialized mining-related degrees, including the University of Arizona, the New Mexico Tech University and the Colorado School of Mines, all in states where the company maintains active mine operations. The recruiting team recently concluded its college outreach season at the "Mines for Limitless Minds" career fair at the University of Arizona, the largest supplier of interns to the company's program.
Other schools on the list include the University of Texas at El Paso, where Ramirez earned her degree, as well as the Michigan Technological University, Montana Technological University, the University of Utah and the South Dakota School of Mines and Technology. The team also recruits at other universities for students majoring in a wide variety of specialties needed in mining, including electrical, mechanical, chemical, structural, environmental and civil engineering degrees, as well as business and technical fields such as accounting and supply chain management.
Internships open doors
For Ramirez, her internship provided career clarity. "Just stepping into this field, I had no idea what to expect," she said. "The internship really did help pave the way toward me having my career here. It was a great open door toward seeing my future in this place. Not only was it such a great experience, but having so many mentors to learn from as a start in this industry, it makes me beyond grateful moving forward, and I highly suggest it to any aspiring engineer. I'm still in awe every day that I get to do this."
Internships are not treated as just educational exercises at Freeport, said Pam Masson, Vice President and Chief Human Resources Officer. They are meant to be a training ground for professionals looking to build a career with the company. Interns are given meaningful assignments, and the perspectives they bring are valued the same as those of any regular employee.
She should know. Masson began her career with the company through a college internship 30 years ago. Like many interns today, Masson was not sure what she wanted to do when she joined Freeport, first as an intern, then a contractor and finally a full-time employee in 1994. She found a culture that is collaborative, supportive and structured to allow employees to advance to their full potential, regardless of whether they are hired as front-line workers or college graduates.
"We have an emphasis on growing leaders internally," Masson said. "In some ways, we still have that old-school approach of being a company where you can stay and build a career. Freeport is a great place for a young person to start their career. They are truly appreciated and supported. It's a place they can build and grow a career in a lot of directions, go see different parts of the world, and work for a company that really does care about its employees."
In addition to Masson, others in the company have been provided a pathway to executive management through internships.
About 300 interns hired annually
Freeport hires around 300 summer interns annually. About two-thirds are majoring in various engineering programs, and the rest primarily are seeking business-related degrees.
The internships give students an opportunity to see what working in the mining industry is like while allowing the company to recruit, train and eventually hire top talent.
"It's a great pipeline for us," Masson said of the program.
Of the 253 interns last summer, 125 were offered jobs with the company, and 91 were offered another internship. Not all interns have graduated, so they often serve multiple stints.
Taking an internship does not prevent someone from applying for a full-time job if it opens, but it does provide new graduates an opportunity to get on-the-job experience often required for new hires.
"It's a great starting point for a lot of people," Masson said. "It's been a good journey for me, and I will never take that internship for granted."

Photos (left to right): Betsy Johnson, Recruiting Manager, poses with the University of Arizona mascots during the recent Mines for Limitless Minds event on the school's campus; Hector Guerra, Technical Instructor/Facilitator-Chino, offers instruction to a University of Arizona student on operating a track dozer simulator at a recent event at the school; Jenna Ramirez put her mechanical engineering degree to work at Freeport, first through an internship and now as a full-time employee.