Displaced Burrowing Owls Find New Homes at Safford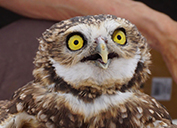 February 11, 2021 - On a fairly warm day last fall, a handful of Safford employees and volunteers surrounded the tent enclosure over the new homes constructed for burrowing owls.
The labor-intensive work was complete, and the stars of the day – six displaced burrowing owls rescued by the non-profit group Wild at Heart – had arrived.
Volunteers recorded the band number and vital stats for each owl, then released them in pairs into the tents. The owls settled in, with a whisper of wings. Watch a video.
For the next 30 days, the owls were watered and fed defrosted mice daily – about 1½ per owl – inside the tent by Safford environmental scientists. This helps the birds associate their new home with food and allows them time to bond as pairs.
Since that day last fall, the tents have been removed, and the owls seem to be making themselves at home on the company's non-mining land that accommodates their survival needs while reducing their exposure to natural and manmade hazards.
After the most recent monitoring trip on January 22, William Mulleneaux, Environmental Scientist-Safford, came back with a report of recent activity by the owls, a good sign the owls are adapting to their new habitat.
A Little Help From Their Friends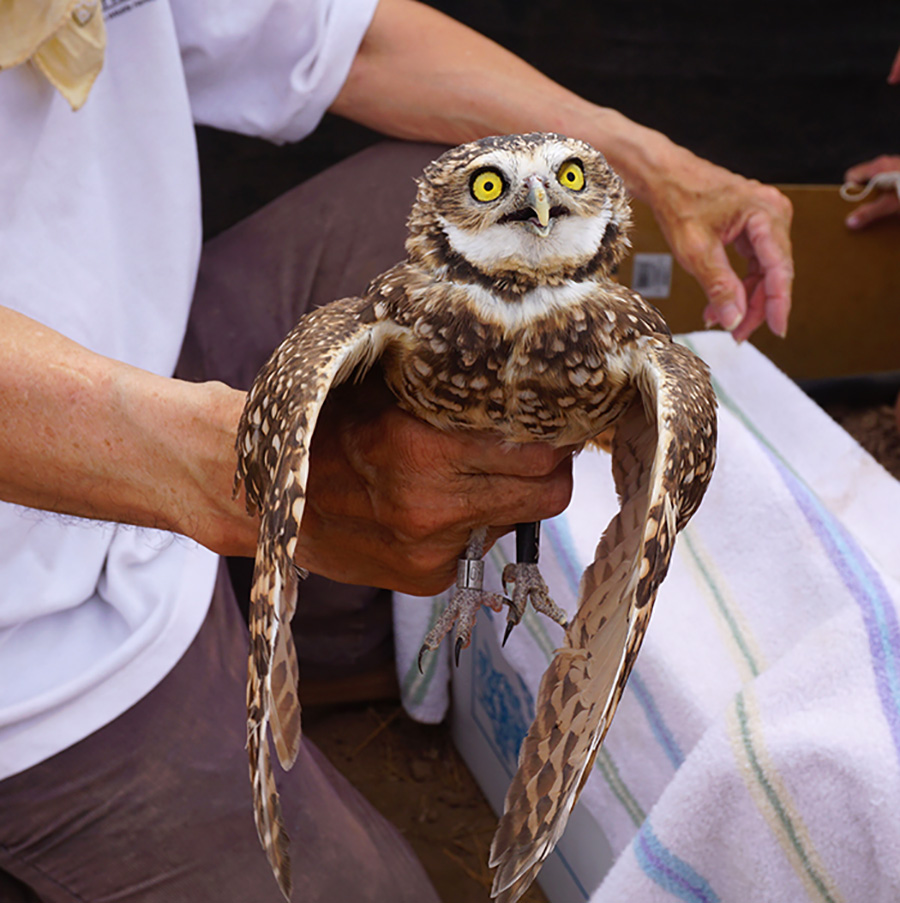 Despite the name, burrowing owls do not dig their own burrows but instead seek those created by other wildlife in open, sparsely wooded areas. In the growing areas of Graham County, land development for commercial, industrial and agricultural use has reduced their habitable acreage, leading to a significant decline in owl populations there.
The program launched in 2011, and the Safford Environmental team has partnered with Wild at Heart to return displaced owls to a region that once abounded with them.
"From a biodiversity standpoint, these owls really do need our help because urban sprawl has encroached on their habitat," said Mike Windsor, Chief Environmental Scientist in Safford. "It's cool to watch them and see their little personalities. Some of the owls are skittish and scurry underground when they see you, though we had one owl that was just super curious and stayed on the rocks in the enclosure to see what we were doing."
The ongoing conservation project aims to help keep the federally protected owls off the threatened or endangered species' lists.
We are optimistic this location will provide habitat within the area for the relocated owls to raise their young and bolster the local population," said Cara Reed, Environmental Scientist-Safford.
Safford operations has supported construction of more than 100 burrows since the project's start as well as the release of multiple pairs of owls.
"The numbers fluctuate year to year, but the birds maintain a presence in the area, boosting confidence that a sustained breeding population may inhabit the area once again," said Ann George, Senior Scientist Biodiversity / Sustainability-Safford.
Congrats On Your New Home
Noting the birds' tendency to nest in manmade structures – irrigation canals or culverts – when burrows are scarce, Safford operations and Wild at Heart have worked with local volunteers to construct artificial burrows in safer places where the birds won't be disturbed.
"The owls often seek burrows in or near fields, which host the small reptiles and mammals that the birds hunt and eat," George said. "For the artificial burrows, we select similar sites that are far enough from waterways and riparian tree canopies to minimize threats from flooding, farm equipment, pesticides and predation by other raptors."
Volunteers, including company employees and local community members, construct the artificial burrows, each made of a short, flexible plastic tube connected to 55-gallon drums that are cut in half and placed upside down in a small trench and covered with dirt and rocks. Owls can enter through the tube opening at the surface. A wooden perch installed at the burrow entrance provides owls a high point from which to scan the surrounding land and hunt for prey.
Sharing the stage with multiple participants also has helped the project grow and prosper.
Our partnerships with Wild at Heart and other local and regional conservation groups, including Eastern Arizona College and Gila Watershed Partnership, are invaluable to completing the various phases of this project," Windsor said.
To further strengthen community support for their efforts, the groups also are working to increase awareness of the owls' benefit to humans and the environment. Annual science and conservation events provide venues for teaching hundreds of students about burrowing owls and their importance. A Freeport-McMoRan community development grant helped create STEM education curriculum about the owls for more than 32 classrooms.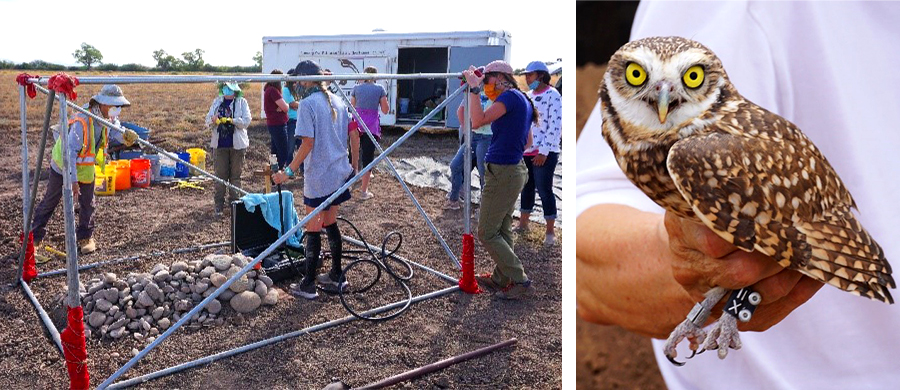 Photos (Left to Right): Employees and community volunteers, who followed safety precautions for COVID-19, construct framing for a release tent. The ongoing conservation project aims to help keep the federally protected owls off the threatened or endangered species' lists.