Freeport-McMoRan Foundation Awards $2.8 Million to Projects in Arizona, Colorado and New Mexico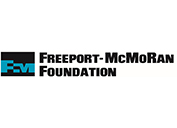 February 11, 2022 - The Freeport-McMoRan Foundation recently awarded 39 grants to communities and non-profit organizations for projects supporting a range of locally determined priorities from education and workforce development, to childcare and housing. Funds were awarded through the company's six locally-based Community Investment Funds, each led by a committee of local stakeholders empowered to evaluate projects and determine awards, playing an active role in determining what is most needed to build resilience and help ensure their self-sufficiency beyond the presence of Freeport-McMoRan operations.
Grants were awarded to projects such as:
Lake County Build a Generation (CO) Workforce recruitment, development and retention project to address the shortage of qualified workers in the early childhood education sector. The project will partner with Colorado Mountain College to develop a pipeline program, tapping into the local workforce to train and retain early childhood professionals.
National Center for Frontier Communities (NM) An initiative to build technical capability and partnerships that support local Grant County communities in identifying and developing projects that improve community well-being and resilience and accessing federal and state funding to support implementation.
Graham County Rehabilitation Center (AZ) The installation of a Practical Assessment Exploration System Lab to work with clients to identify strengths and interests that provide them with the opportunity to explore various career fields and support their transition into the workforce.
Since 2011, just under $27 million has been invested through Freeport-McMoRan Foundation Community Investment Funds in Arizona, Colorado and New Mexico.
To learn more about how Freeport-McMoRan works in partnership with local stakeholders, please visit fcx.com/sustainability and read the company's 2020 Annual Report on Sustainability or visit FreeportinmyCommunity.com.