PT Freeport Indonesia Smelter Workers Surpass 2 Million Injury-Free Hours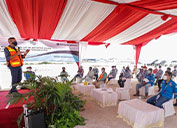 February 16, 2022 - A workforce that now stands at more than 1,300 has spent more than 2 million hours constructing the new PT Freeport Indonesia smelter at Gresik, and every one of those 2 million hours has been worked without a lost-time injury.
That's a number worth celebrating on a job the size and scale of the $3.2 billion Manyar Smelter and Manyar Maju Refinery project. A decade in the planning and now 2 million hours in the making, Manyar is going up in a special industrial zone in northeast Java.
While scaled back due to a recent spike in coronavirus, a safety achievement celebration was held January 29 at the smelter site.
"We had to cut the number of employees selected to represent the workforce to 50, but we were committed to honoring what is a remarkable achievement," said Venta Agustri, Area Construction Manager-PTFI. "We're proud of our workforce, but this is just the foundation."
The burgeoning workforce on the smelter and precious metals refinery will swell by about 1,000 workers a month to more than 13,000 at the peak of project activity. When it's done, cumulative hours worked will exceed 48 million, Agustri said.
"We will need even better teamwork as we move forward and have more people, equipment, material and work. We'll probably start celebrating 5 million safe hours soon because we'll put in a million hours in less than month," he said.
The majority of the workers who have championed safe practices on the project were complete strangers to PTFI's safety standards when they started their jobs, Agustri said, and the contractors and vendors embraced the standards to build a safety culture with integrity.
When the site initially was being prepared, vendors helped educate their employees about PTFI's safety culture and the importance of always using PPE.
The timing of the celebration couldn't have been better, as Indonesia officially celebrated National Safety Month January 12 to February 12.
"Our goal is to ingrain safety awareness in all aspects of their work, and even for them to bring these positive habits home to leverage safety awareness to their family members," Agustri said.
Scheduled for commissioning in 2024, the smelter will include technological advances made by Finland-based Outotec to mitigate environmental emissions. With a design capacity of 1.7 million tons of concentrate per year, Manyar will be the world's biggest single-line smelter.
PTFI collaborated with PT Chiyoda International Indonesia on the engineering, procurement and construction work on the project.

Photos (left to right): H-D Garz, Executive Vice President-Corporate Planning and Business Strategy at PTFI, speaks to employees at a recent ceremony; Workers pour the concrete foundation at PTFI's Manyar Smelter and Manyar Maju Copper Refinery project.