PT Freeport Indonesia Team Wins Captain's Trophy at National Fire and Rescue Competition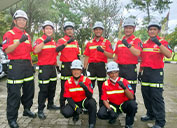 February 21, 2022 - PT Freeport Indonesia's Emergency Preparedness and Response team won a third consecutive Captain's Trophy and other awards at the 2021 Indonesian Fire and Rescue Competition in early December.  
The event, held in Yogyakarta in central Java, gave teams the opportunity to share and demonstrate international best practices in emergency rescue. Thirteen teams from mining companies gathered to compete in this year's competition, which grades the teams' work through a simulated accident scenario.
"These competitions are important not just because they give the teams an ideal opportunity to test and drill their emergency response but also because of all of the mentoring and sharing of best practices that the competition brings," said Eddy Lesnussa, Superintendent-Emergency Preparedness and Response in the Highlands and team manager.
The team competed in seven categories and won both the Captain's Trophy for Team Leadership and Professionalism and the Road Accident Rescue category. They also took home second place awards for Firefighter Competency and Firefighter Combat Challenge and third place awards for Structural Fire Search and Rescue, High-Angled Rescue, and the Overall Achievement award.
PTFI's team has a long-standing, well-deserved reputation as a leader in emergency rescue competitions and is an odds-on favorite to win the overall achievement award at nearly every competition, Lesnussa said.
More importantly, the PTFI emergency response team also responds to national disasters across Indonesia to assist the Government of Indonesia in times of need. In December 2021, the PTFI team was sent to help the evacuation process when Mount Semeru, Java's tallest mountain, erupted and spewed high ash clouds and deadly pyroclastic flows. Earlier, in January 2021, the company sent the team to help with rescue efforts after a 6.2 magnitude earthquake triggered deadly landslides on Sulawesi Island.
During the latest competition, PTFI's entry was a joint team comprised of five veterans who are employees from the Occupational Health and Safety Division and five newcomers to competition – underground mine rescue employees from operations – to let them experience national level competition.
"We didn't finish first place in the overall, but I'm proud of how our team performed, especially given the fact that most of our team members were participating for the first time," he said. "Their teamwork and solidarity were exceptional."
The team underwent three months of rigorous training in Kuala Kencana.
"We've been championing the event for many years, so another factor in not getting first this year indicates that the emergency rescue teams from other companies have gotten better, and that is something we are very happy with," Lesnussa said. "The ultimate reward from competing in these events is that it helps us to be ready to work together in a real-life emergency when it really matters."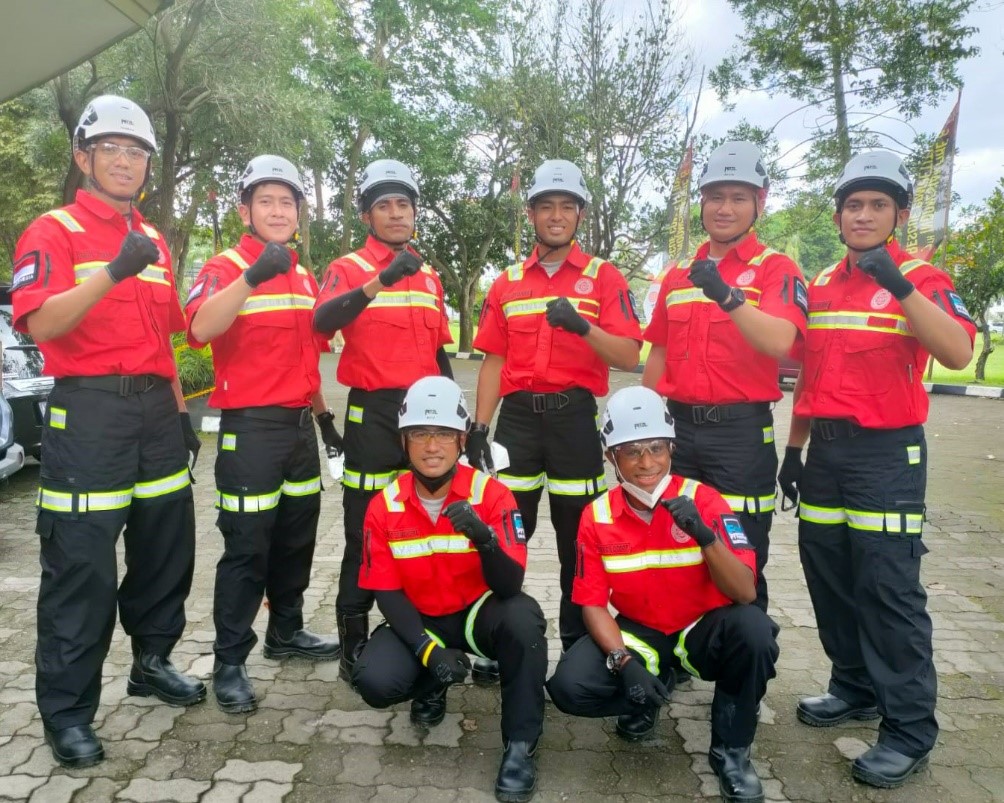 Photo: PTFI's Emergency Preparedness and Response Team competed in the 2021 Indonesian Fire and Rescue Competition in Yogyakarta.