Cerro Verde Helps Stray Guanaco Baby Find its Herd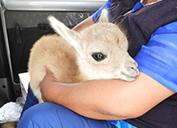 March 21, 2023 - A baby guanaco found wandering alone on a highway is now safely back in its herd, thanks to the quick action of wildlife specialists at Freeport-McMoRan's Cerro Verde operation in Peru.
A family returning home from Arequipa recently found the llama-like creature wandering alone on the old Pan-American Highway near the mine and brought it to Cerro Verde, which is well known in the region for its work to protect the animals. Guanacos are considered critically endangered in Peru, with only about 3,500 of them scattered across five South American countries.
An on-site veterinarian at the mine provided first aid to the guanaco while the National Forestry and Wildlife Service was contacted. The animal continued to receive care at the site, and the national wildlife service brought in its own veterinarian to conduct a medical examination and assist in the relocation.
Guanacos near the mine are routinely monitored. This helped in locating the herd to which the wayward calf – called a chulengo – likely belonged, so it could be returned. One of the females in the herd allowed the calf to integrate successfully, signaling its acceptance.
Cerro Verde's work to protect the guanacos was recognized in 2021 by the Wildlife Habitat Council, which presented two awards to the site for the biodiversity management programs developed there.
Photos (left to right): A family found this baby guanaco wondering alone on a highway; A female guanaco near Cerro Verde allowed a chulengo or baby guanaco to integrate into the herd after being found wandering a nearby highway; An on-site veterinarian contracted to work at Cerro Verde prepares to release a guanaco calf after it was given first aid and a medical examination shortly after being found wandering a local highway.