Arizona Women Entrepreneurs Grow their Businesses with Support of Freeport-McMoRan's DreamBuilder Program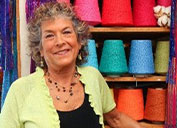 March 25, 2022 - DreamBuilder is a free online entrepreneurship training program developed for women who want to start or grow their own small business.
Torey Cranford created Cakes with TLC in Safford, Ariz., a bakery specializing in custom cakes. After graduating from DreamBuilder via Eastern Arizona College's Small Business Development Center, Cranford was able to use her newly formed business plan to grow her trade and maximize efficiency, according to a recent article in the Copper Era newspaper.
Safford resident Irene Schmoller joined the program in 2019. Schmoller created Cotton Clouds Inc. in 1979, a mail-order cotton and cotton blend yarn company. DreamBuilder provided her with new business skills that empowered her to negotiate the sale of her successful enterprise, the newspaper reported.
The DreamBuilder training program includes core small business development topics such as business planning, market research, marketing, budgeting, accounting, financial reporting, branding, pricing, customer service, human resources and goal setting, which are taught in an interactive online format. Through this highly interactive format, participants enter a variety of responses and information as they proceed through each course which is automatically populated into a ready-made business plan that can be downloaded upon completion of the program. There is also a stand-alone access to capital course that teaches women about options for successfully financing the start or growth of their business. The Program is free, self-paced and available in both Spanish and English. To learn more, visit dreambuilder.org.
Freeport-McMoRan partnered with Thunderbird School of Global Management, a world leader in international management education, to create a top-notch curriculum for DreamBuilder that would teach women the fundamentals for owning their own business. DreamBuilder was first launched in 2010 in Spanish in South America, followed by the English version in 2013. It now has more than 122,000 participants in 134 countries.
To learn more about how Freeport-McMoRan works in partnership with local communities, please visit fcx.com/sustainability and read our 2020 Annual Report on Sustainability.
Photo: DreamBuilder graduate Irene Schmoller of Cotton Clouds Inc. Photo courtesy of The Copper Era.