Safford Employees Help Responders Reach Lost Tower Crew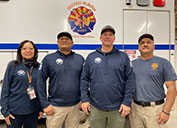 March 31, 2022 – Normally, the small gesture of allowing a neighbor to take a shortcut across your yard might not seem like a big deal. But when your yard spans more than 25 square miles, and your neighbor urgently needs to get to the other side of it to help someone, that gesture is not so small.
A shortcut across the Safford operation, along with some neighborly help from members of the site's Health and Safety team, shaved hours off a local county agency's response to assist two cell tower maintenance workers who recently found themselves lost in southeastern Arizona's backcountry.
"At about 10 p.m., Graham County Search and Rescue got a call about the workers, who had been driving all day since leaving Globe, roughly 70 miles northeast of where they ended up" said Justin Baughman, Detective-Graham County Sheriff's Office, who also serves as coordinator for GCSR.
The workers had traveled remote dirt roads over rugged, mountainous terrain trying to navigate to a particular tower in remote wilderness north of the Safford operation, but the GPS coordinates they used led them to the wrong location.
"By that time, they were low on fuel and didn't want to risk running out where there might not be any cell service, so they called for help, and GCSR was dispatched," Baughman said.
Search area mapped
Using GPS coordinates provided by the workers, GCSR initially mapped a search area near one of Safford's back gates north of the mine. The team contacted Safford to request the site's assistance in accessing the area, which would have taken hours to reach via routes around the vast Safford property.
Baughman spoke to Ray Bejarano, Health and Safety Technician II-Safford, who along with Dora Bleak, Senior Supervisor of Security-Safford, met the GCSR team at the site's front entrance. Safford Health and Safety technicians Danny McEuen and JR Olivar, the Rescue Team members on duty that night, assisted with the response.
"Danny and JR coordinated with Dora and me by radio," Bejarano said. "They knew how to reach the gate, so they headed up there to do a preliminary search while Dora and I met with the GCSR team."
McEuen and Olivar drove several miles across the site to the specified gate to see if the tower crew or their vehicle was within sight.
"GCSR told us where they thought the workers would be and asked us to try making first contact and determine if assistance was needed," Olivar said. "When we arrived at the back gate, we didn't immediately see or hear any signs of the crew or their vehicle."
McEuen and Olivar exited their truck and walked through the area, watching for headlights and listening for engine noise or people talking. Finding neither, they asked GCSR to relay the workers' coordinates.
Coordinates help locate crew
"When we checked the coordinates against our position, we discovered we were about 4 miles away from the workers' actual location," Olivar said. "It would have taken us about 20 minutes to reach that area from where we were, so Danny provided the correct location to the other group, enabling them to get to the crew sooner."
Bleak and Bejarano led the GCSR team to another gate along the back of the property.
"Dora let us through the gate, and we found the workers a little while later," Baughman said. "After confirming they were OK, we led them back to the Safford property, and then Dora and Ray got us all back to the main entrance."
GCSR then led the crew to town, so they could fill up with gas and get lodging for the night.
Safford's collaboration with GCSR resulted in a safe, efficient response that saved valuable time for the county team and the crew they helped. It's another example in a growing list of such cooperative efforts between the company and local emergency response agencies over recent years.
"I remember how helpful the Morenci Emergency Response Team was to our agency when I worked for Greenlee County (Arizona), so it's reassuring to know that Safford offers that same level of support to Graham County," Baughman said. "We are very thankful for the time and expertise the FMI rescue teams give us, and we look forward to working with them again in the future."

Photos (left to right): Safford Rescue Team members Dora Bleak (from left), JR Olivar, Danny McEuen and Ray Bejarano helped Graham County Search and Rescue with the response to reach the lost tower crew; A cell tower maintenance crew became lost in this vast backcountry outside the Safford operation boundary.