Bisbee Discontinued Ops Supports Fire Battle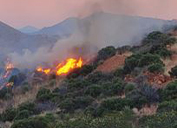 April 4, 2022 - Twin wildfires that threatened a southeastern Arizona community in March were safely contained thanks to a well-tuned crisis management team comprised of employees from Bisbee, Ariz., Discontinued Operations and outside agencies.
First reported on March 5, the John Fire started adjacent to a reclaimed stockpile at Bisbee Discontinued Operations. Firefighters contained it within 12 hours and were cleaning up the next day when they spotted smoke rising from the next canyon over in what later would be named the Copper King Fire.
Combined, the two fires covered more than 40 acres, but firefighting efforts prevented damage to homes or structures in the area. Most important, there were no injuries.
While nipping a couple of brushfires in the bud might not sound newsworthy, those familiar with the history and rugged topography of the mountainous area would realize both incidents were close calls that could have led to tragedy.
"They mined here for a hundred years, and the town basically wraps around the mine," said John Acosta, Health and Safety Lead-Bisbee. "These fires were on discontinued mine property, so there were houses less than a half mile away."
Wind a factor
The two fires started in windy conditions about 1.5 miles east of the community of Old Bisbee and a half mile north of Lowell, near the old Denn Mine. Though not confirmed, both likely were human-caused, according to local news reports.
"Part of our response is that if it's on our property, we coordinate and provide access," said Robert Quintanar, Manager-Resource Reclamation, Bisbee. "We're bordered by BLM (Bureau of Land Management) property, so BLM and Arizona Interagency Wildfire Prevention were involved. This community is very integrated within our historic mining operation, so we share a lot of fence lines."
The company's response included providing a 4,000-gallon water truck and loader. Company security employees also escorted firefighting groups along roads and through access points. Behind the scenes, the commitment of Acosta and other employees to the crisis team played a big role.
"We do tabletop simulations of scenarios, review and update plans, and we always invite local police, fire and members of the community to participate," said Jill Schultz, Manager-Health and Safety, Liability Management. "Like all our discontinued operations sites, we work with a lot of outside agencies, and when you have a crisis, you're relying on those outside sources to help you and work with you."
A wildfire less than one mile from where the John Fire broke out was the very type of event Acosta selected for the most recent training scenario he led with the area crisis management team in October. The timing was more than just coincidence to Acosta.
"I thought a wildfire scenario would be perfect because of what's been happening with wildfires around the world and the way this community wraps around the mine," Acosta said. "In that scenario, the county jail and the APS (Arizona Public Service) substation were nearby, so we brought them all in for the drill. You want every part of the community to have good lines of communication set up and brought in as you plan and update your emergency response."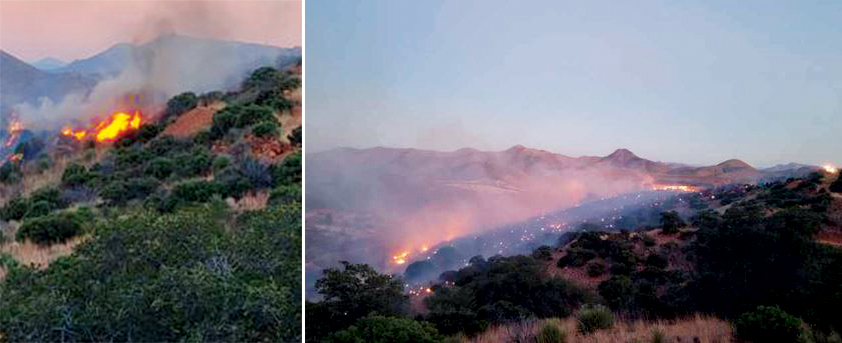 Photos (left to right): The John Fire was first reported on March 5. The Copper King Fire was discovered the next day; Combined, the two fires covered more than 40 acres. Firefighting efforts prevented damage to homes or structures in the area. Most important, there were no injuries.