Around the Company in Pictures: Cleared for Takeoff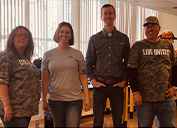 April 12, 2022 - Members of the unmanned aerial system (UAS) teams representing Safford and the Technology Center Tucson recently brought their drone-operating expertise to the 2022 Gila Valley STEAM Festival at Eastern Arizona College in Thatcher.
The STEAM (science, technology, engineering, art and mathematics) Festival attracted hundreds of people of all ages and provided Freeport-McMoRan with the opportunity to illustrate the critical role technology plays in the mining industry. The company's exhibit included five different drones, from the Skydio S2, a basic video drone measuring less than 1 foot in diameter, up to the Quantum Trinity F90+, a fixed-wing vertical take-off and landing drone used for mapping large areas and boasting a nearly 8-foot wingspan.
Clockwise are members of the Freeport contingent (from left) Sarah Stockton, Senior Process Technician-Safford, Larissa Smith, Hydromet Leach Operator I-Safford, Dylan Shorthouse, Senior Mine Engineer-Tucson Technology Center and Garnet "Sol" Sipes, Hydromet Leach Operator II-Safford.
In addition to showcasing drones for attendees, the Freeport exhibit included a multimedia display, which highlighted many of the missions the UAS pilots perform daily, such as blast filming, stockpile mapping, underground inspections and project tracking.
Shorthouse said he appreciated the diversity of those who were interested in learning about the company's experience with drones. "I especially enjoyed the fact that I could be speaking to a 70-year-old one minute, then turn around and strike up a drone conversation with an 8-year-old."