Minera El Abra Provides Support for Local Seafood Market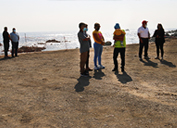 May 6, 2022 - A new esplanade constructed with financial support from Minera El Abra will help provide economic opportunity in the El Loa Province in northern Chile.
The esplanade primarily will be used as a seafood market for the Tocopilla Fisher's Union in the northern Chilean region of Antofagasta where Minera El Abra operates a copper mine. The esplanade also will host arts markets, food festivals, and other community and tourism activities. An area for food trucks was established; existing retail space was refurbished; and a 70-meter-long concrete wall and stabilizers were constructed with support from Minera El Abra, a Freeport-McMoRan company.
This initiative is part of a program that works with the Tocopilla Fishing Sector, which is financed by Minera El Abra and executed by the Development Corporation of the El Loa Province. The program involves the participation of 15 unions and organizations. The projects in the program are environmentally sustainable and involve marine reforestation and habitat protection, as well as business training and support for entrepreneurs.
To learn more about how Freeport-McMoRan works in partnership with local communities, please visit fcx.com/sustainability and read our 2021 Annual Report on Sustainability.