Maree Robertson Provides Keynote at Women in Mining Conference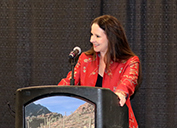 May 15, 2023 - Maree Robertson, Senior Vice President and Chief Financial Officer, reflected on her career in the mining industry and encouraged the next generation of mining professionals to step out of their comfort zone during a keynote address at the recent 2023 Women in Mining USA Conference, focused on "Changing the Future of Mining."
Robertson spoke to nearly 500 attendees of the three-day conference held in Tucson, Ariz. Freeport-McMoRan was one of the premier sponsors of the event, which included speaker presentations, workshops, networking opportunities and tours of nearby mining facilities, including the company's Sierrita mine and the Tucson Technology Center.
'Never be afraid'
Recollecting a career that has taken her across the globe from Australia to Europe, Africa, South America, Canada, Mexico, the Caribbean and the United States, Robertson encouraged attendees to, "Never be afraid to jump in, roll up your sleeves and learn something new."
For Robertson, entering a male-dominated industry was an exciting challenge – she was the lone female graduate in her college class to select mining as her industry of choice. Today, as she reflects on how far the industry has come regarding women in mining and the culture of inclusion and diversity, she said, "We are on a journey and continue to see opportunities to drive our industry forward. It's conferences like these that help pave that way."
Women in Mining USA has advocated for a more diverse, equitable and inclusive industry since its founding in 1972. Part of its ambition as an organization: to cultivate a community that fosters trust and respect, while making progress toward industry attraction and retention goals. This year's conference focused on how to improve diversity, equity and inclusion in the mining industry among attendees and industry professionals across the country.
Angie Harmon, Regional Manager-Social Performance, kicked off the conference, welcoming attendees in her opening remarks before introducing Robertson for her keynote address.
Relationships critical
Later, Fio Giana, General Manager-Morenci joined leaders from South32, RJC Global Impact, and P&C Recruiting in a panel discussion. Giana highlighted the importance of advocating for yourself while fostering relationships that will support women's professional development and help open doors.
"Work hard, don't hesitate to speak up for yourself and highlight your professional wins," Giana said. "But also remember to surround yourself with mentors who can offer guidance and are genuinely interested in your success."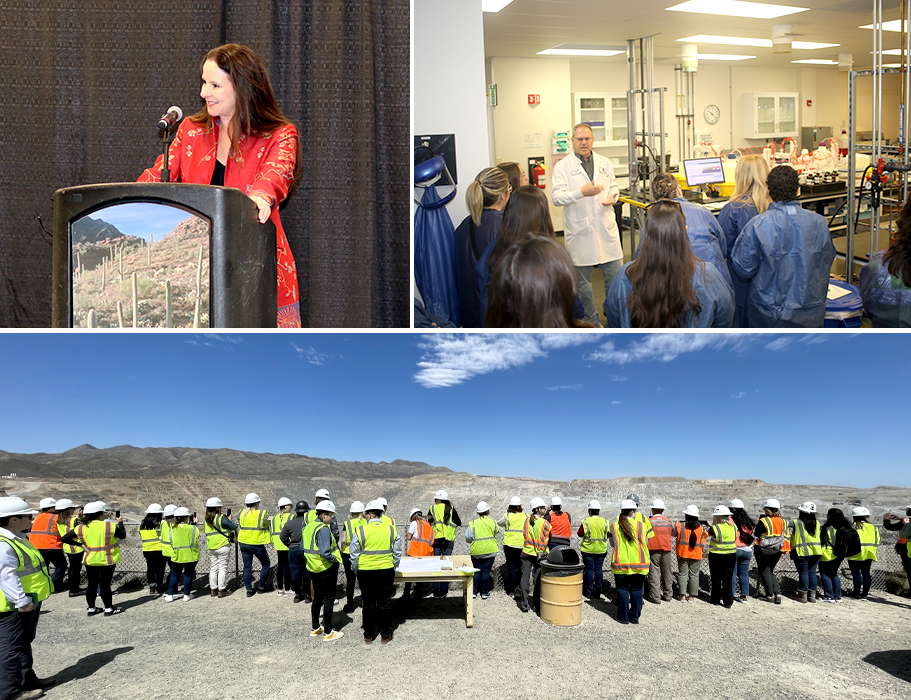 Photos (clockwise): Maree Robertson encouraged attendees never to be afraid to learn something new; Jeff Thompson, Chief Chemist at the Tucson Technology Center, speaks with attendees during the tour of the facility; Participants of the Sierrita tour gather to get a view of the mine.