Indonesian Government Recognizes PTFI with Two Prestigious Awards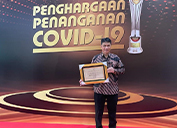 May 17, 2023 - PT Freeport Indonesia recently received two prestigious awards from the Government of Indonesia.
The site received the Community Activities Restrictions Enforcement or CARE award for its handling of the COVID-19 pandemic and the National Search and Rescue award for airlifting 10 plane crash victims, including newborn twins, to safety.
"We are honored to receive these awards, which underscore the positive impact our partnerships with various organizations and the government have in our local community and the nation," said Iyas Kusnadi, PTFI Technical Advisor-Internal Manpower Stakeholders.
CARE Award
The CARE Awards ceremony took place in Jakarta where PTFI's Tembagapura hospital won the Best Laboratory and Best Domestic Private Sector Supporting the Indonesian Government in Pandemic Handling categories.
Accepting the award from Indonesian President Joko Widodo on the company's behalf was hospital director Dr. Darma Irawan.
"This seems surreal, but we are humbled to receive this excellent recognition and proud that our tireless coordination and hard work were able to make a difference in our organization and the local community," Irawan said.
At the onset of the pandemic, PTFI and its medical provider, International SOS, worked closely to establish a rigorous and robust mitigation plan to prevent COVID spread in remote Papua, which lacked centralized health care. This included support for onsite quarantine facilities, diagnostic equipment, and testing that extended beyond its Highlands mine site to help other hospitals in Mimika Regency and Papua Province. In addition, PTFI used its oxygen plant to help supply much-needed oxygen cylinders to area hospitals.
Various countries and international organizations have acknowledged Indonesia's success in handling COVID, including the World Health Organization's Director General and Johns Hopkins University.
"The collaboration between our operations and International SOS was critical to the success of this effort," said Dr. Richard Vinroot, Vice President and Medical Director. "The location, the number of individuals involved, the nature of the work and the difficulty of the terrain made this, hands down, the most complex response to COVID in the company. Along with our operations at Cerro Verde in Peru, it was an extremely complex response to COVID."
Search and Rescue Award
PTFI received the National Search and Rescue Agency award for its role in rescuing 10 people, including newborn twins, involved in a June plane crash in the jungle near Mozes Kilangin airport in Timika, Papua.
Members of PTFI's Emergency Response team used the company's search and rescue helicopter to safely airlift plane crash victims from the wreckage as part of a coordinated effort with the Indonesian Government.
"Through the years, PTFI's Emergency Response team has garnered a reputation for their competency, professionalism and technical know-how," said Carl Tauran, PTFI Executive Vice President-Site Operations and Technical Mine Manager. "We appreciate their willingness to help those in harm's way and to put the needs of others first while focusing on safety."
PTFI's Emergency Response team is comprised of members from various departments, including Occupational Health and Safety, Emergency Preparedness and Response, Security and Risk, Government Relations, and Aviation, as well as International SOS. The team frequently assists with rescue efforts from natural disasters as well as accidents requiring advanced technology, such as air evacuation and transport. They have won Indonesia's national Fire and Rescue Challenge several times.

Photos (left to right): PTFI received the Community Activities Restrictions Enforcement (CARE) award for its handling of the COVID-19 pandemic, accepted here on the company's behalf by Dr. Darma Irawan, Tembagapura Hospital Director; PTFI Emergency Response Team members pose in front of the company's search and rescue helicopter.