Henderson Operations Hosts Future Military and Government Leaders from National Defense University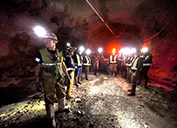 June 1, 2022 - A group of National Defense University scholars who have been studying Climax Molybdenum Co. as an important domestic provider of strategic metals got a big payoff for their work with a recent trip and tour of the Henderson mine and mill.
"It was amazing. This literally was the highlight of the year for me, coming out of the Coronavirus hibernation of the last couple of years," said Tyler Harris, a student at NDU's Eisenhower School of National Security and Resource Strategy in Washington, D.C.
With their professor, Dr. Peter Coughlan, the 18 students received a comprehensive tour of Henderson's underground mine operations after a greeting and presentation by Henderson General Manager Stuart Teuscher. The class then was bused across the Continental Divide for a tour and walk-through of the Henderson mill in Empire, Colo.
During their lunch break, students took in a presentation and question-and-answer session on Henderson mill operations and moly market conditions from Aaron Pietsch, Mill Manager, Chris Gnann, Vice President-Sales and Marketing, Phoenix, and Bruce Nickle, Director-Logistics and Transportation, Phoenix.
"We've had a lot of stuff in D.C., where we talked policy and the economy, but this is the first time we got to go out and see first-hand the processes involved and how things happen," Harris said. "There is no molybdenum tree that you just go pluck to get 100 percent molybdenum. There are huge processes involved in producing all of these strategic materials."
A long, strategically important relationship
The relationship between Freeport's Climax Molybdenum Co. and the Eisenhower School goes back to World War II. As a strategic alloy, molybdenum was used to harden steel for the equipment and weapons supplied to the Allied forces in World Wars I and II.
During World War II, the molybdenum the Climax underground mine produced was deemed a national priority and was held under tight, wartime security levels that included the presence of government intelligence agents to ensure spies weren't infiltrating mine operations.
For its longstanding contribution to reliably producing the moly the U.S. government needed, Climax received the Army-Navy 'E' Production Awardin 1942. The award was a prestigious one, as only 5 percent of companies participating in the effort were recognized with the "Excellence in Production" ("E") of essential supplies.
With the exception of the Coronavirus-prompted restrictions from 2019 to 2021, Henderson has hosted students from the Eisenhower School as part of their senior curriculum, which also includes tours of other mineral-oriented companies that are part of the domestic supply chain.
"These students studied Climax and gave presentations on the supply chain and logistics from the perspective of a strategic asset," Coughlan said. "This tour and the other tours we take for this class allow them to connect the dots and experience firsthand the size, scale and significance of these operations."
The Eisenhower School's mission is to prepare select military officers and civilians for strategic leadership and success in developing national security strategy and in evaluating, marshaling, and managing resources in the execution of that strategy. Students typically are rising senior leaders with more than 20 years of professional experience preparing for future positions at the highest levels of the Armed Forces, government service, international partners, or private industry.
Roughly half of the students are U.S. military officers with the other half consisting of foreign military officers, private industry executives, and government officials from various U.S. federal departments such as Defense, State, Commerce and Treasury.
Learn more about National Defense University at ndu.edu.

Photos (left to right): Students from the National Defense University take a production-level tour of the Henderson Underground Mine near Empire, Colo.; Dee Kippers, Senior Metallurgist, Henderson (second from left), fields a question from Bruce Nickle, Director, Logistics and Transportation (far right), and members of the National Defense University class during a tour of the Henderson Mill.