Company Named to The Civic 50 List for Commitment to Community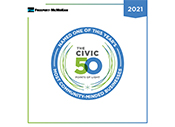 June 16, 2021 - The company's commitment to community support and transformation runs deep in its DNA, garnering recognition on The Civic 50 List for the ninth year in a row.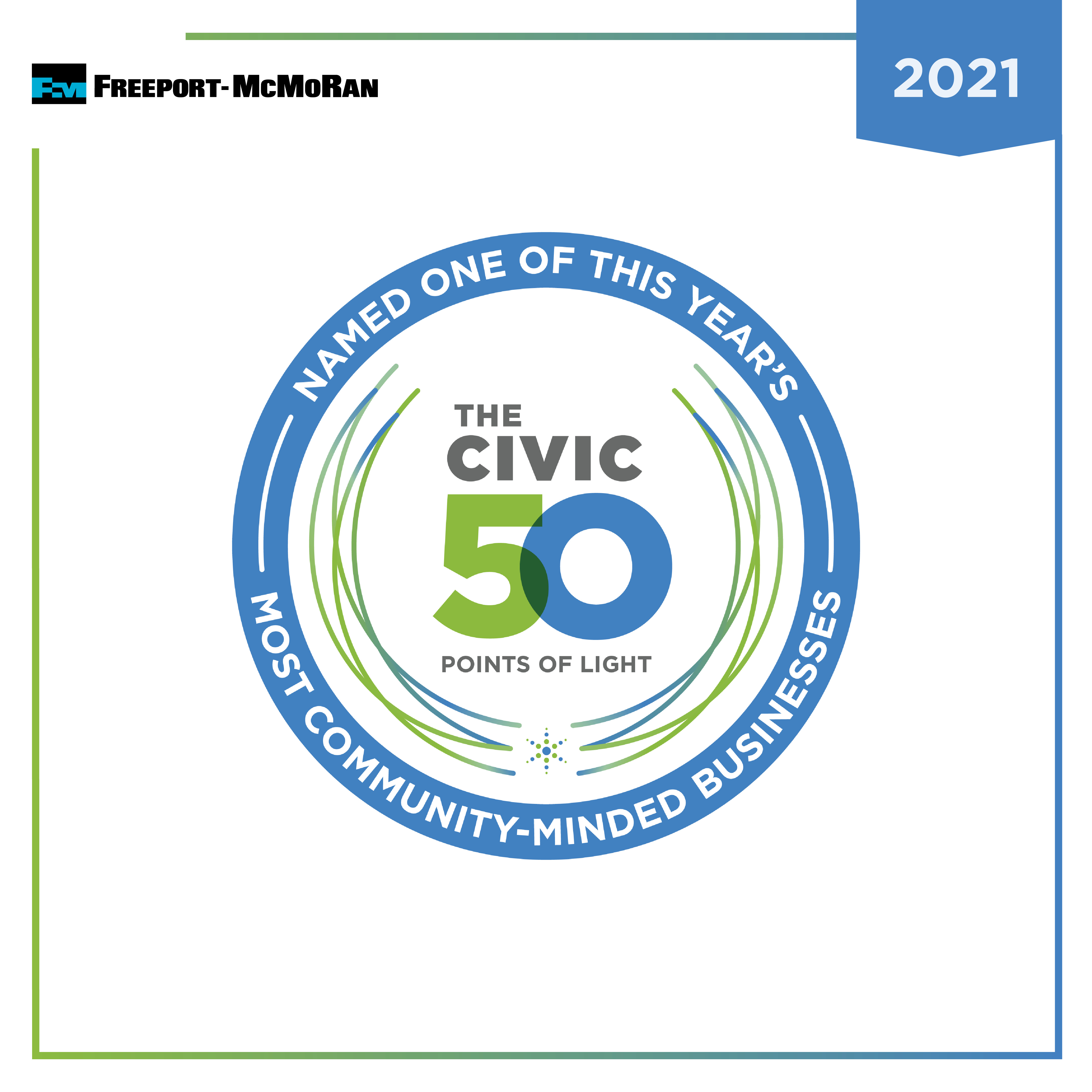 On Wednesday, the Points of Light organization recognized 50 companies, including Freeport-McMoRan, as determined by an annual survey, administered by True Impact, that exclusively measures corporate involvement in communities.
"Strong social performance is more relevant now than ever before – especially related to the social and economic challenges resulting from the global pandemic as well as the need to keep advancing critical community issues such as inclusion and diversity," said Tracy Bame, Director-Community Development and Social Responsibility.
"Our work evolves each year to be responsive to emerging issues and stakeholder feedback, but at the core of our efforts is a commitment to partnering with our communities over the long term to identify relevant social investment and development priorities and help them accelerate positive change. We are grateful for this recognition that affirms our efforts."
Each year, public and private companies with revenues of $1 billion or more are invited to take the survey, which is based on the Points of Light's Civic Engagement Framework – a roadmap for companies committed to drive social impact in their business and communities.
Civic 50 honorees are selected based on four dimensions of their community engagement programs and social impact: strategic investment, business integration, fostering civic culture and measuring impact.
Even though 2020 volunteer efforts were hampered by pandemic restrictions, company employees still made a difference through virtual opportunities and generous donations matched through the company's Matching Gifts program and United Way campaign.
Through strategic community investment, the company advanced biodiversity and conservation efforts, increased enrollment to over 100,000 women in Freeport's free, online women's entrepreneurial training program called DreamBuilder, and continued its partnership with College Success Arizona to provide support services and scholarships to Native American students.
The Community Development and Social Responsibility team also further developed and implemented an effort to independently evaluate and better understand the impact of social investments in North America.
The team evaluated 90 projects and their impact in eight communities where the company operates. Over the past five years, the company invested $33.3 million, benefitting 2.9 million people and yielding 1.37 million "successes," an illustration of the greater impact of the projects.
"Our aim was to go beyond tracking the output of our investments, which traditionally refers to the number of beneficiaries, and evaluate the broader impact and societal value created, or in other words what happened as a result of reaching those beneficiaries," Bame added.
"For example, instead of simply counting the number of people who were trained in developing a small business, we're now evaluating what happened as a result of that training such as businesses actually started, jobs created or increases in income."
Points of Light is a global nonprofit organization with affiliates in 200 cities across 37 countries and engages 5 million volunteers in partnership with thousands of nonprofits and corporations.
"Points of Light believes that corporate leadership and commitment to civic engagement is critical to strengthening communities," said Natalye Paquin, president and CEO of Points of Light. "We thank Freeport-McMoRan for its investment in the communities where they live and work and look forward to supporting them in leveraging their time, talent and assets to make transformational change."
To learn more about The Civic 50, visit civic50.org. For more information on our corporate citizenship initiatives, visit freeportinmycommunity.com.