Wildlife Photo Contest Winners Announced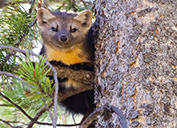 June 22, 2021 - After a year hiatus due to the pandemic, the company's wildlife photo contest was back in action this year with almost 300 entries from employees around the world.
This year's winning photos of an American Marten in Colorado and a Eurasian Spoonbill in Spain didn't happen on a whim – they took patience, advance planning and a little luck.
Chris Schmitz, Chief Mine Engineer-Climax, almost missed his winning entry – the elusive and shy American Marten. He saw the small, relative of a weasel rush into the forest and grabbed his camera to follow. He hoped he would find the right tree, but he was not optimistic.
"You rarely see them, even though they live in pine trees at higher elevations," he said. "But, I've been trying to have my cameras more easily available, so I grabbed my camera with the telephoto lens and hoped for the best."
Manuel Gómez Cristóbal, Deputy Director of Procurement and Material Logistics-Atlantic Copper, wanted to capture the almost ballet-like movement of the Eurasian Spoonbill in Spain and succeeded with much planning and after spending five hours in a portable blind to blend in with his surroundings.
"I wanted my point of view to be practically at the same height as the bird's eyes and create a sensation of balance in the photo, which makes the bird seem to float in the frame," Gómez said.
The Freeport-McMoRan Biodiversity Task Force selected the winning images from almost 300 employee entries showcasing diverse wildlife on and near company operations from around the world.
The two winning photos will appear on the company's pages of the Wildlife Habitat Council's 2022 Weekly Engagement Calendar highlighting efforts by WHC members, such as Freeport-McMoRan, to enhance and conserve wildlife habitat on and adjacent to corporate lands.
Here's more about the winning photos and the species featured in each:
American Marten, or Pine Marten, near Climax mine in Colorado
How Schmitz got the shot: "I think this was a younger pine marten trying to figure things out, so it was not as good at hiding. I've seen glimpses of them before, but you normally don't see them. I thought it might be long gone by the time I got my camera, but then I saw a squirrel fall out of a tree and looked up, and there it was, 15 feet up in the tree. I was glad I had my telephoto lens!"
His photography tip: "It's not my original tip, but it's a really good one: f/8 and be there. It means set your camera's f-stop at f/8, a good focal point for depth of field for general photography in good lighting conditions, and keep your camera on hand so you're always ready to take lots of pictures."
About the species: The American Marten (Martes americana) is a predatory mammal in the weasel family and closely related to fishers, ermines and mink. They are characterized by long, slender bodies with chestnut-brown fur and a distinctive buff-yellow throat. The American Marten lives in mature coniferous, alpine and boreal forests from Alaska and the Pacific Northwest across Canada to Northern New England. These habitats provide the hollow tree crevices or ground burrows that martens use for resting and denning. This opportunistic species will feed on a wide range of prey such as small mammals and birds. Their diet also includes carrion, seasonal fruit, seeds and nuts.
Eurasian Spoonbill near Atlantic Copper in Huelva, Spain
How Gómez got the shot: "I entered the hide around 2 p.m. so that when the birds began to arrive at the marshland later in the afternoon, they would not detect me. Then, I waited until the last rays of light for the day, when the light is very oblique, to avoid shadows."
His photography tip: "In nature photography, a blurred background allows you to focus on the beauty of the wildlife without distractions. You also need to understand the habits of the animals and where they will be. Then you need to be patient and take a lot of shots. I took about 150 photos to get this one picture."
About the species: The Eurasian or common Spoonbill (Platalea leucorodia) is in the genus Platalea, which means broad in Latin, referring to the birds' characteristic spatula-shaped bills. Eurasian Spoonbills are the most widely distributed spoonbill species, occurring across northeast Africa and much of Europe and Asia. Eurasian Spoonbills commonly are found in shallow wetlands and tidal flats, where they feed on crustaceans, invertebrates and small fish by sweeping their bills from side to side.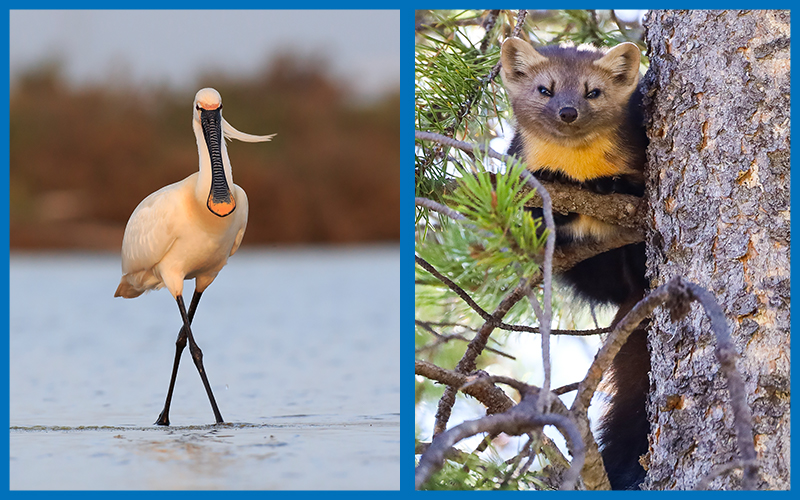 Photos: This year's photo contest winners are a Eurasian Spoonbill in Spain (left) and an American Marten in Colorado.