Yesterday's Water Bottles Becoming Tomorrow's Cafeteria Trays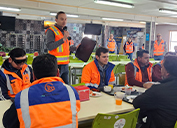 June 23, 2023 - Employees at the company's El Abra operation in Chile have begun doing a little more to help the environment – one lunchbreak at a time.
The site recently embarked on an effort to replace the 1,650 trays in its two cafeterias with trays produced from recycled plastic water bottles used at the site. Already, new trays are in service at one cafeteria with the remaining trays expected by the end of the year. The older, worn-out trays also will be sent for recycling into pellets to make new trays for use by El Abra or elsewhere.
"Our people's commitment to this project is very important," said Boris Medina, President-El Abra. "Recycling is not possible without a proper waste classification culture."
The trays are being produced by an external partner – starting with the bottles that already have been used by employees. The bottles – also produced from recycled materials – are collected from different areas around the site and its offices. The bottles then are processed, recycled and formed into cafeteria trays. So far, 200 kilograms (440 pounds) of water bottles have been recycled for this initiative.
Work on the project began in 2021 with presentations from prospective partners. The supplier was selected in 2022, and the first batch of trays was delivered in May.
"We have been able to learn over the last few years and do our part, which ultimately allows us to contribute to the circular economy, protecting our environment for future generations," Medina said.

Photos (left to right): Employees in an El Abra employee cafeteria show off the first of the trays produced from recycled bottles; Boris Medina, President-El Abra, speaks to employees about the recycled trays in one of the site's two cafeterias.