Freeport Scholarships to Aid Navajo Students, Honor WW II Heroes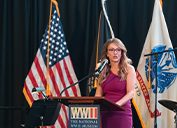 June 27, 2022 - The service and sacrifice of the Navajo Code Talkers in World War II is being honored with a $3 million scholarship program for tribal members announced recently by the Freeport-McMoRan Foundation.
The Navajo Code Talkers Scholarship program will begin by supporting two groups of 50 Navajo students each. The first group was just selected for the fall 2022 semester, with the second beginning in the fall of 2023. The initial program will provide nearly $3 million over five years to fund the 100 scholarships of up to $6,000 annually, as well as support services such as tutoring, counseling and mentoring to help ensure recipients stay in school until graduation.
The program will likely continue beyond the initial group of students, providing an ongoing opportunity for higher education, said Tracy Bame, Freeport's Director-Corporate Social Responsibility and Community Development, and president of the company's charitable foundation.
The scholarship program was announced in June during the American Spirit Awards event at the National World War II Museum in New Orleans, at which the Navajo Code Talkers and its four surviving members – two of which were at the ceremony – were honored.
"The Navajo Code Talkers represent an important and proud part of both Navajo and American history – and we are pleased to honor them with this named scholarship program that we hope will enable Navajo students to build a prosperous future for themselves, their families and their community through education," Bame said. "The Navajo Code Talkers Scholarship program will be open to all Navajo students who have a desire to achieve higher education, serve their community and inspire others through their own selfless acts to create a better future – as the Navajo Code Talkers did."
The code talkers were a group of U.S. Marines of Navajo descent who used their native language to develop a code that was never broken by the Japanese in the Pacific theater during World War II. Code talkers served on the front lines transmitting vital military information and took part in every major assault the Marines waged in the Pacific from 1942 to 1945.
The code talkers are revered by the Navajo people, said Peter Denetclaw, Manager-Environmental Programs and Navajo Relations. Denetclaw is a member of the Navajo tribe and his clans are Red House born for Tangle. His maternal grandfather is Salt, and his paternal grandfather is Bitter Water. He said World War II and the heroism of the code talkers is growing ever more distant to the younger generation. Creating scholarships that honor the code talkers will help maintain that connection between the recipients and the code talkers' proud history of military service.
"There is a sense of pride and honor from the people seeing them, what they've done and what they achieved and survived," said Denetclaw, who grew up on the reservation and as a child would often see code talkers in parades and other civic events. "Now that there are only just four left, for the younger people it seems like it's a lot more removed in terms of the war. As for these students who are recipients, I think it will be something special for them. It's just that connection. It's a good legacy moving forward that these students are able to achieve whatever their desires are."
Any Navajo tribal member is eligible for the scholarship, regardless of whether they live on the reservation or have family members employed by Freeport. The scholarship awards can be used for a trade or technical certification, an associate's or bachelor's degree. The overall program, including the selection process and support services is managed by Education Forward Arizona.
To view the entire American Spirit Awards event, go to americanspiritawards.org.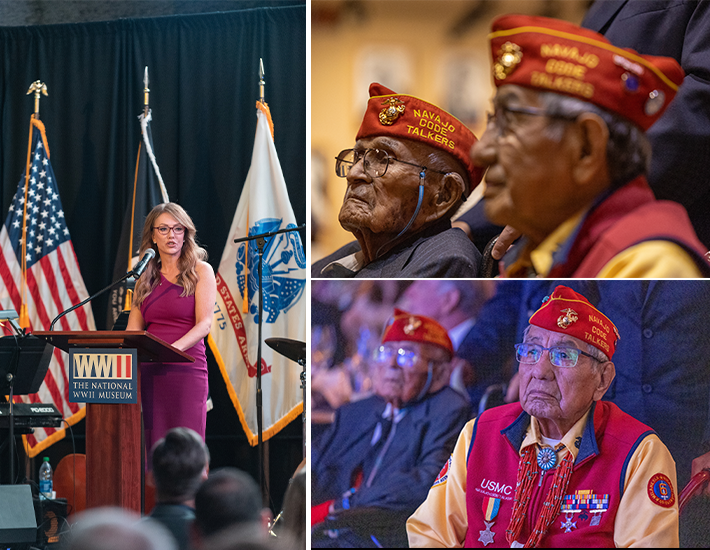 Photos (clockwise): Tracy Bame, Freeport-McMoRan's Director-Corporate Social Responsibility and Community Development, announces a scholarship program honoring the Navajo Code Talkers during a recent American Spirit Awards event at the National World War II Museum. (Photos courtesy of the National World War II Museum); Surviving Navajo Code Talkers Samuel Sandoval, left, and Peter MacDonald were honored recently with the American Spirit Award at a ceremony in which a $3 million Freeport-McMoRan Foundation scholarship program in their honor was announced. (Photos courtesy of the National World War II Museum); Peter MacDonald listens during a tribute to he and his fellow Navajo Code Talkers. Their service in World War II is being honored with a scholarship program for Navajo students offered by the Freeport-McMoRan Foundation. (Photos courtesy of the National World War II Museum)