Indonesia's President Tours PTFI's Manyar Smelter and Manyar Maju Refinery Project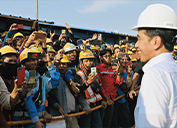 June 27, 2023 - Indonesian President Joko Widodo said the project in Manyar being built by PT Freeport Indonesia is an important building block in his country's economic future when he toured the project in Java.
Joko Widodo, who goes by his popular nickname Jokowi, said the new smelter and refinery will produce copper and other materials that will be integrated into finished goods throughout the Indonesian economy. He specifically noted the demand for copper that will be driven by the development of electric vehicles in the future needed to reduce global greenhouse gas emissions.
"In the future, we will have competitiveness," Joko Widodo said. "The smelter is the foundation for becoming a developed country because what was based on consumption is now based on production."
The smelter and refinery are being built in Gresik, East Java, at an approximate cost of $3 billion. Construction is expected to be finished later this year, and commercial operations are expected to begin mid-2024. It will be the largest single line copper smelter in the world, producing up to 600,000 tons of copper cathode per year.
Additional components of the project include construction of a jetty and port wharf and a desalination facility.
Tony Wenas, PTFI President Director, said support from the government, corporate partners and the people of Gresik has been critical to the success achieved so far. He agreed the smelter represents a critical achievement in the development of the Indonesian economy.
"This smelter will enable PTFI to support the accelerated development of the downstream industry, the transformation of the national economy, as well as the agenda for the electric vehicle ecosystem," Wenas said.

Photos (left to right): Construction workers greet Indonesian President Joko Widodo during a recent tour of the Manyar smelter and Manyar Maju refinery under construction in Gresik, East Java; President Joko Widodo, left, discusses smelter construction with Tony Wenas, PTFI President Director, during a visit in June.