Wildlife Photo Contest Winners Announced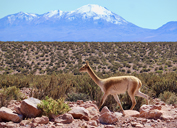 July 7, 2022 - Photos of a proud looking male Black Sunbird at PT Freeport Indonesia and a slender-legged vicuña on a stroll near El Abra took the top two spots in the company's 12th annual wildlife photo contest.
Members of Freeport's Biodiversity Task Force selected the winning images from more than 350 employee entries showing diverse wildlife ranging from three doe-eyed deer at Fort Madison, Iowa, to two seemingly smiling singing dogs at PTFI to one impressive web-weaving banana spider in New Orleans.
The two winning photos will appear on the company's pages of the Wildlife Habitat Council's 2023 Weekly Engagement Calendar, highlighting efforts by WHC members, such as Freeport, to enhance and conserve wildlife habitat on and adjacent to corporate lands.
Introducing the Winners
PTFI employee Malcolm Mardon in operations maintenance and Hector Romero Pavez, Manager-Internal Communications at El Abra submitted the winning photos.
Mardon's photo captured a Black Sunbird (Nectarinia aspasia) perched on a Heliconia flower in Kuala Kencana in the Lowlands near PTFI's mine. This species is named for the males, which are all black with patches of iridescent blue. Females, on the other hand, have a grey head and throat, olive-green back and a yellow belly. Black Sunbirds can be found foraging in the outer foliage of forest canopy trees and even in urban gardens. They feed by plucking insects off leaves or twigs or while hovering in the air – a behavior known as hover-gleaning.
Pavez's photo was of a vicuña (Vicugna vicugna) grazing near El Abra in Chile. Vicuña are native to the high Andes mountains of Peru, Argentina, Bolivia and Chile. They are related to guanacos, llamas, alpacas and camels. During the day, they graze in the lowland plains, and at night, they sleep on nearby steep slopes. The wool produced by vicuñas is valued for its softness and warmth and protects the camelid from the extreme cold of the Andes.

Photos (left to right): This vicuña was one of two employee-submitted photos that will be featured in the WHC's 2023 Weekly Engagement Calendar; This male Black Sunbird was one of two employee-submitted photos that will be featured in the WHC's 2023 Weekly Engagement Calendar.