Around the Company in Pictures: Improving quality of life one tree at a time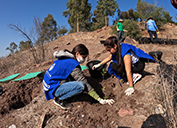 July 11, 2022 - About 25 company employees and family members recently gathered to support the company's Global Volunteer Month efforts by planting more than 80 native trees near the Chilean capital of Santiago.
The group planted the trees at the Laura Vicuña Sanctuary, located on the slope of Renca Hill, just north of Santiago. After listening to an educational talk, volunteers formed work groups led by experts in proper planting techniques and planted tree species such as Huingán, Espino, Quebracho, Quillay, Romerillo and Algarrobo.
"I felt this was an opportunity to partially pay back the good I have received from others," said Horacio Zumarán, Head of the Mining Property in Chile. "I think we made a small contribution to help improve the quality of life for the people who live in the area. Working as a team allowed us to achieve a great deal more than we could individually."
The effort was organized by Corporación Cultiva, an organization focused on raising awareness of the effects of climate change through public education and participation in forest restoration projects. Corporación Cultiva and the community of Renca will be responsible for maintenance and irrigation of the trees for another two to three years while the roots take hold.