PTFI System Monitors Seismic Activity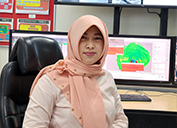 July 13, 2022 - Growing and learning with data collected every day, the nerve center of PT Freeport Indonesia's operation is a comprehensive, world-class geotechnical monitoring system conceived, developed and run by a world-class stickler.
Through the vision and leadership of Agustina Ratnaningrum, Superintendent-Geotechnical Monitoring Room, the Geoengineering Integrated Monitoring Center (GIMC) integrates tremendous amounts of real-time data and sends out critical alerts on seismicity and other geotechnical hazards. The technology and talent that Ratnaningrum has collected, developed and integrated is industry-leading in scope, complexity and capability.
"It's amazing to see all the monitoring systems covering all elements of the operations integrated into one place," said Adrian Sinuhaji, Engineer-Surface and Regional Monitoring, PTFI. "Monitoring is critical at PTFI, so I'm proud to have a chance to work in such an important group."
PTFI's system performs continuous, real-time monitoring of seismicity and ground deformation, and then autonomously sends warnings, alerts and instructions to areas when thresholds are reached. The system also provides data analysis and interpretation to help refine and evolve even better response procedures to geotechnical hazards.
"We are bringing state-of-the-art geoscience together to understand this 'Earth thing' with the highest degree of efficiency and professionalism that we can obtain," Ratnaningrum said. "All of the workers and everyone at the operation depend on us, so we need to have the highest discipline and seek the highest level of quality in everything we do."
Clean as a whistle
Ratnaningrum (known as Ibu Nina by her colleagues) runs a tight ship at GIMC. Housekeeping practices in mission control have it tidy enough for minor surgery, though Earth is the lone patient under observation. Every document and tool reside in their proper places so there is nothing to obstruct the efficiency of the work to be done. Ratnaningrum is quick to credit her 10 fellow team members – three of them female – for the team's high level of effectiveness.
"Ibu Nina is agile and very motivated in leading us, yet very warm-hearted at the same time," Sinuhaji said. "GIMC is a new department that required a system built from scratch, and Ibu Nina proved to be the person needed to make that really happen."
Staffed 24 hours a day, seven days a week, the GIMC continuously reviews the status of PTFI's underground mining and surface areas and is the central hub of communication for implementing alerts and communicating closures via email, phone and an underground alert system.
Shake, rattle and roll
For those unfamiliar with PTFI's location and the Ring of Fire, the former rises from sea level to glacial peaks and includes areas that receive more than 600 inches of rain per year, while the latter is a geologic zone rich in minerals and notorious for earthquakes, ground deformations, landslides and other disturbances.
Mining adds a significant amount of monitoring, particularly when you are mining two of the world's largest underground block caves and a world-class stope mine and developing a third large block cave with all the associated blasting and extraction.
Over the last few years, the scope of the team's work has expanded greatly, as it now monitors everything from the dock on the coast to the Grasberg open pit at 12,000 feet and everything between.
"All of this data that is moving around here, this data will be maintained through 2041 and beyond," Ratnaningrum said.
As more and more data comes in, the modeling will become all that more precise.
"You always want to minimize the exposure to people out there. You always want to keep using the data to keep getting better," Ratnaningrum said.
The integration of PTFI's geotechnical technology and expertise in one center has been transformative for Amri Priambodo, Engineer, UG Monitoring Room BG & Mine Infrastructure #2.
"Before the integration, we were under the same umbrella of Geoengineering, but we were pretty much doing stuff on our own. I was an underground geophysicist and only knew specific geotechnical issues of the GBC mine to which I was assigned," Priambodo said. "Thanks to GIMC, we can now collaborate and share knowledge while gaining comprehensive aspects of geotechnical matters from all areas, so working in the GIMC is an enriching experience for me."

Photos (left to right): Agustina Ratnaningrum, Superintendent-Geoengineering Integrated Monitoring Center, PTFI, has led the effort to integrate and consolidate all of PTFI's geotechnical expertise and technology; Engineers at the GIMC perform real-time monitoring of seismicity and ground deformation at PTFI's Grasberg mining complex and surrounding areas.