Atlantic Copper Celebrates 50-Year Anniversary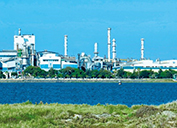 July 15, 2020 - Atlantic Copper in Spain marks its golden anniversary and the innovation that has created one of the most energy-efficient copper smelters in the world.
For five decades, the largest copper smelter in the country has not only proven itself an industry leader but also a dedicated community partner to residents of Huelva, helping to enhance the Andalusia region's demographic, economic and social development, especially since Freeport-McMoRan became its sole shareholder in 1993, said Javier Targhetta, President-Atlantic Copper.
"This first half century has been filled with successes," Targhetta said. "We are looking to a new era of continued growth and serving as an economic driver, propelled by the enthusiasm and determination of our people who give their very best every day to make our company the most competitive and sustainable in the industry worldwide."
The company's investments in the operation have transformed southern Europe's only copper smelter into the third largest in Europe. Investments by the company doubled production capacity, and innovation advanced improvements in manufacturing.
Today, Atlantic Copper is one of the most energy-efficient smelters in the world, according to Wood Mackenzie, an international energy consulting and research company.
"Behind the company's high production, export and manufacturing figures are people who are committed to safety, environmental care, process improvement, efficiency and quality," Targhetta said. "Atlantic Copper's achievements and the company's track record over the past 50 years has positioned it as a global economic and business leader."
While Atlantic Copper's first 50 years has been filled with success, its future will require further innovation for it to continue to meet copper demand for renewable energy sources, electrification and new energy systems, Targhetta added.
"Atlantic Copper's success is tied to Freeport-McMoRan's commitment to looking toward meeting future copper needs, which has driven us to remain a competitive and exemplary enterprise, even during challenging times."

Photo: Atlantic Copper in Huelva, Spain, is celebrating its 50-year anniversary.