Company to Community During Telegraph Fire: 'Whatever you need'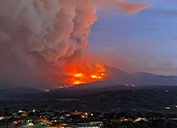 July 20, 2021 - When the worst of twin wildfires approached the doorstep of Globe-Miami in Central Arizona and the company's Miami operations on June 6, Freeport-McMoRan had one unified response to calls for help from firefighters, agencies, community members and employees: "Whatever you need."
For Arizona State Forestry Battalion Chief Burrell Teague, it was Freeport delivering on a Type I Fire Engine and crew from Morenci and water trucks from Miami ops at a time when the fires had closed highway access and severely limited the ability to bring in firefighting resources.
"Freeport played a big hand in keeping that fire from getting into town," said Teague, who was the local task force liaison for the Telegraph Fire. "That fire had pushed into Miami real hard Sunday night, and because of the resources and people Freeport provided, we saved probably 15 structures just the first night, and the very next night, those same resources helped save another eight structures at Top of the World."
For Neal Jensen, Chief Executive Officer of Cobre Valley Regional Medical Center, it was the mammoth water curtain and firefighting resources Freeport deployed around the hospital and its critical infrastructure.
"I think some of the very first responders that came to us were from Freeport, in addition to the water wall they came in and set up around us the next day," Jensen said. "The gratitude I have for Freeport is hard to overstate. It gave me great comfort and peace of mind that night to know that our patients and the hospital were protected because of what their people were doing for us."
First detected Friday, June 4, the Telegraph Fire blew up two days later to almost 30,000 acres after abnormally hot, dry conditions and southwesterly winds had flames racing through grass and brush and pounding through dense manzanita and oak in the steep, high terrain just west of the Miami-Claypool-Globe communities. The Telegraph Fire merged with the Mescal Fire, another fire in the area, on June 15, and burned more than 180,757 acres before being fully contained on July 3.
By that same Sunday afternoon, Miami's well-drilled Crisis Management Team already had rolled out the quick response it offered to protect employees and the operations, while also aiding firefighters and the community.
"I was very impressed with the speed with which the team communicated to employees through the excellent emergency system, EASE, and also the way the team enhanced communication and collaboration with firefighters, the community and employees through virtual meetings, social media and other methods," said Miguel Palacios, Vice President-North America Smelting and Refining.
A fire like no other
Crisis Management teams drill for scenarios like the Telegraph Fire, and in the case of Miami's team, also have a good deal of experience from scores of past wildfires. But for Judy Bessee, the Telegraph was like no close call she had experienced in her 14 years on Miami's Crisis Management Team.
"That fire was so close to the mine that there is slurry on the actual property from a retardant drop," said Bessee, Manager-Accounting.
Team member Chad Cooper, Manager-Remediation in Miami, knew Telegraph meant business from the way he watched flames tear through retardant near U.S. Highway 60 – and Cooper is as familiar with the local terrain and fire behavior as anyone.
"With the heat and lack of precipitation or relative humidity in the air, I was actually watching it burn right through some of the slurry," Cooper said.
All hands on deck
Palacios lauded leadership at Miami for the clarity and perseverance of focusing on people throughout the company's response to the fire.
"To the merit of our operations managers and leadership, we sent a very clear message about the priority of people above any other consideration," he said. "I also want to commend the managers for the clarity of their ideas regarding all the different processes and equipment, knowing which equipment to cool down and which to keep hot, if you will, to best maintain the operations to protect the employees and the plant."
Line electrician and Morenci Fire Chief Duane Turner had just finished a fire training class with his crew when he got a call from Zachary Scrivner, Manager-Health and Safety in Miami, at 11 a.m. the Sunday morning Telegraph blew up.
"I asked Zach how soon they needed us and he said that night would be good, so I just got together everyone who was available to leave and told him we'd have an engine and crew there within an hour and a half," Turner said. "We may be in different cities and different towns, but we're all one Freeport. We don't like to see our neighbors hurt or have trouble, so we're always ready to help."
The engine and crew set up near the hospital. Safford operations' fire group also responded with equipment. Water curtains from Morenci went up around Miami's SX/EW operations and near the Bluebird Gate at the west side of the operations, a set of structures identified as most threatened by the fire. When the risk to the Bluebird area had abated the next day, the Morenci crew seized on the opportunity to quickly move, re-assemble and re-pipe the curtain at the Cobre Valley Regional Medical Center.
Cooper noted the team's constant communication and the ability to have Freeport's own eyes and boots on the ground in the form of Levi Teague, Supervisor-Security in Miami, and Curtis Henderson, Health and Safety Lead-Miami, who supervised water truck crews dispatched to firefighting efforts in Miami, Top of the World and U.S. 60.
"Those two guys were very instrumental in helping the team make informed decisions because they were right there in the field, and while they were helping the firefighters, they were also in constant communication with us," Cooper said.
Scrivner, who supervises Teague and Henderson, wore many hats with the team throughout the process, said Mark Albertsen, Manager of the Miami smelter.
"Zach was the poster child for collaboration throughout this," Albertsen said. "In my opinion, a good part of the reason this thing went the way it did was his leadership, and those two guys of his, Levi and Curtis, those guys are rock stars."
Levi Teague (he and Burrell are brothers), credited Albertsen and the rest of the team.
"Situations are changing dramatically by the hour with something like this, so having the Crisis Management Team coming together as quickly as they did and being so fluid with everything, it really helped us be better positioned to help defend houses and property, including our own," Levi Teague said.
Henderson got video footage of the fire making dramatic runs at town as he and Levi Teague were working with the four water tender truck crews.
"It's surprising to see how big of a monster that fire was as it was coming toward town that night," Henderson said. "But it was amazing how smooth working for the firefighters went. The level of communication between Freeport and the fire group, you just couldn't ask for better."
Behind the scenes
In other ways too numerous to comprehensively mention, company employees kept in contact and kept helping the community and each other.
After hearing that a couple long-haul trucks from California had broken down on U.S. 60, the company set up and stationed a service truck and crew on the highway near the Bluebird Gate.
Bottled water, food and other supplies were delivered to various parts of the community.
Employees like Roger Laija, Manager-Operations Support, Rod Mill and Refining, made contact with employees on the extra two and a half hours it took to drive the Beeline Highway detour to get from the Phoenix valley to his employees at the rod mill.
"We had 60 percent of our employees in either 'Set' or 'Go' mode to evacuate, and every day throughout this, we kept communicating 'People now, rod tomorrow,'" Laija said. "I was taking requests from employees who had been impacted by the fire for whatever they needed, from diapers to whatever else I could get since I was going back and forth from the Valley every day."
And then there were the burritos, by the thousands. Really, do the math with Laija. He and other team members bought and delivered burritos by the high hundreds every night to firefighters.
"I went in to pick them up at Guayo's 'On the Trail' in Globe one night and the owner was there, and he said, 'I know who you're buying these for every night. You're giving these to the firefighters, aren't you? Well, I'm going to match you, burrito for burrito,' and he did," he said.
Laija encountered a resident at Top of the World after delivering to the fire crews.
"We asked how he was doing, and he said the residents still there had no power and were running low on food, so we started delivering to them as well, and Mark and Zach started taking them bottled water and other supplies too," Laija said.
For team member Tim Eastep, Manager-Hydromet in Miami, a silver lining of the Telegraph Fire was the opportunity for his employees to help the community in a direct sense.
"Helping the community is an everyday thing with our community investment fund programs and the other support and resources we provide, but those of us on the operations side don't often get a chance to help out the community directly," Eastep said. "It's important for us to be there. These people are our friends and neighbors. We are this community, and thankfully, we're all still here."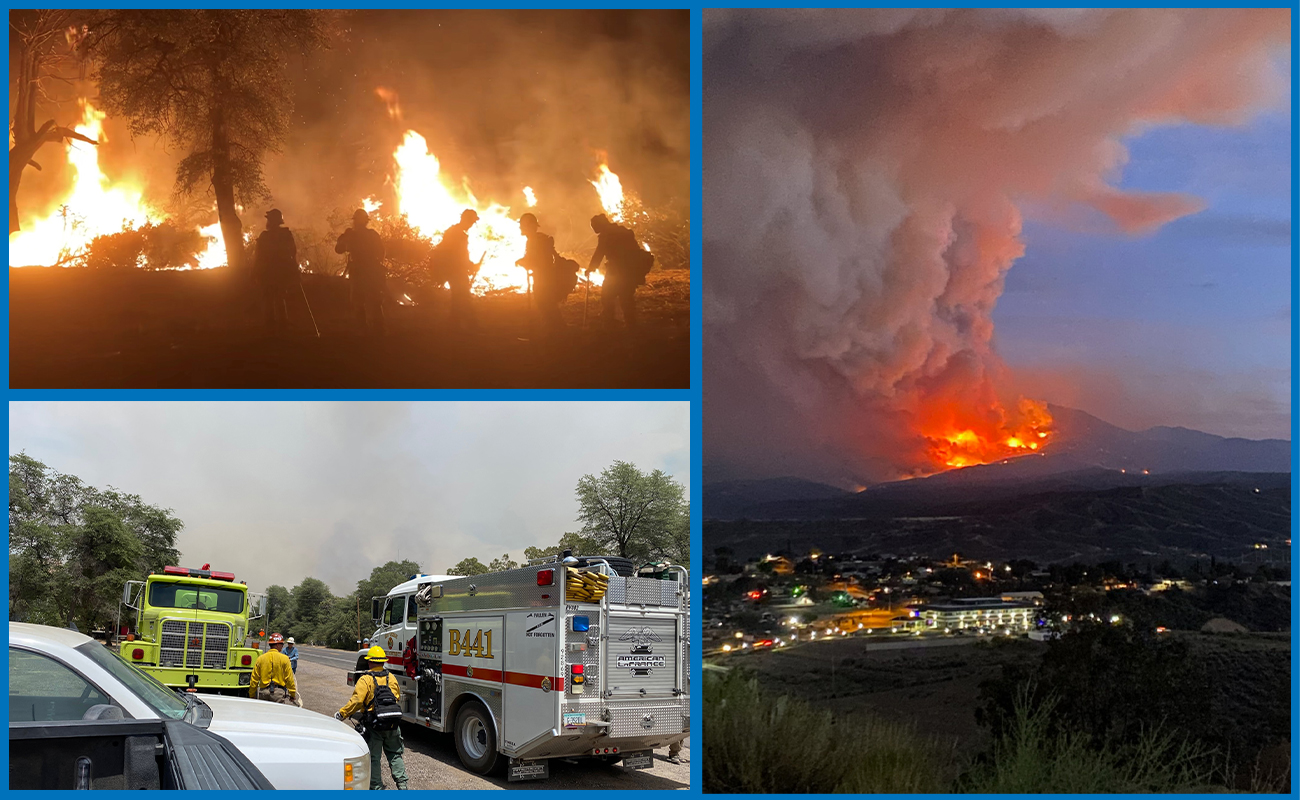 Photos (clockwise from top left): Firefighters protect Top of the World. Employees made a difference in keeping that fire from getting into town. Miami operations use their water truck to fill the fire engines.