Miami Employees Deliver Real-World Experience to Welding Students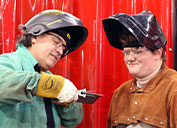 August 5, 2022 - What the Cobre Valley Institute of Technology needed in a hurry was a pair of substitute welding instructors to take over its 18-month certification program, and two welding aces from Freeport's Miami, Ariz., smelter quickly stepped up to teach night classes.
What the school hadn't counted on was that the temporary bail-out would lead to nothing less than a transformation of the institute's welding program as a result of the commitment and efforts of those two fill-ins – Miami Senior Technical Instructors Ernie Baca and John Freeman.
"These two instructors brought real-world experience to our students and a much-needed emphasis on safety practices," said Michael O'Neal, Superintendent, Cobre Valley Institute of Technology. "Ernie and John both brought a passion for what they do unlike anything I have witnessed before in my 28 years of public education."
\This passion and expertise brought about change in a way that had never previously happened, as inspired students requested the addition of summer classes to the program taught at the Eastern Arizona College-Gila Pueblo Campus.
"Eleven of our 18 current welding students requested to be enrolled in summer welding classes being taught by both Ernie and John," O'Neal said. "I have never experienced students having such a strong desire to take summer school courses."
Eight more students who weren't even in the program also signed up for the summer courses, O'Neal said.
"They haven't done a bit of advertising about the program, so it was just word of mouth with the new students," said Freeman. "I think that really showed CVIT and the college what this program could aspire to be, and a lot of it was just a matter of Ernie and I seeing and finding opportunities for improvement."
In for a penny, in for a pound
Baca and Freeman were able to kickstart the transformation of the CVIT's welding program not just because they're ace welders and welding trainers, but also because they're both A-personality types who were willing and able to take the program to the next level.
"Ernie and John were the guys for this job," said Kurt Knauss, Superintendent, Technical Training-Miami. "It was just a matter of Freeport working out their schedules and supporting this thing, which they completely did."
Baca and Freeman surveyed the welding center's resources at the school and quickly realized critical improvements were necessary to teach and perform safe, sound, modern welding techniques. They made those observations known to school leadership, who were able to secure grants to upgrade welding bays and infrastructure at the training center. In addition to purchasing more than $45,000 in equipment including four new welders, Cobre Valley will be budgeting an additional $30,000 for the upcoming school year.
"They asked John and I to tell them the changes they needed to make and the equipment they needed to get, and we weren't afraid to rock the boat, and tell them," Baca said.
Finding that the students could benefit from more welding and less computer work in the program's 18-month certification curriculum, Baca also went about writing a new curriculum from scratch.
"Freeport has been paying them to spend part of their time teaching, which made this possible, but these guys have gone way beyond that," Knauss said. "Ernie was writing a new curriculum, and we couldn't pay him for that, so he was doing that on his own time on the weekends, in addition to all the extra time and work he and John already had spent."
Freeman said he was struck by how quick positive attention has come to the new, improved program by the local community.
Value in program
"I think the students and their parents are very happy and see the value in it, and the college and the community are happy and see value in it, and so does Freeport," Freeman said. "That's what we hoped people would see when Ernie and I started this, and now, we want to see it grow. We want to grow this partnership, and we want to see Freeport continue to play a big role in the community."
Freeport agreed to let Baca and Freeman teach the classes as part of their job assignments for a combined 20 hours a week. Though the pair stayed on as instructors past the emergency semester, they now work their full-time jobs at Miami and then spend two or three nights a week at their second jobs at CVIT.
"The students in this program are predominantly high school age, so we saw this as an opportunity to develop future workforce talent," said Tim Eastep, Manager, Hydromet-FM Americas. "Ernie and John have done such outstanding work and have attracted significant interest in the program. It's another great example of the positive impact Freeport has in the community."
It's a positive impact on which welding student Robert Zache has already seized, as Zache recently started a job as a Diagnostic Mechanic at Miami Smelter.
"They cared a lot. That's for sure," Zache said. "They're excellent welders too, but the difference for me was that this is not just a job to them."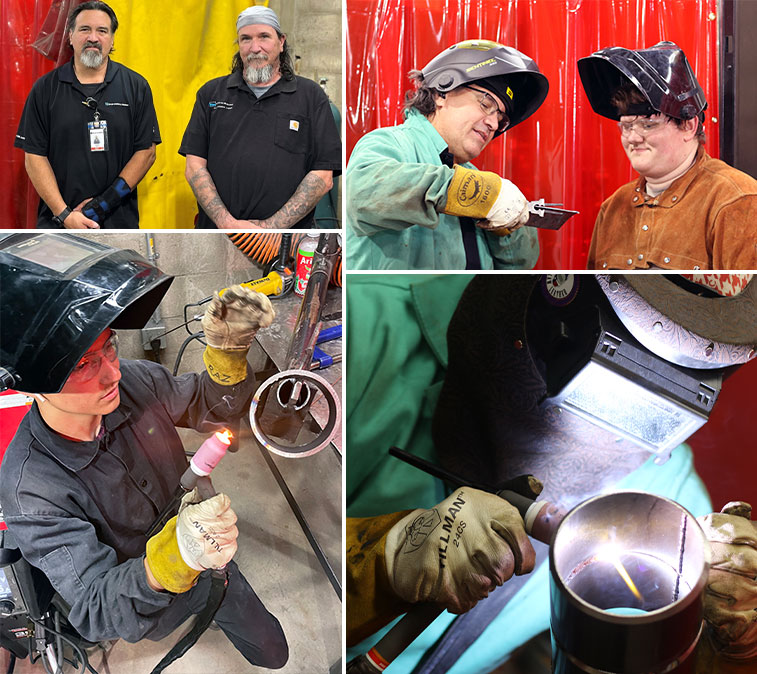 Photos (clockwise): Standing in front of the welding bays they're helping upgrade at the Cobre Valley Institute of Technology in Globe, Ariz., are Ernie Baca, Senior Technical Facilitator Instructor-Miami, and John Freeman, Senior Technical Instructor-Miami; Welding instructor Ernie Baca gives feedback to welding student Gage Kephart at the night course he teaches after wrapping up his day job as Senior Technical Facilitator Instructor-Miami; Angel Hernandez works on a weld at the Cobre Valley Institute of Technology in Miami; Student Robert Zache, was recently hired as a Diagnostic Mechanic at the Miami Smelter.