Company Improving its Southwestern Rail Network in Sierrita and New Mexico
August 8, 2023 - After decades of enduring single-track congestion and a relic of an interchange known as the "Lordsburg Loop," upgrades to company rail operations at Sierrita in southern Arizona and New Mexico already are helping Freeport-McMoRan expand and grow.
Two separate projects – a $1.1 million railroad siding at Sierrita and a $10 million switch track in southwestern New Mexico – will improve a company rail system that handles everything from copper concentrate headed to the Miami, Ariz. smelter and anodes headed to the El Paso, Texas refinery. The rail system also is critical for the delivery of sulfuric acid, concentrate, limestone, mill balls and all other outbound and inbound commodities shipped by rail to and from the company's North America sites.
"We needed this capability to support expansions in Arizona, remove costs out of our network and improve safety at the loop," said Bruce Nickle, Director, Global Supply Chain Logistics and Transportation-Phoenix. "It is a team effort involving sites, strategic rail partners and public entities to improve our logistics rail network. It is great to see teams working together to get these projects completed."
Sierrita took the lead and completed its rail project in April, adding 2,050 feet of track capacity, enough space for 41 more rail cars. The expansion will increase efficiency and help safely manage rail cars at the site. Meanwhile, the Logistics and Transportation team partnered with the Arizona Eastern Railroad to build the Summit Yard near Lordsburg, N.M. The Summit Yard will double capacity and improve the speed of rail cars being switched near Lordsburg.
Switching out the single-track loop
Scheduled for commissioning in August, the Summit Yard switch track is a much-needed improvement over the giant, single-track loop system built to switch out rail cars for a different time and purpose.
While it might seem as though the Lordsburg Loop was invented by someone with a one-track mind, this type of railroad loop was a common if cumbersome way to switch out cars in remote areas.
People not familiar with the rail industry usually don't realize that even when a car is not moving, it still needs to sit on a track somewhere. The more the business grows, the more track space is needed for both empty and loaded cars moving to their next destination.
"In order to build trains on a single-loop track, you have to circle the train all the way around to the car you want, change it out, and then repeat that for every car in the train," said Logan Harper, Manager, Freight Transportation-Phoenix. "Today, the Lordsburg loop is the interchange point for all of our sites, so improving our efficiency there was critical for future growth and safer operations."
The company's rail system encompasses an average of 350 train cars a day in Arizona, New Mexico and west Texas. That number can swell to almost 500 during peak periods, Harper said.
"With Morenci being the largest copper mine in the U.S. and Miami being one of only two operating domestic smelters, the sheer amount of volume we get is substantial," he said. "It was important for us to make these improvements."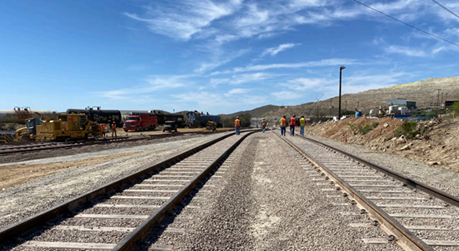 Al Wagner, Senior Mill Planner-Sierrita, said the greater track capacity also means more rail cars to efficiently route.
"The siding here has really helped our capacity to handle more cars, but the flip side of that is we're having to learn how to efficiently handle this increase, because we're going to have a lot more cars in the system," he said.
Photo: A siding completed at Sierrita adds more than 2,000 feet of track capacity for rail cars there.