Company Donations Ease Oxygen Shortage Amid Deadly COVID-19 Resurgence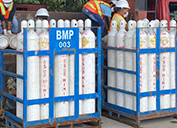 August 10, 2021 - PT Freeport Indonesia and Cerro Verde in Peru are helping local health officials combat a deadly resurgence of COVID-19 cases with the donation of equipment to generate oxygen for medical use, which is now in critically short supply.
The company has begun producing the oxygen at a converted industrial generating plant and recently donated 30 oxygen concentrators to hospitals and a health clinic in Timika, Papua, as part of PTFI's efforts to provide oxygen needed to treat coronavirus patients.
"Oxygen is now needed more than ever, as we're seeing its scarcity across the country due to the severity of the Delta variant in patients admitted to the hospitals," said Nathan Kum, Vice President-Community Development at PTFI. "We hope the donation can save more lives of Mimika residents."
As part of the effort in Papua, the company donated the oxygen concentrators to the Mimika Regency General Hospital and Mitra Masyarakat Hospital. PTFI also provided 10 additional oxygen concentrators to the Kuala Kencana Clinic.
In Peru, a new oxygen-generating plant donated by Cerro Verde operations soon will open in the district of Tiabaya to serve that community and the surrounding area. An oxygen-generating plant donated last year to the Honorio Delgado Regional Hospital is already in operation.
In addition to those facilities, Cerro Verde continues to assist local health officials with the recent delivery of 100 oxygen cylinders and other medical equipment to various hospitals and health centers. As of early August, Cerro Verde has donated 496 medical oxygen cylinders, 26 respirators and four mechanical respirators for intensive care units to hospitals and medical centers in Arequipa.
The company also has provided biosafety equipment to the public and is assisting in COVID-19 vaccination campaigns by supplying personal protective equipment and other supplies to local officials, including 50 special coolers to transport vaccines to Arequipa.
Surge of coronavirus cases
A new wave of the COVID-19 pandemic, driven by the more infectious Delta variant, hit Indonesia beginning in late May, with tens of thousands of new cases being reported daily. Accompanying the surge of new cases is a severe shortage of oxygen supplies to treat patients in hospitals and health-care centers.
The donated oxygen concentrators are being used to give supplemental oxygen to patients with chronic obstructive pulmonary disease, including patients with severe COVID-19 symptoms. Oxygen concentrators work by filtering surrounding air, compressing it to provide an enhanced flow of oxygen to the patient through an oxygen mask or nasal cannula.
Dr. Joni Ribo Tandisau, Director of Mitra Masyarakat Hospital, said the hospital is only capable of producing 12 oxygen cylinders per day, while the current need is 50 cylinders. To bridge this gap, PTFI is donating 50 cylinders daily – shared by the two main hospitals in Timika.
The conversion of the industrial oxygen plant in Kuala Kencana allows it to produce about 75 cylinders of oxygen per day, which is being distributed to hospitals and health-care providers in Mimika to treat coronavirus patients.
Caring for communities
The aid being provided to health centers in Papua and Peru is only the latest example of how the company is supporting communities near its operations worldwide as they cope with the COVID-19 pandemic. Many of those efforts have been aimed at meeting demand for oxygen and other respiratory equipment.
The oxygen-generating plants donated by Cerro Verde are especially critical in Peru, which has the highest per-capita COVID-19 death rate in the world. The facility that opened last year in Arequipa can generate enough oxygen to care for an additional 50 COVID-19 patients daily – nearly double the hospital's previous capacity. At the time of the donation, Peru had the second highest number of cases in Latin America, with a spike in the region of Arequipa where the company operates.
"Cerro Verde continues to support our local communities and health-care providers as they care for those suffering from COVID-19 during this terrible pandemic," said Derek Cooke, President-Cerro Verde. "The new oxygen plant and ongoing help are vital to ensuring regional hospitals are able to treat more patients and supply oxygen for medical use, helping to protect the health and safety of our community."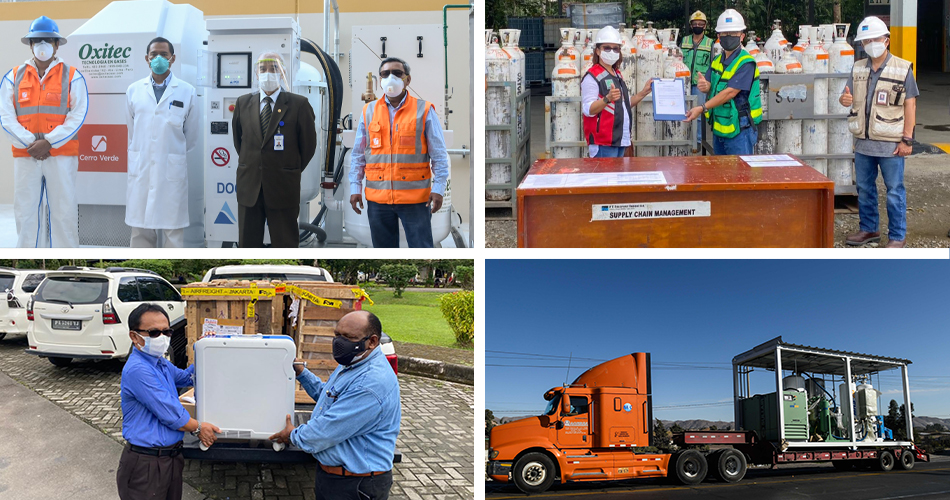 Photos (clockwise from top left): Hospital and company leaders dedicate one of the oxygen generating stations donated by the company to help to treat COVID-19 patients in Peru. Cylinders of oxygen are delivered to a hospital near company operations in Papua. One of the oxygen generating plants donated by Cerro Verde is being delivered to the hospital. Oxygen concentrators donated by PT Freeport Indonesia are unloaded by PTFI's Nathan Kum and Dr. Joni Ribo Tandisau, Director of the Mitra Masyarakat Hospital.