Freeport Interns Showcase Expertise During Final Presentations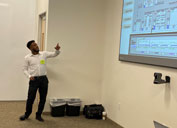 August 11, 2022 - Interns who spent the summer gaining real-world experience at Freeport sites throughout the United States wrapped up their studies recently with that all-too-intimidating taste of the professional world – the formal PowerPoint presentations of their work to their peers and company leaders.
About 100 student interns from a variety of mining, science and business disciplines gave presentations explaining some of the most challenging summer projects they worked on during a two-day conference at the company's Phoenix Collaboration Hub in late July. Topics ranged from tailings management and water monitoring to running global supply chains and conducting personnel investigations – covering the gamut of careers at Freeport.
The presentations made it clear the interns were not given make-work jobs. They had important assignments to complete and complex problems to solve.
'Value as an intern'
"When I came in, I thought I was going to have little projects or side projects," said Biya Yebassa, a native of Ethiopia who spent his internship at the Henderson Mine in Colorado. "But then I was told the story behind why I was doing this project, and that opened my eyes. I thought it was a huge project for an intern. The fact that they gave me the value as an intern to do this project was the most surprising part for me in a very positive way."
Yebassa recently graduated with a degree in computer engineering from Brigham Young University. The subject of his presentation was how he redesigned the interface screen used to monitor and control the pumping stations that remove water from the Henderson mine.
The old screen was overly complex and contained some misinformation, Yebassa said. His job was to redesign it so it would be more intuitive and easier to use, and to ensure the information on it was accurate and understandable.
Scott Nelson, Senior Electrical Engineer and Yebassa's mentor at Henderson, said the work he (Yebassa) produced was important to safety and efficiency of the operation. That kind of responsibility is important, he said.
"We give them a project that can advance their career, and we let them run with it," Nelson said. "We give them advice where we can, but everything in Biya's presentation was his idea."
Bagdad intern Dax Fulton said having an important project made his time at the mine particularly valuable.
Fulton recently graduated from the University of Utah with a degree in chemical engineering. His presentation was about the work he did on a software and data analysis tool used to track regulatory compliance measures.
Beyond the challenging assignments, Fulton said he enjoyed the culture shift of going from the Salt Lake City area to a small Arizona mining town like Bagdad where, as he put it, a co-worker's grandparents and grandchildren might all still live.
People make the experience
"It's really out there, but the people really make up for it," Fulton said. "The moment you start to meet the people is the moment you feel like family."
Colby Howell, a recent graduate from Arizona State University, said her internship covered topics ranging from occupational safety to environmental community outreach. Howell holds separate bachelor's degrees in sustainability and anthropology, and a master's degree in environmental and resource management. She also served in the Peace Corps in Africa. But Howell still was challenged by the work she did during the internship. That includes the final presentation to her fellow interns and company leadership.
"It builds resiliency," Howell said of the end-of-summer public speaking engagement. "At the end of the day, these are skill sets you're going to have to use the rest of your life. It is always scary to get in front of a group of people, but the more practice that you get, the better you get. It fosters presentation skills, creates opportunities for networking and provides an opportunity to sell yourself, market yourself, and to create your own brand."

Photos (clockwise): During his final presentation at the Phoenix Collaboration Hub, intern Biya Yebassa explains the work he did to redesign the interface screen used to monitor water pumps at the Henderson mine; Dax Fulton says the people in Bagdad made him feel like family during his internship at the mine.