PT Freeport Indonesia Hands Over Three Health Clinics to Local Government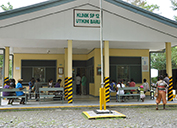 August 19, 2021 - Three health clinics that PT Freeport Indonesia built and ran in the Mimika Regency have been handed over to the local government, the final step in providing quality, sustainable health-care services for community residents in the Lowlands.
In a ceremony held earlier this summer, Claus Wamafma, Director and Executive Vice President-Social Responsibility and Community Development at PTFI, symbolically handed over the three clinics to Reynold Ubra, Head of the Mimika District Health Office.
The ownership handover means the local government has taken on all of the responsibilities for the services, including providing program leadership and procuring doctors, medical support staff and medicines.
"PTFI's support for the clinics' operations is ongoing as we will continue to support maintenance of the building and clinic operations," Wamafma said. "But this new synergy with the Mimika Regency Government will bring benefits to the community."
PTFI has long supported community health services through the construction and operation of hospitals and several clinics in the Mimika district as well as hosted educational clinics about tuberculosis and sexually transmitted diseases. PTFI also has been the primary driver in the malaria control program carried out in partnership with the Mimika District Health Office.
"We have much appreciation for Freeport for its active role in helping provide public health services. With this handover, these will become local government clinics that provide people with fast and affordable health services," Ubra said in a statement. "It will take the cooperation of stakeholders to solve our health challenges, and I sincerely hope the people served by these clinics help maintain and care for them as a community asset."
Health and wellness synergies
Govert Waramori, Manager-Community Health Department at PTFI who has led the company's commitment to community health care for more than 17 years, echoed Wamafma's sentiments about increased synergies between the company's own health and wellness efforts and that of the local government.
"With these synergies, we will not only broaden health services to more of the community but also will provide quality of care with a sustainable system, including continuity of care with transfers to referral hospitals," Waramori said.
The passing of the baton of ownership and operation of these clinics from the company to the local government is one that eventually will be mirrored by many of the community resources that PTFI has built and supported.
"The transfer of these community facilities is an important part of PTFI's vision for sustainable development, to support the government's role in community development programs," said Yahya Alkatiri, Manager-Governance and CSR Compliance for PTFI.
Pride of ownership
PTFI's commitment to community development and resources spans more than three decades, and the commitment will continue. However, the master plan always has been to transfer ownership and control of the community investments the company has made to the local government.
"In the beginning, we had the capital and the expertise, and because this was a remote area, the government was not really providing community services at this level, so we built them and operated them ourselves," Wamafma said. "The local government is now ready to step up and take over."
Now, the government can move forward with a sense of pride of ownership, he added.
"We have built top-notch resources, and we have a good system already in place that brings in their government personnel to replace our people. It's going to be a careful process, so it won't happen overnight, but it will happen," Wamafma said. "This is the way we are going to move forward with ensuring the sustainability of all the services we have provided and supported here."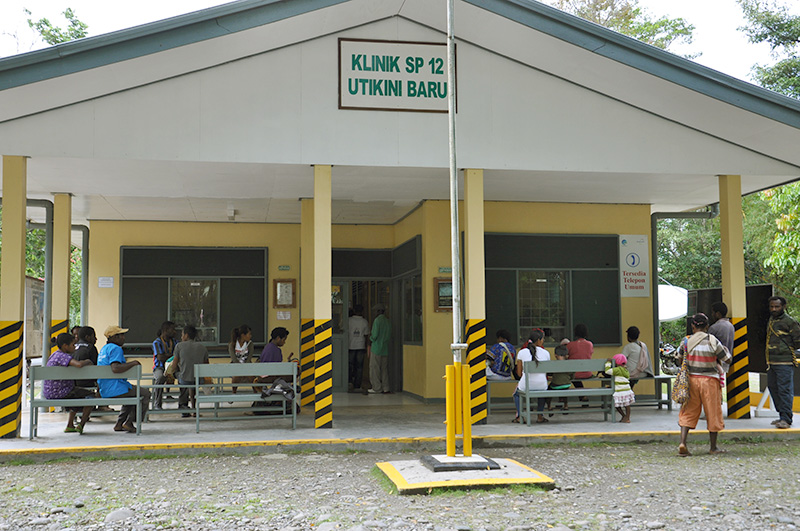 Photo: This clinic in the Lowlands is one of three constructed and operated by PTFI that now will be run by the local government.