Cerro Verde Receives Conservation Awards for Protecting Two Vulnerable Species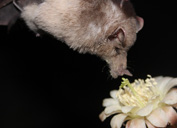 August 23, 2021 - Wildlife conservation efforts at Cerro Verde aimed at protecting a rare species of bat and the llama-like guanaco recently were recognized with separate international awards from the U.S.-based Wildlife Habitat Council.
"Protecting wildlife and their habitats is an important part of how we operate at Cerro Verde and throughout the company," said Derek Cooke, President-Cerro Verde. "Both of these species are particularly vulnerable, and we take great care to ensure they are not adversely impacted by our operations. We will continue to meet the highest standards of wildlife conservation. It is one of our core values and who we are as a company."
Cerro Verde was recognized for its habitat preservation and other conservation measures to protect the Peruvian long-snouted bats with the 2021 Bats Project Award. Special gates on mine tunnels and other refuges used by the bats protect them from predators and human interaction. Other conservation work includes management of areas to protect the cacti, which produces the nectar that they feed on almost exclusively.
The Species of Concern Project Award from the WHC recognizes the plans carried out to protect the guanaco, which under Peruvian law is considered a critically endangered species. There are about 3,500 guanacos in Peru, one of five South American countries where they are found.
Biodiversity protection plans at Cerro Verde in Peru and other company sites are in place to avoid adverse impacts to critical habitats and endangered species from its operations.
The Wildlife Habitat Council works with corporations, government agencies and conservation organizations to create voluntary wildlife habitat enhancement and conservation education programs. The company has been a WHC member for many years, with most operating sites having WHC certifications for enhancing wildlife habitats.
Learn more about the WHC at wildlifehc.org.

Photos: Cerro Verde's efforts to protect the Peruvian long-snouted bat and the endangered guanaco near operations in Peru earned conservation awards from the U.S.-based Wildlife Habitat Council.